Free Vocal Sheet Music for Beginning Voice
Free vocal sheet music, because it's almost sure to happen -- if you teach piano, guitar, or sing yourself, eventually someone will ask if you will teach their child voice. If you ever relent and take on a student, people will never stop asking!  Most of these songs, below, feature piano accompaniments of varying levels.  A few, however, have guitar chords only.  Take a look: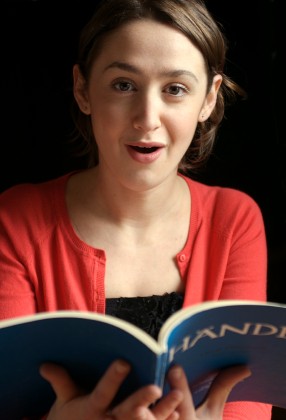 Solos

Ae Fond Kiss, a Scottish love song which a young boy can carry off - very  beautiful 

Ash Grove - an old Welsh song with elegant words and melody

Ave Maria - the beautiful Bach/Gounod composition, with Latin or English lyrics

Breake now, my heart, and die - a song from the English Renaissance with clever words

Cat Came Back (for early singers) - this EASY-to-sing melody has silly words that are fun and predictabl, making it easy to learn

Colorado Trail - a genuine American cowboy song, with a surprisingly pretty tune

Cradle Song (Schlafe, Mein Prinzchen) - once thought to be composed by Mozart, this is a sweet lullaby which sounds elegant when nicely sung

Down by the Salley Gardens - a pretty and well-known old English song with words by William Butler Yeats.  Of course, it's about love.
Erie Canal - a fun minor melody with lots of repetition and lyrics that speak of an older time

Green Bushes - a light, pretty, fast-moving English song that will help your young singers understand breathing

The Grenadier and the Lady - perhaps my favorite sad song... a story of a British Redcoat and the young woman he cannot marry

Happy Birthday - the famous song that everyone knows

Hytten (The Hut), by Edvard Grieg - like so much of Grieg's music, this is a happy-sounding song about being content to dwell by the sea with one's beloved.  Pretty intervals that make one say, "That sounds like Grieg!" 

I Dreamt That I Dwelt in Marble Halls, from "The Bohemian Girl" -  sung by a  young princess kidnapped and brought up among the gypsies, this is very pretty

Johnny Has Gone for a Soldier - a plaintive, lovely song about missing her lover who has gone off to war, and determining to follow and find him.  Much opportunity for working on expression.

Keegan's Waltz, an Irish song about love - these courtly lyrics were written a few years ago to go with this Irish melody by a young man who is a visitor to this site.
Lavender's Blue, with the children's "Cinderella song lyrics" from the most recent Cinderella movie with Lily James.  This sweet song has only 6 pitches, and is perfect for a beginning singer.

Loch Lomond, from Scotland - this may bring a tear to your eye.  I've included the original words about the beloved one returning from battle - but by the wrong road.

Mari's Wedding - a brisk, energetic Scottish tune with cute words about preparing for a wedding.  Lots of fun, and helpfully for young singers, there is much repetition.

Matchmaker, Matchmaker from Fiddler on the Roof, piano interlude - this free piano music helps fill the gap between the beginning and the end of Matchmaker, and gives an opportunity for some theatrics

Mignonne allons, a French song about the briefness of life and love - very understated, slow and elegant, with some passion as well. A guitar accompaniment would make a performance extra riveting

The Minstrel Boy - a song about love for one's country, going to battle with a harp and sword.  This old song has a gorgeous melody.

Modern Major-General, from "The Pirates of Penzance" - brisk & even amusing, this comical tune from Gilbert & Sullivan tests one's ability to articulate words very quickly.  A challenge!

Molly Bawn - this is a sad story about a young girl shot accidentally by her own sweetheart.  The range is just over an octave, and the tune is irresistable.

Morning Has Broken - a beautiful old melody made famous by Cat Stevens. Sorry, no lyrics as they are copyrighted.  Supply your own.

Nel cor piu non mi sento - a frequent choice of college music teachers for their newer students, this pretty, short classical piece will involve lessons in breathing, Italian pronunciation, and crescendo

O Mio Babbino, from the opera "Gianni Schicchi" - very short, this soaring aria is so beautiful that it is frequently attempted by 9-year-olds!  Please don't let that happen at your studio, unless you use one of my lowered arrangements!

O Mio Babbino with standard accompaniment - here is the concert or recital version you would use for performance, for accomplished singers (& pianists!)

Once I Had a Sweetheart - a singable folk tune with pretty, reaching intervals, repeated phrases and a plaintive story

Parting Glass - an Irish melody, very popular, about saying goodbye.
Scarborough Fair - a wistful and lovely minor song that every singer should know

She Moved Through the Fair - a different kind of love-story-gone-wrong.  The beloved dies, but visits him one night to say she that it will not be long before their wedding day... Atmospheric and almost creepy..

Shenandoah - this is a wonderful song you may have sung in high school!  It is genuinely American, with somewhat puzzling lyrics, but great scope for young voices!

Skye Boat Song - from Scotland, this rhythmic song tells of the escape of Bonnie Prince Charlie over the sea after a great & terrible battle

Sleepsong - a lullaby, not public domain, but too beautiful not to mention.  TRUST ME. Listen to the videos and either order the choral arrangement, or go searching for a downloadable PDF.

Slumber, My Darling - another lullaby, this one by Stephen Foster.  Very nice as a young girl's first recital song

Solveig's Song - from Grieg's Peer Gynt Suite.  In English & Norwegian

Song to the Moon, from the opera "Rusalka" - amazingly serene and beautiful, and not for young kids

Spanish Ladies - an old English sea chantey, saying "Farewell, and adieu!"

The Spanish Lady - an energetic romp of an Irish song!  Fun in groups.

Star of the County Down - this fun Irish tune practically sings itself!  High-energy; kids really like it.
Voi che sapete, from "The Marriage of Figaro"

Water is Wide (with guitar tabs)

---
Rounds

Ah, Poor Bird, a pretty round with a reach of an octave, slow-moving notes, and easy intervals.

Beauty's But an Idle Boast - with lyrics from an older time, this is more difficult than many rounds, but compensatingly more beautiful as well!

Christ is Born, new lyrics for an old round by Haydn - well-suited to a mix of voices, a satisfying round

Christmas is Coming, the Goose is Getting Fat - lots of big interval jumps, even octaves, make this round fun and tricky

Coffee Canon - originally from Germany (Kaffee), this is great fun to sing!

Dona Nobis Pacem - quite difficult for beginners, this beautiful round works best with a bigger group of singers, or even instrumentalists, unless your singers are experienced with harmony

For Health & Strength & Daily Bread - pretty, and fairly easy, as it moves primarily in descending steps, this is a wonderful Thanksgiving song

Haida, a Hebrew round - Haida is vigorous and fun - there are two spots that invite a clap, adding to the rhythmic feeling of this song

Have You Seen the Ghost of John - an unbelievably pretty round, with lyrics that DO NOT do it justice!  Make up your own, or have fun singing "oooooo" to the original lyrics, or try the Latin lyrics I sometimes use

Heigh Ho, Nobody Home - the first round I use with beginning singers.

Hinneh Mah Tov - another brisk Hebrew round

Kookaburra - a fun 2-part round from Australia, good for classroom singing

Shalom Chaverim - a song about peace, from Israel.  Very lovely.

White Sand and Grey Sand - a street-seller's cry from England

---
Duets and Ensembles

Ah, Leave Me Not to Pine Alone, from "The Pirates of Penzance"

Ah, perdona al primo affetto vocal parts - lovely, as is all opera music by Mozart

Ah, perdona, full 7-page duet, from "La clemenza de Tito"

Colorado Trail - a duet version of this lovely cowboy song

Farther On, a very pretty Shape Note Hymn which talks about heaven, and how "it is better, farther on."

Flower Duet from "Lakme" - A young noblewoman of India shares her secret with her maid - a most lovely duet that sounds like birdsong.  Try an abbreviated version with a group of young girls - it will be one of the highlights of their early musical years.

Flower Duet, full 16-page duet, from "Lakme"

Gabriel's Message, a song about the angel's message to Mary

I'll Fly Away - a lively gospel hymn about heading to heaven.  This works well for voice or instruments.

Matchmaker, Matchmaker interlude, from "Fiddler on the Roof" - this can be added to your students' recital performance of Matchmaker - a free download!

Oh false one, from "The Pirates of Penzance" - Frederick, upon sighting a bevy of young maidens, accuses his old nurse of deceiving him when she told him that SHE was fair (Frederick has not seen any other female since the age of 5)

On Christmas Night (Sussex Carol) - VERY EASY - try this with your singers who have trouble singing harmony

O Holy Night - the famous beautiful Christmas song.  This duet is not hard.

Spanish Ladies - a sea chanty with a swing in it!  It is fun to sing, for boys too.

Spanish Lady - an Irish song with energy.  Very fun, with a pretty harmony.

Three Little Maids from School, from "The Mikado" - a cute Gilbert & Sullivan trio with pretty harmonies and lots of movement

What Wondrous Love for Four Parts - you don't know this melody! This has the sound of a shape-note song. Unusual and moving.

Wooden Heart (Muss I Denn) - this is a German folk song made popular by Elvis, with new English lyrics

Hymns, Anthems,and Christmas Songs


Amazing Grace, easy piano accompaniment


Amazing Grace, two elaborate piano accompaniments


America (My Country 'Tis of Thee)


America the Beautiful


Angels We Have Heard On High in 6 Different Keys


Away in a Manger


Be Thou My Vision


Christ Was Born On Christmas Day


Come, Ye Sinners (Beach Spring melody, from The Sacred Harp)


Come, Ye Sinners (I Will Arise and Go to Jesus, from Southern Harmony)
Ding Dong Merrily On High


Donum Maximus, a 24-page Mass (donated to this web site)


Doxology


Entre le boeuf (Between the Ox and Donkey)

Farther On


For the Beauty of the Earth


Friendly Beasts


Gabriel's Message
To: Gabrielle, Address: Heaven


Gaudete (Rejoice!)


God Rest You Merry Gentlemen

He is Born (Il est ne)


I'll Fly Away


Holly and the Ivy


Lo, I Bring You Tidings


Marines' Hymn


Masters In This Hall


O Holy Night

On Christmas Night (Sussex Carol)


Pat-a-Pan


Sing We Noel


Softly and Tenderly


Star-spangled Banner


Up On the Housetop


We Three Kings


We Wish You a Merry Christmas


Wexford Carol


What Wondrous Love


What Wondrous Love for Four Parts


When He Cometh
Broadway Music
Lead Sheets

Go here to see all the lead sheets at Music-for-Music-Teachers, for vocalists and all instruments!

Vocal Exercises, Teaching Tips & Tools

How to Teach Beginning Singers - If You are a Beginner, Too!
Staff Paper PDFs - all shapes & sizes!

Teaching Singing to Elementary Students

Yes, people will want voice lessons for themselves or their children.  And that's a good thing...unless you feel unprepared.  But in a small town where one, two, or three piano teachers may be the only live culture going, it is worth it to go out on a limb, psychologically, and learn how to teach beginning voice (while you improve your own technique, of course). You'll certainly need vocal books and the audio examples which can, fortunately, be found on Youtube these days, but you can get started without them if you have free vocal sheet music.
If you are a musician who feels the drama inherent in a phrase of music, you can communicate that drama to others. If you have sung in a good choir, taken vocal lessons yourself, continue to listen to good singing, and have the discipline to keep improving your own voice, then teaching voice is something you can do!
For a young beginner, voice lessons are exciting, and also perhaps a little scary. Even for an older beginner, voice lessons mean putting the ego on the line. There may be a lot of just-above-a-whisper singing at first... the very opposite of the heartiness that a singer needs to throw into their part? In fact, even older beginners such as adults can be VERY shy. Their lips may tremble and their hearts pound when they first start singing with you.

But that's okay -- they signed up for voice lessons for a reason. They love music, and they want to know how to make music more effectively. To put them at their ease, I do a lot of singing along WITH them during their lessons (when they are first starting out), especially during vocalises. (And that gives me an opportunity to exercise my voice, too.) The louder I sing, the louder they will sing. I let them know that I think they are very brave to sing in front of me, or anyone, and I tell them that not many people have that kind of courage!

When I hear off-key notes or other funny sounds the first lesson, I never, ever pounce,or act like something is wrong. They need to get to know me and trust me, and to trust that I believe they have the ability to sing.
People can develop a lot of funny habits when they sing, and they rarely hear themselves. Sometimes the habits are visual -- they pull their mouth sideways a little (very common) or raise their eyebrows with tension. Little by little -- not all at once -- you can point out corrections they need to make.
It's best to think in a holistic manner about singing; instead of trying to fix every little thing you notice, try to promote healthy and good habits. When they learn what to listen for,they will start correcting themselves more and more. And they will start to notice the technique of other singers, too. "Wow, you could sure hear her take a breath," or, "She really drops her jaw when she goes up high."
Primarily, as a vocal teacher, you want to be like a doctor: "First, do no harm!" Don't let your students shout like Annie singing "Tomorrow." If you don't understand "belting," stay away from it. Don't force young voices to sing loudly -- volume will come by-and-by, with confidence and an understanding of focus.
If they don't already have a natural-sounding vibrato in their voice, don't worry about encouraging vibrato until they have good habits in hand. What do I mean, good habits?
Well, take the case of Miss Prima Donna.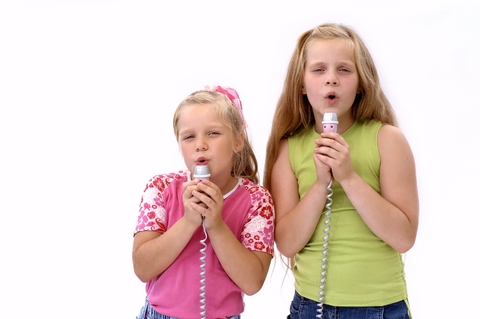 Occasionally you will start a singer who has been imitating pop stars all her young life. For years, perhaps, people have been fawning over her, saying nice things about her voice. She has really come for lessons not to learn vocal basics, but for the opportunity to show off her style at recitals and other venues. She sees you not really as her teacher, but as her booking agent. And she may have real talent, and a very appealing voice!
But this girl may have cultivated an uncontrolled vibrato that will keep her from blending well in choral groups. She probably scoops and dips with her voice, and is apparently unable to meet a note head-on without sliding up to it. She may want to wiggle her body instead of standing in a relaxed but poised posture.
It is your job to break her of all those bad habits and teach her simple, basic classical style. That will almost certainly sound like NO FUN to this girl.
Assure her that she can always pick up those different styles of singing, whether gospel,rock, or country, later! First she needs to learn to really hear herself and know what a straight style is.
She needs to learn how to breathe, how to phrase, how to articulate words so people can understand her, how to keep energy in her vocal lines...

She, along with all students, needs to learn these basics of Singing 101, and she won't get these basics by singing along with her iPod (kids' and even adults' preferred warm-up and practice approach).
I make it my mission to find for students music they will love, but I make the exception when they ask for rock music. "Very hard," I tell both voice and piano students. What I really mean is, "A waste of time for you, right now, at this stage in your singing/playing." Not that they can't learn plenty by imitation -- they certainly can and should -- but that is not why they should be at your music studio. I tell them that we will be looking at that style of music BY AND BY.
Many of my voice students began music instruction with private piano lessons, or with a band instrument at school. What a huge advantage for them -- note-reading ability is of great benefit to singers.

"Well, that's obvious," I can hear you saying. "OF COURSE any musician should be a notereader!"
But all musicians are NOT notereaders. And some of them don't care! They will happily pop in a CD or plug themselves into their iPod, or sit at music lessons and listen to you, the teacher, repeat a song section over and over again until they "get" it.

Singers in particular are notorious for this lackadaisacal attitude. Sometimes a person will be blessed with a beautiful or interesting voice, but have no interest in the work required to DO something with his or her talent.
When I say "DO something," I'm not speaking of going on to a music career...  I'm just talking about practical musical skills such as being able to:
Count out the rhythm of a song or choir part without someone's help.
Read the notes of a song or choral part.
Notice the repeats, the "D.C. al fine"s, etc.
Interpret musical phrases, figuring out where to breathe, and how to make the song expressive.
Read enough of the pianist's part -- the accompaniment -- so that they can count and make their entrances correctly!
I tell my voice students that if they can't read music, they will be a DRAG on any group of which they are a part. That if they CAN read and interpret music intelligently, their future choir directors will bless them for it, and come to rely upon them as an important member of the group.

As a vocal teacher, you need to keep your own voice in shape so you can constantly demonstrate techniques and ways of using the voice. That means you will need to be singing a little bit every day. Maybe you even want a course on singing for yourself to give you the confidence to teach others.  
Be cautious in your choice of music for your singers.   As I say on my "Song to the Moon" page, it is best to avoid opera music if you are not a voice specialist.  There is too much opportunity to damage young voices. 
There are lots of great books for singers and teachers, too. Some I've benefited most from are:
Discover Your Voice: How to Develop Healthy Voice Habits by Oren Brown. He was a teacher at Julliard School of Music. The book comes with a CD, but is unfortunately quite expensive -- I paid over $60 for it, several years ago.
"The Diagnosis and Correction of Vocal Faults: A Manual for Teachers of Singing and for Choir Directors (with accompanying CD of sample vocal faults)" by James C. McKinney was also not cheap -- over $25 -- but it is very worthwhile.
How to Sing by Graham Hewitt is a slim book, right to the point, with lots of exercises. It gives a good overview, and is inexpensive.
The Rock-N-Roll Singer's Survival Manual by Mark Baxter was an interesting read. I bought it with a video of the same name. I was floored by how relaxed Mark Baxter's singing voice sounded. His business is helping people who scream for a living -- rock singers -- get up every day and do it all over again without permanent damage to their voices. He has a DVD by now, which can be found, along with a Q and A forum and lots of good advice, on his website, www.voicelesson.com. There are some older CDs and DVDs, books and VHSs available from a couple named "Beatty" whose company is called "The Vocal Coach." They have many products, and it looks like some of them might be hard to find, but still available -- I found mine new in a homeschool catalog called "Rainbow Resource." Amazon lists quite a few of them, such as Maximum Vocal Performance. One of their CDs about breathing exercises has been very useful to me, and I continue to use some of the exercises.
Another one I like is Singing for Dummies. Yes! There's a lot of information that is obvious in it, as must be the case with all beginning manuals, but there is also much that is very insightful, and advice stated in ways I haven't run across elsewhere. That's helpful, because singing is a funny process...
Words and images are the necessary tools of a voice teacher. And different words will get concepts across to different singers. After all, you can't say, "Press this key and you will hear an 'A.' Pluck these strings and there is your chord." Instead, the body is the instrument.
So, vocal teachers rely on images and words to get their singers' muscles working the right way. Listen in on a voice studio, and you are bound to hear the funniest suggestions: "Hook the sound forward, behind your teeth...Make your jaw heavy, like it's filled with lead and slowly dropping...'Spin' the tone; imagine an orange spinning just beyond your forehead..." And much WEIRDER things than that! Teachers seek to manipulate sound as if it has the kind of physical substance you can touch.
All the voice books mentioned above bear re-reading; they are almost like holding a conversation with a master vocal teacher.
And be sure to check out the many tiny (and frequently contradictory) vocal lessons offered all over Youtube; comparing them can be very instructive.  Listen to opera singers.
In future pages, I will share more about starting voice students, and how they can be a very fun addition to your music studio. Recitals are much more interesting when you can mix things up, alternating piano with voice, and maybe guitar. Young girls just love to sing! Voice lessons might be their dream, and you might be the answer to it!
If there is a shortage of voice teachers in your town, AND you have the piano skills to play musicals and classical music (or simplified versions), AND you have some singing background, AND you are willing to educate yourself in your weak areas, then you will be doing your community a wonderful service by taking on voice students. Avail yourself of the free vocal sheet music offered here, and you will be off to a head start.
People love to sing! If you can help them learn, you will make your community a more beautiful place to live.
---
---
Get word of the latest sheet music at Music for Music Teachers?  Sign up for "Take Note!"
Comments: Do you have a story or a question about music teaching? Share it!
Please note that all comments are moderated, and will not appear until I have approved them. Also, IF YOU ARE ASKING FOR MUSIC THAT IS NOT IN THE PUBLIC DOMAIN, YOUR REQUEST WILL BE IGNORED. That's pretty much any music written in the last 75 years...
What Other Visitors Have Said
Click below to see contributions from other visitors to this page...