Free Lead Sheets
Free lead sheets are an excellent way to not only stretch your music budget and your students' repertoire, but also to stretch their musical skills.  Lead sheets require an understanding of chords!
What's so useful about a lead sheet?
Using their understanding of chords and chording patterns, music students will learn how to take a simple melody and make their own arrangement.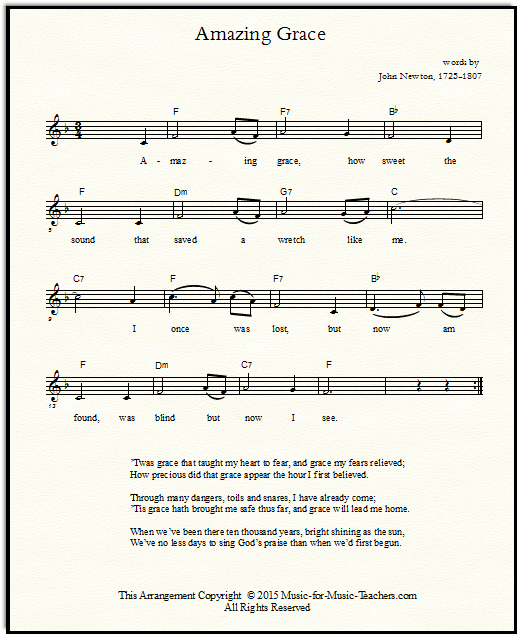 Chord practice!  And chord relationships!

Piano students in particular may start with very simple melodies and chords, they will eventually be able to employ flowing or powerfully rhythmic left hand parts, and add harmony in the right hand.
So... what IS a lead sheet?
Whether for guitar or piano, music lead sheets are simply the melody of a song, with chord symbols added above the notes.
The right hand (of a piano player) plays the melody while the left hand plays a chord in the left hand. For a guitar player, usually the guitarist sings the melody and strums or picks the notes of the chord.

Lead sheets are easier to read 

Check out the free lead sheets below (many of them will also be found on the Vocal, Piano, and Guitar pages) and you will see that the majority of them are just a few lines of melody in the treble staff.
...use them to make progressively harder arrangements

With a few of my free lead sheets, I have left a blank bass staff for piano players, as it can be handy to write out sample chord patterns for the left hand in the empty measures, to give students ideas, or to jog their memory when they get home from their lesson.
Some of the leads have guitar tabs for the melody as well.
Further down, below the song links, see my performance suggestions if you need ideas for how to use my free lead sheets.

Ae Fond Kiss, a Scottish poem and song - this lovely song works well with guitar or piano

All the Pretty Little Horses - a pretty lullaby, useful for learning different kinds of strums and chord patterns, piano & guitar

All You That in This House -  an unusual Christmas carol, set in a minor key

Amazing Grace - the wonderful song with words by a former slave trader, turned repentant

America (My Country 'Tis of Thee) - "Sweet land of liberty, of thee I sing."

America the Beautiful - "O beautiful for spacious skies" - this song is frequently used as a test for singing auditions

Anchors Aweigh - an energetic song for the Navy!

Angels We Have Heard on High - the lovely Christmas carol with the "Glo-o-o-o-ri-a!" section

Arkansas Traveler - a great fiddle & guitar song

Army Theme Song (Caisson Song) - "Over hill, over dale, we will hit the dusty trail"!

Ash Grove - a pretty old-fashioned song from Wales - "Down yonder green valley..."

Ave Maria - this is the Bach-Gounod Ave Maria

Away in a Manger - another pretty Christmas song, this one about Baby Jesus
Be Thou My Vision - a beautiful old hymn

Blow the Candles Out - this minor melody is unforgettable

Boil'em Cabbage Down - this is a beginner arrangement for fiddle & guitar of this bluegrass favorite.  Very easy, with lots of repetition.

Bonaparte Crossing the Rocky Mountains - a great bluegrass tune you may never have heard!

Caisson Song - a strong melody and lyrics ensure this high-energy song retains its popularity!

Camptown Races - an older song that has a definite American feeling

Cat Came Back - this fun song with silly lyrics can be simplified to just 5 notes.  Kids like this song.

Colorado Trail - a sweet cowboy love song

Come Ye Sinners (Beach Spring melody, from The Sacred Harp) - an excellent melody with an old-fashioned American hymn sound

Come Ye Sinners (I Will Arise and Go to Jesus, from Southern Harmony) - same words, but a very different melody, minor and beautiful)
Deck the Halls - a very popular Christmas carol

Devil's Dream - a great favorite among both fiddle and guitar players

Dona Nobis Pacem - a beautiful but CHALLENGING vocal round

Doxology - "Praise God from whom all blessings flow"

Down in the Valley - a sweet old song from the mountains of Appalachia

Erie Canal - a still-popular song about driving a mule & a barge

Farther On - a truly lovely hymn I never tire of, about looking beyond the troubles of today to the "field of endless day."

Found a Peanut - a goofy song for a "certain age bracket" that uses only 2 chords!  Great for beginners.

For Health & Strength & Daily Bread (a round) - this melody progresses in easy steps downward, after the initial octave leap.  Pretty!

For the Beauty of the Earth - an old-fashioned hymn giving thanks to God for what he has created

God is So Good - a song that praises God and calls upon him, in a simple tune.

God Rest You Merry Gentlemen - a Christmas carol from England, with an arresting minor melody, and sophisticated lyrics ("let nothing you dismay") celebrating the arrival of the SAVIOUR
Goober Peas - a fun song about soldiers and eating peanuts that comes from Civil War times

Greensleeves - one of the loveliest and oldest of melodies

Grenadier and the Lady - a sad but lovely song

Happy Birthday - several different arrangements

He is Born (Il est ne) - from France, a pretty Christmas carol

Heigh Ho, Nobody Home - a good beginning round for singers, words sung by a "hobo"

I Dreamt That I Dwelt in Marble Halls - an opera song about a girl who dreams she is not really a gypsy, but a princess

I Love the Mountains - for guitar or piano, this is a fun song with opportunities to improve chord technique

I'll Fly Away - a song about flying away joyfully to heaven when the day comes "when I die"

Jingle Bells- one of the Christmas songs everyone knows - and it only has 5 notes (in the chorus)!

June Apple - a fun melody for fiddle or guitar

Keegan's Waltz, a very pretty Irish song

Kum Ba Yah - Come by Here, My Lord

Lavender's Blue, an old song that still seems fresh & sweet

Loch Lomond, a Scottish song about the sad parting that comes to lovers, with war and battle

Marines' Hymn - a patriotic & stirring song

Mari's Wedding - a brisk tune great for fiddle & guitar, from Scotland

Mary Had a Little Lamb - my students all master this song to learn to use chords well!

Minstrel Boy - another sad but lovely patriotic song about battle.  Irish.

Modern Major-General - a silly song from Gilbert & Sullivan that is a tongue-twister!

My Country 'Tis of Thee (America)

On Top of Old Smokey - this is the song I sang as a kid that went "On Top of Spaghetti!"

Redhaired Boy (The Little Beggarman) - a very popular flatpicking song for young guitarists

Scarborough Fair, lead sheets in many keys

Shalom Chaverim, a Hebrew round

She Went Through the Fair - an unusual folk piece, part love song, part ghost story

Shenandoah, a love song? or a song about travelling "across the wide Missouri" 

Shortnin' Bread - an adorable American folk song (bluegrass?) with repeating lines

Silent Night - perhaps the most beloved of Christmas carols


Sing We Noel - a little-known French carol in a minor key, very pretty

Skye Boat Song - from Scotland; a song about an escape after a devastating battle by Bonnie Prince Charlie

Sleepsong - this is an amazingly lovely lullaby wish from the group "Secret Garden."

Slumber, My Darling - another lullaby, but this one is American, by Stephen Foster.  Very sweet, with potential to be a nice first recital song for a young girl.

Softly and Tenderly - "Jesus is calling... calling for you and for me.  Come home..." - a moving hymn, quite old-fashioned.

Spanish Ladies - a favorite of my guitar-playing boys, who will even sing the swash-buckling sailors' lyrics!

Spanish Lady - a different song entirely than "Spanish LADIES", this one describes the winsome ways of a pretty lady from Spain.  Irish.

What Child is This - the beautiful Christmas song set to "Greensleeves"
When the Saints Go Marching In

White, Orange and Green - a song from Ireland about the courage of a young girl and her love for her country

Question from a Reader:
Hello! First of all, I love your site! 
I wanted to ask you about lead sheets. I learned piano when I was young for few years, but only the classics. Now they're a bit difficult for me, and I want to play easier and more enjoyable pieces. I saw an infomercial before mentioning lead sheets, how it makes playing piano easier, and I want to ask you, how do I use it? I'm really bad at chords, does that mean I need to know all my chords before playing a lead sheet music?
Thanks so much!
R---, India
Dana: You are right that you need to understand chords to make use of lead sheets.  But you can start with the basics & go on from there...
I have a page of links to lead sheets https://www.music-for-music-teachers.com/free-lead-sheets.html  which has some instruction about using chords.  Also, my piano pages "Mary Had a Little Lamb," and "Twinkle", and "Water is Wide" all have information about chord patterns and uses.  Those are EASY BEGINNER pages, but very useful if you are unfamiliar with chords!  Also, take a peek at https://www.music-for-music-teachers.com/printable-piano-chord-chart.html - this page is a graphic showing what the most common chords (major & minor chords) look like.
Other teachers agree on the usefulness of lead sheets
One site I have really enjoyed reading and using resources from is Piano Music for Boys.
They have a great little E-book called "Piano Hands Shouldn't Flip Burgers" full of ideas for making your piano studio a fun place to learn, where kids love to return week after week to see what they "get to do THIS lesson!" (No, they didn't pay me to write this review, and they won't be giving me any kind of kickback, unfortunately!)

Shake up your piano lessons with activity changes 

The authors/piano teachers at PianoMusicForBoys.com suggest setting aside a portion of each music lesson for a rotation of activities, different every week.
Along with games that stretch and reinforce understanding of music theory, they suggest giving the kids lead sheets (and if you can, free lead sheets!).
Starting very simply, students will gradually hone their arranging skills and feel "cut loose" from the written page. 

This is an entirely different way to play piano, and will gradually lead to playing by ear (which I personally believe every adept musician ought to be able to do).

What KINDS of lead sheets?

In addition to using older, public domain songs, one kind of lead sheet I've had a lot of success with among my students is contemporary Christian lead sheets such as "Be Unto Your Name," "Shout to the Lord," "Give Thanks," etc.
But those ones aren't FREE, are they?

Of course, those ones are NOT free lead sheets, being under copyright.  So I go looking for these songs on SheetMusicPlus.com (they have digital downloads now) or Musicnotes.com.  After buying the version I like, I loan students page 1, with instructions to give the music back to me and buy their own copy if they want the whole thing. 
FLASH UPDATE, 5-1-2018: Musicnotes dot com is now offering a free sample of the first page of at least some of their music! (I found that out while looking over music from The Greatest Showman.)
Will students' parents really buy the sheet music for them?
Yes! This process has worked very well for us; many of the students do indeed talk their parents into purchasing their own copies, and others simply memorize the main theme and figure out the rest.
I have a lot of church-going families among my students, and these songs are ones that are special to them already; they are thrilled to be able to play them at home!
Well... how do I USE these free lead sheets?

Follow the diagrams below to see the "evolution" of lead sheet playing...
Start with the lead sheet:

Here, perhaps the most basic way to play a lead sheet:
Even easier - using "open" chords (also called "open fifths" or "shells"):

Once piano students understand how to add the left-hand chords this way, teach them how to do inversions of the I - IV-V chords. 
Here is the way the chords would look with the closest regular G and F inversions (closest to the root position C chord):

Do you recognize the F and G7 chord inversions?  Your students don't need to wait until they encounter them in their method books to begin using them and developing an understanding of the relationship of the 3 main chords.
These forms of the most-used chords (the I, the IV, and the V) are not only prettier, but also ultimately EASIER than jumping back and forth, since the left hand hardly has to move.
With very young beginners, I like to start with the "pinch" chord (which is actually a G7, and not just a G chord) and the "baby" or "little F" chord. Here's how the open C and pinch G would look with Mary Had a Little Lamb... 

What about the IV (four) chord?
Now it is time to change songs, because Mary Had a Little Lamb only uses two chords. Let's change to "Twinkle" to demonstrate the use of the IV chord (which will be "F" if we play it in the key of C, as I usually do with beginners).
Here is the beginning of "Twinkle" using the C chord in root position, and F and G inversions: 

Here is the beginning of "Twinkle" with C, pinch G, and little F chords: 
Here is Twinkle with pretty broken chords, MUCH more difficult for young students (but where you are heading):

Along the way to playing it like that, is an in-between version:

These are only a few ideas, the beginnings of where you can go with these free lead sheets.  See other pages, such as Mary Had a Little Lamb, for more ideas.  Have fun!

Comments: Do you have a story or a question about music teaching? Share it!
Please note that all comments are moderated, and will not appear until I have approved them. Also, IF YOU ARE ASKING FOR MUSIC THAT IS NOT IN THE PUBLIC DOMAIN, YOUR REQUEST WILL BE IGNORED. That's pretty much any music written in the last 75 years...
What Other Visitors Have Said
Click below to see contributions from other visitors to this page...

US Air Force Song Not rated yet
I love your site! The lead sheets are a great help, as I just really want to have a simple melody that my students can follow. I was wondering if you …
Sign up for "Take Note!" to see what's new every month.
Comments: Do you have a story or a question about music teaching? Share it!
Please note that all comments are moderated, and will not appear until I have approved them. Also, IF YOU ARE ASKING FOR MUSIC THAT IS NOT IN THE PUBLIC DOMAIN, YOUR REQUEST WILL BE IGNORED. That's pretty much any music written in the last 75 years...
What Other Visitors Have Said
Click below to see contributions from other visitors to this page...

US Air Force Song Not rated yet
I love your site! The lead sheets are a great help, as I just really want to have a simple melody that my students can follow. I was wondering if you …
Free Sheet Music
› Lead Sheets for All Instruments