Silent Night Sheet Music - Piano Arrangements, FREE!
Silent Night sheet music in several levels for your piano students. 

Download:
an easy version with solid left hand chords, 

an arrangement with broken chords and inversions, 

a lead sheet, or 

a duet, offered in two keys.  The duet version is also available with a few alphanotes to help out in the bass clef!
Please scroll down the page for the links to the free printable PDFs.
Here are the duet sheets.  Page one shows the duet in the key of D. 
In the Secondo, the hands are playing exactly the same notes, just an octave apart.   Scroll down the page for the free PDF download links.
The stem-down notes in the Secondo are all for the left hand, and the stem-up notes, for the right hand, are exactly the same notes an octave higher.

You have probably looked at the melody by now and said to yourself, "My beginners can't play this!"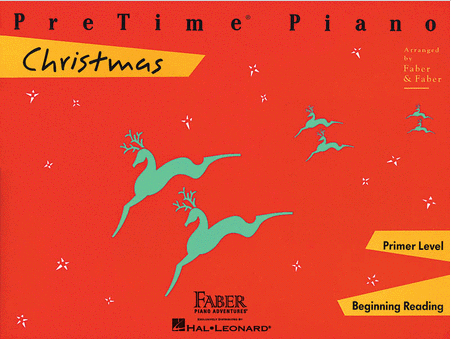 Right.  
Silent Night is a difficult melody with a range greater than the ten fingers, and piano books tend to have younger students cross the left hand over the right hand in order to achieve that highest note of the melody!
That is exactly what happens in this Christmas book by the Fabers, which many of my students have enjoyed over the years.
But I didn't promise you an easy duet.  
What we have here, instead, is some lovely chord practice for a student who has learned a bit about chord inversions and is ready to try something pretty.
Page 2 shows the key of C: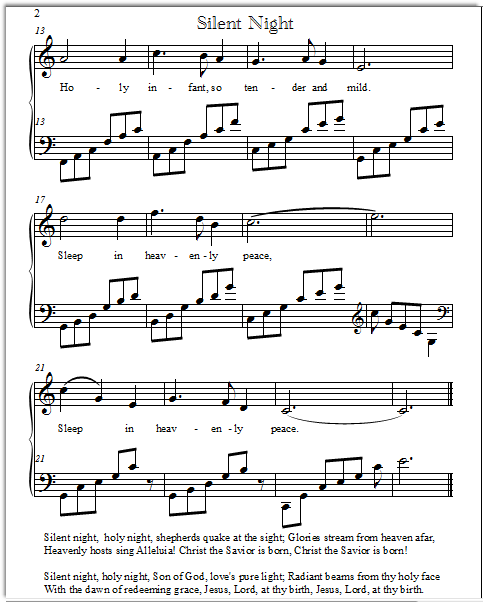 The fingering I have left up to you!  
In the Secondo part, if your students don't already have their fingering down for chord inversions (as seen in my sheets "The Key of C" and etc.) then they are not ready for this music.
Originally, I had thought to make a duet out of the Silent Night music similar to my simple arrangement for the Greensleeves duet, with repeating broken chords in root position.  

However, the Silent Night chords are not as varied as in Greensleeves, and they don't change as frequently, so repeated root chords would get a little old (in my opinion).

Therefore, except for the first three C chords, the chords alternate between root position and one of the inversions.  This is challenging, even in the key of C!  But very, very pretty. 

Your students who are beginning to use chord inversions may find this Secondo a bit of a challenge, but a rewarding challenge.  
The "helper" version gives them the  inversion notes the first time they appear.
Next, here are the lead sheets:

Last of all, here are the solo versions of the Christmas carol.  These are fairly easy, and not very fancy, except perhaps the second page of the broken chord versions.  Here is an arrangement in two keys which uses solid chords in the left hand, mostly: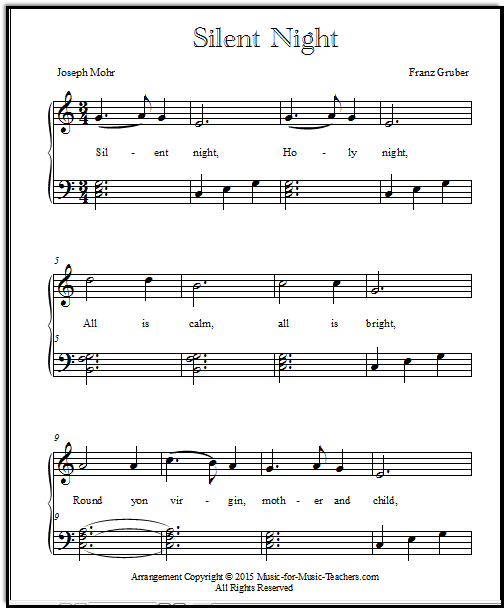 Here are the same two keys and basic arrangement, but with all broken chords: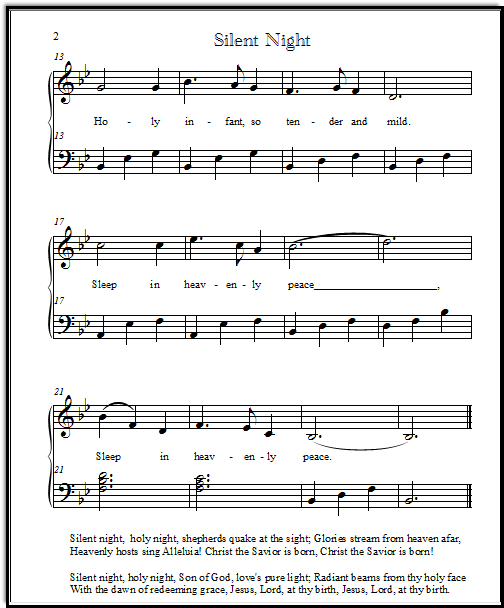 ---
The download links for the duets:
Download Silent Night piano duet in the key of C

Download Silent Night Holy Night lyrics and music in D

Silent Night music sheet with a few lettered notes, a "helper version"
Here are the lead sheet PDF links:
Download Silent Night lead sheet in  A

Download  lead sheet in the key of Bb

Download Silent Night carol in the key of C

Download lead sheet in the key of D

Download free Silent Night sheet music in the key of Eb

Download Silent Night lead sheet in the key of F

Download Silent Night lead sheet in the key of G

The PDF download links for the Christmas carol SOLOS:
Download Silent Night chords and melody, easy piano in Bb

Download carol in the key of C

The solos with broken chords:
Download piano solo with broken chords in Bb

Download piano solo with broken chords in C

Lots of people have read the Silent Night story, and how the song's lyrics and tune were composed for a Christmas Eve service to be played on guitar, as the church organ was broken (perhaps from mice nibbling at the bellows).  
That's perhaps just a story, though it isn't impossible...

The Silent Night Holy Night lyrics were composed by a young priest, Joseph Mohr, in 1816, and the music was composed two years later by schoolmaster and organist Franz Gruber in 1818 at Mohr's request, just in time for Christmas.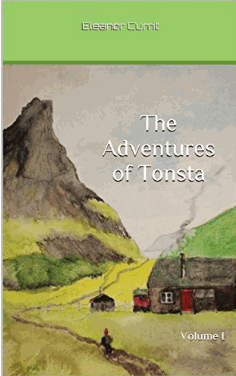 A perfect read aloud storybook
for little boys or girls. 
The Adventures of Tonsta highlight the travels of a very young boy with a good heart, who goes about helping folk in trouble.  
With a red cap on his head and a sack of tools slung over his shoulder, Tonsta seems to meet people in distress wherever he goes.
Lots of trolls in this book - including one who gives him a Christmas gift!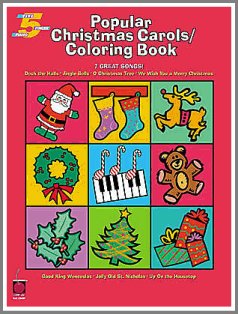 Shanette, US:
I just purchased O Holy Night to use as a duet for Christmas Eve Mass.  
Thank you so much for this simple, easy to read version as my vocalists are not professional and this music won't be quite so intimidating as other arrangements I have. Your expertise is much appreciated!!  Merry Christmas!
Joy:
Thank you. Just wanted to say I found your website by mistake but what a blessing it has been. I am a missionary wife living in Spain (for many, many years) and I teach piano to Spanish children and adults. I have the barrier of very few usable things in Spanish, and can so identify with the need to write things suitable for the student...
Sign up for "Take Note!" to see what's new every month.
Search Music-for-Music-Teachers:
Comments
Do you have a story or a question about teaching guitar? Do you think it is a hard instrument for beginners, or easy? What have been your challenges?
Please note that all comments are moderated, and will not appear until I have approved them. Also, IF YOU ARE ASKING FOR MUSIC THAT IS NOT IN THE PUBLIC DOMAIN, YOUR REQUEST WILL BE IGNORED. That's pretty much any music written in the last 75 years...