Marine Hymn Lyrics & Sheet Music
Marine Hymn lyrics and sheet music in three keys.
This free lead sheet of the Marine's Hymn has three verses of lyrics, and chords.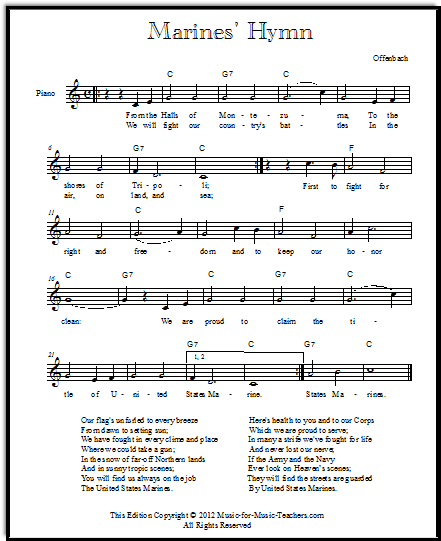 Please scroll down the page for the download links.
Plain block chords and chord inversions work well with this lead sheet, because it sounds good with a thick and vigorous texture.  
For an example of what I mean, look at the "Key of C" PDF, downloadable on the "12 Major Scales and Chords" page of my site.  See the top line of the printout, with the I-IV-V chords and inversions.

Wikipedia has quite a bit of Marine Corps History, including information about this song:
"The 'Marines' Hymn' is the official hymn of the United States Marine Corps. It is the oldest official song in the United States military. The 'Marines' Hymn' is typically sung at the position of attention as a gesture of respect. However, the third verse is also used as a toast during formal events, such as the birthday ball and other ceremonies."
Here is a link to a good version of the US Marine Corps Band playing this song (thanks, Jasper!). 
And look at this really great video of a little guy trying on his dad's uniform, interspersed with scenes of his dad & other Marines (Here is where to go to buy a download of that performance, on an album called "Unmarked Car" at Itunes: 
And I really like this short and unusual version of The Marine's Hymn, sung by men (the best way to hear this song!): 

My father was a Marine in the Korean War. He said when the war started, he didn't wait to get drafted, but joined up -- and joined the Marines "because they were the toughest."
Well, my dad was pretty tough all right! Sometimes he'd sing these Marine Hymn lyrics to me and my brothers and sisters, though he never really wanted to talk about his time in Korea as an artillery gunner and instructor. The older he got, the more he wished to reconnect with old comrades-in-arms.
I know there were special bonds between him and those other Marines, though he couldn't - or wouldn't - put it into words.
I love the last phrases of the third verse of the Marine's Hymn - you can't help but smile:
"If the Army and the Navy
Ever look on Heaven's scenes;
They will find the streets are guarded
By United States Marines!"
---
The links to the music sheets:
Download Marine Hymn lyrics and music in C 
---
See all the free patriotic songs on my site!




America (My Country 'Tis of Thee)
...and if you can't find it here, you might be able to find a (for-sale) version in the "Patriotic" category at Musicnotes: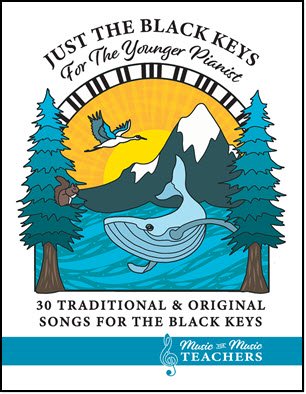 This book is available as a digital download  from this site, and also from Amazon as a paperback!
This is the perfect easy start for little pianists.
And when they start reading white-key notes on the staff, this is a fun easy resource to say each week, "Choose a new black-key song at home this week and figure it out to show me next lesson!"  They will be spending more time at the piano.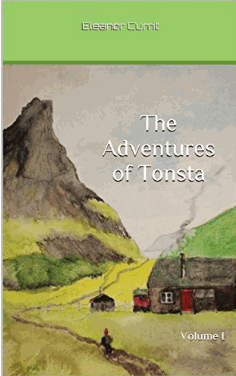 A perfect read aloud storybook
for little boys or girls. 
The Adventures of Tonsta highlight the travels of a very young boy with a good heart, who goes about helping folk in trouble.  
With a red cap on his head and a sack of tools slung over his shoulder, Tonsta seems to meet people in distress wherever he goes.
Lots of trolls in this book - including one who gives him a Christmas gift!
Sign up for "Take Note!" to see what's new every month.
Comments: Do you have a story or a question about music teaching? Share it!
Please note that all comments are moderated, and will not appear until I have approved them. Also, IF YOU ARE ASKING FOR MUSIC THAT IS NOT IN THE PUBLIC DOMAIN, YOUR REQUEST WILL BE IGNORED. That's pretty much any music written in the last 75 years...

About the Author


Hi, I'm Dana!  (Say that like "Anna".)  I'm the owner of Music-for-Music-Teachers.com.

Like some of you, I've been playing the piano since early childhood, and added a few other instruments along the way, plus an interest in arranging and composing music.

You can find out more about me and the reason for this website at my About Me page.