Christmas Music Lyrics and Piano Chords for "Entre le Boeuf"
Christmas music lyrics and piano chords for "Entre le Boeuf," a very old French carol.  You've heard this beautiful carol before - now you can sing or play it too, with decent Christmas carol lyrics.  Download a lead sheet or a piano version.
I have read that Entre le bœuf et l'âne gris" (from the 13th century) is the oldest French carol that is still sung today.
There are two main variations on the melody, some adding extra beats, which you can hear in a few of the arrangements available on Youtube.  
Here is the version of the melody which is my favorite: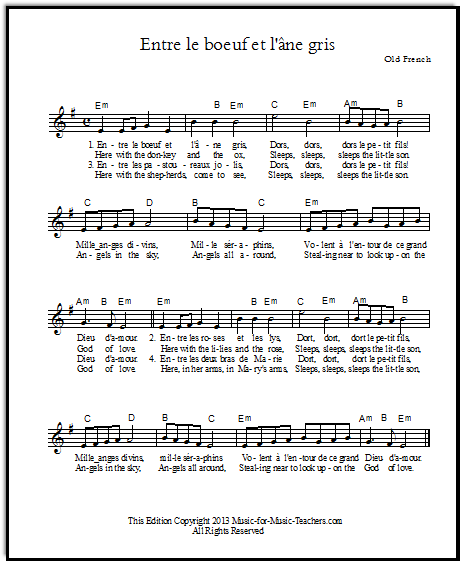 Download Entre le boeuf lead sheet in the key of Em
Download Entre le boeuf in the key of Dm
My French is "developing," however, the words of this song are pretty straightforward. So I have written a translation that is mostly new and seeks to preserve the real meaning of the French words, while placing stress on the important beats of each measure. I had looked at a lot of English translations and decided none of them were good enough, for those who actually wish to sing in English!  

The French itself is beautiful, so I have rounded up several excellent Youtube videos in which the pronunciation can be clearly heard.  Here is one:
And here are the Christmas music lyrics and piano chords written out for piano accompaniment:
Download Entre le boeuf Christmas music lyrics and piano chords in Dm
Download Christmas piano sheet music version in Em
The literal meaning of "entre" is "between".  (That is a sweeter picture than the words I replaced it with, "Here with," but I found the emphasis of "BE-tween" clunky.)

The lyrics for this Christmas piano sheet music are so simple, but transcendent at the same time.  Here is the God who cannot be contained by all of the heavens, voluntarily entering TIME and SPACE and becoming one of us, a union of deity and humanity that is beyond understanding.  And here in this song, He is a baby, sleeping between farm animals, sleeping between Mary's two arms.
"Mille anges divin, mille seraphin" means "Thousands of angels divine, thousands of seraphim..."
The arrangement below has fingering (it is only in Dm):
Download Entre le boeuf with fingering for pianists

Because French can be daunting for some singers, I have made an easy-to-understand pronunciation guide:

Download pronunciation for the French lyrics of "Entre le boeuf"
Here are some French children singing very clearly:
And a lovely instrumental version:
Sign up for "Take Note!" to see what's new every month.
Comments
Do you have a story or even a question about this vocal piece? Share it!

Please note that all comments are moderated, and will not appear until I have approved them. Also, IF YOU ARE ASKING FOR MUSIC THAT IS NOT IN THE PUBLIC DOMAIN, YOUR REQUEST WILL BE IGNORED. That's pretty much any music written in the last 75 years...