Angels We Have Heard on High

Angels We Have Heard on High for piano, guitar, voice, and more!  Now with an easier-to-read Middle C piano version for first year students  - and another one with chord symbols too.
Additionally, lead sheets in six keys, and three levels of piano arrangements, guitar tabs and chords in three keys, with all the Christmas carol lyrics!  Scroll down the page for the links to the free printable PDFs.

Though left hand thumb will be placed on Middle C (hopefully - not all students will cooperate!), the right hand thumb needs to be placed on D so as to be able to reach A when the melody gets to the "Gloria" section.
I have used eighth notes, which may be new to some of your students who wish to play this song.
I have found that saying "Tah, tee-tee-tee-tee" etc. works very well for an approximation of the rhythm.

Quarter notes = "Tah," dotted quarters are "Tah-ah", half-notes are "Tah-two", and the eighth notes are all "tee."
The whole notes are easy; they are "Tah-two-three-four." Students catch on to this way of counting very quickly.

Here is the same arrangement, with chord symbols for piano teachers who can't resist playing a duet with your student!
Two early intermediate piano arrangements of this free Christmas sheetmusic using left hand solid chords and broken chords...
The first half of each arrangement is the same; the differences are in the chorus: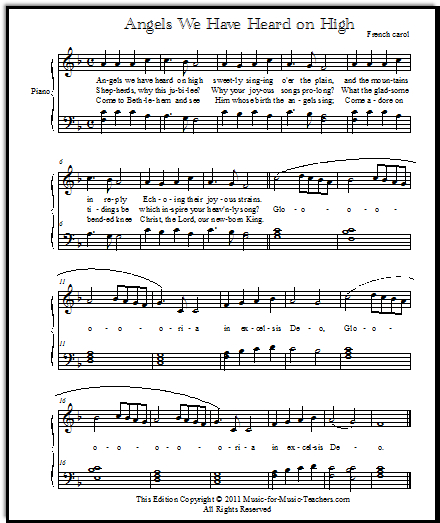 This falls into the hand very easily.  And so does the version below, once students can play "broken chord stretch" (see the page "Mary Had a Little Lamb" if you're unsure what I mean).

Now just look at the "Gloria" section of the next arrangement; though the chords may look complicated to your piano student, they follow a predictable pattern: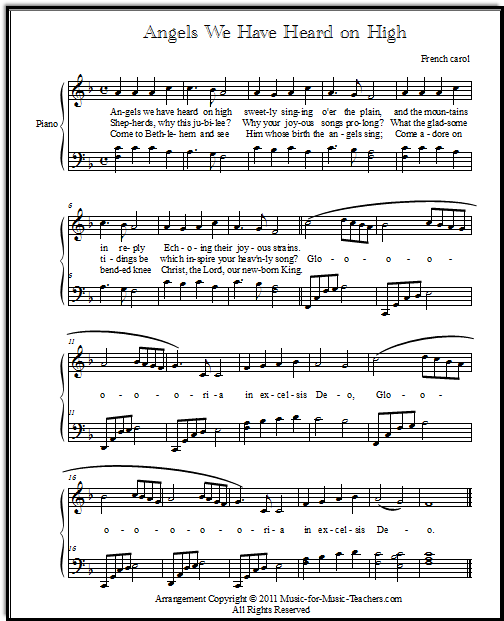 Here's what the guitar tab sheets look like... shown is the key of A:
For students who are able to play melodies across different strings with ease, these guitar arrangements (same arrangement, three different keys) will all be fun to play.

The lead sheet version of Angels We Have Heard on High features chord symbols so guitarists or pianists can play along -- or, so your fiddle/violin players can get some practice with chord backup!
I start my beginning fiddlers with single-string harmony backup, then gradually progress to 2-string long-bowing & chunking - of course, chunking doesn't suit this particular Christmas songs, at least in my opinion.
Here's what the lead sheets look like for Angels We Have Heard:

When I was a young girl, I always got excited when this song came around, because I loved trying to sing harmony to the "Gloria" melody in the chorus.

---
The piano sheet music links:
Download new and improved Middle C arrangement for beginner piano
The same Middle C arrangement, but with chord symbols for duets
Download early intermediate arrangement of Angels We Have Heard on High

Download Angels We Have Heard on High with broken chords

The guitar tab links:
Guitar tabs for Angels We Have Heard on High in key of A

Tablature for Christmas music Angels We Have Heard on High in C

Angels We Have Heard on High guitar tabs in key of G

The lead sheets:
Download free Christmas lead sheet in the key of A -- perfect for violin!

Download lead sheet in the key of C

Download lead sheet in the key of D

Download lead sheet in the key of Eb

Download lead sheet in the key of F

Download lead sheet in the key of G, also a very nice key for this song for violin players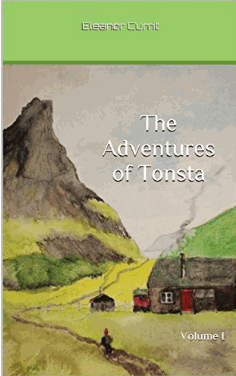 A perfect read aloud storybook
for little boys or girls. 
The Adventures of Tonsta highlight the travels of a very young boy with a good heart, who goes about helping folk in trouble.  
With a red cap on his head and a sack of tools slung over his shoulder, Tonsta seems to meet people in distress wherever he goes.
Lots of trolls in this book - including one who gives him a Christmas gift!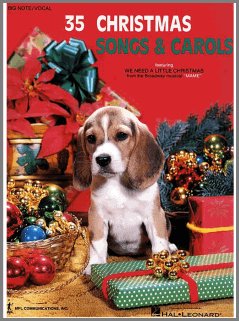 April:
Thank you so much for all the information and materials! Your site is very thorough and well organized! I am a piano teacher in New Orleans, LA and in the process of putting together my own curriculum and recordings. You have inspired me to make my materials available to all online!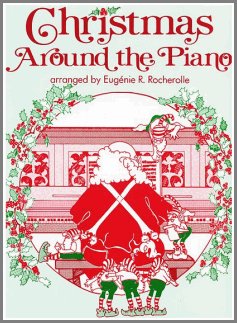 Matt:
THIS SITE IS AMAZING!!
I've been teaching guitar for about 5 years now, and I've only just found your website! (I could really have used it 5 years ago) :-)  I teach at primary schools every week day for about 4 hours, so the beginner tabs you have are ideal. Thank you so much for your hard work getting these on the web, you have made many children very happy!!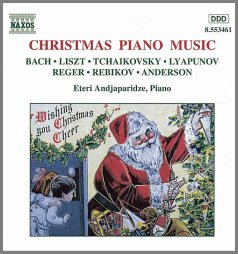 Sign up for "Take Note!" to see what's new every month.
Search Music-for-Music-Teachers: