Vocal for Sale - & Also Free!
Art Song "Hytten" by Edvard Grieg
Vocal for sale (with the piano accompaniment!) and also FREE vocal sheet music for your students.  "Hytten" (The Hut, or cottage) is a lively and old-fashioned romantic song about the sufficiency of love, surpassing the need for luxury or even the need for more than just a plain hut in a bare landscape.
This lovely art song works for male or female voices.  Here is Per Vollestad:
Edvard Grieg's pretty "Hytten" is offered here in the keys of C, D, Eb, E, and F.  The range is low in the first two lines, then jumps up high... a singer needs an octave plus a fifth.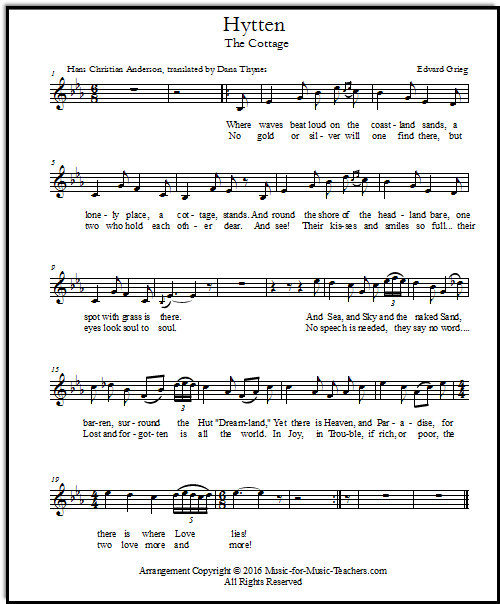 Download Edvard Grieg's song in the key of C
              Download Edward Grieg's art song in the key of D
              Download Hytten in the key of Eb
              Download "The Cottage" in the key of E
              Download art song in the key of F
No, this song's lyrics are NOT originally in English.  Grieg's setting is of a poem by Hans Christian Anderson - Danish is very close to Norwegian, and side-by-side, the texts are almost identical.  

I decided to translate the poem, because I wanted to sing it for a local audience, and despite our town being known as "Little Norway" (with a sister city in "the old country"), there are no remaining old-timers who speak the language.  To me, imparting the sense of the lyrics was more important for this crowd.  
If you are interested in singing the original lyrics, they can be found at the end of the For-Sale edition, below.  For pronunciation, listen carefully to the singers in the videos I have placed on this page.
And here is the standard accompaniment, with English translation, and the original text on page 3.  I show pages 1, 2 and 3 in three different keys: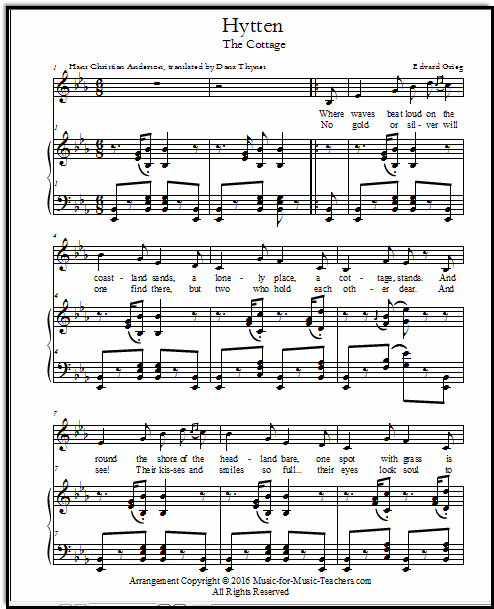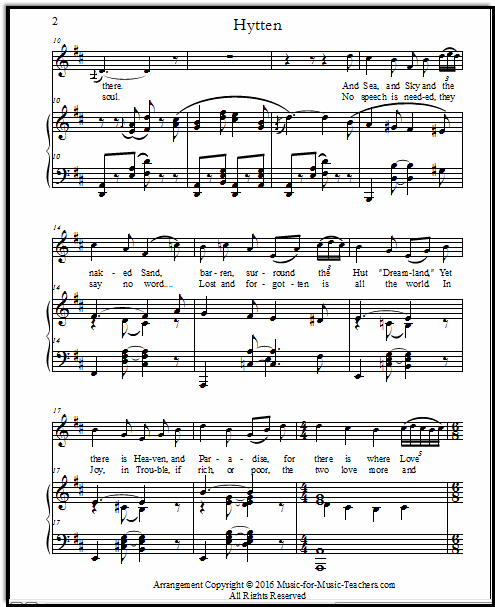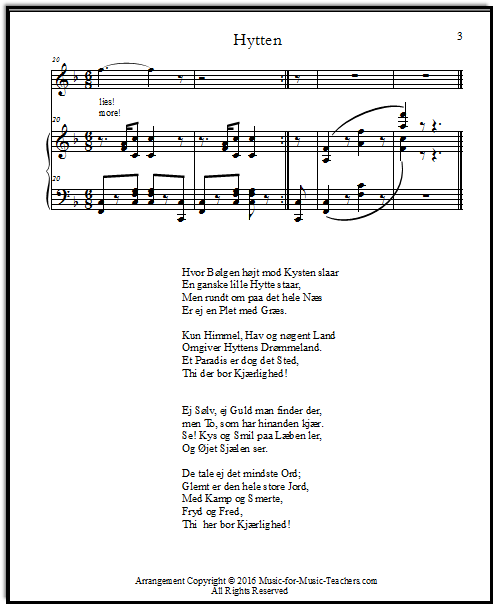 Listen to the lovely voice of a Finnish singer, Tuula Nienstad, at about 1:40 of the video.  (The gentleman with the hat is Hans Christian Anderson, author of the original poem "Hytten"):

Buy Vocal for Sale "Hytten" in 5 keys, UNLIMITED copies (for your students only), $5.00:
And here is a famous Norwegian singer from the past, Kirsten Flagstag:
So why should you buy Edvard Grieg's "Hytten" arrangements from me, aside from the fact that it is very hard to find, and there are no other English translations available?
I give you permission to make UNLIMITED COPIES, for YOUR STUDENTS ONLY.
Hytten is available immediately as a digital download onto your computer.  In 5 keys!
You don't have to download any new software into your computer in order to download this PDF. I don't know about you, but I hate clogging up my computer with yet another program I didn't know I needed. You just need a version of Adobe Acrobat or another PDF reader, which all computers come with. If you DON'T have Adobe Acrobat or a similar program, then you couldn't download any of my other PDFs either.
The notes and lyrics are a LOT bigger than the copies currently available in music stores, making reading easier!
Speaking of reading the music, you can print this music on any kind of paper you want, and thus avoid the glare of shiny pages (so irritating for accompanists!).
Write and make notes all over these copies, in red and other colors, without feeling you are spoiling your music for posterity. I dislike messing up my music books, but learning the piece is always the first priority. These printouts will make great working copies.
Do you need a letter of permission in order to use this music at a competition? Write me through the Contact Me form, and I will email you a personal letter.
I give you permission to make UNLIMITED COPIES legally (for your students only). When you need music, you usually need it NOW.  Your accompanist, your soloist-student... let them have this music without fear of copyright infringement.   And help them learn respect for the musician's trade!
Paypal, the payment system I use, is a secure and recognized payment system. You can pay by credit or debit card, or your bank account. E-Junkie delivers the PDF document, working as a partner with PayPal... your purchase is guaranteed.
What are you waiting for?  This is an ADORABLE song!
Again, this art song is a quick study, with lovely images of the sea, the shore... and "two who hold each other dear."

---
---
Get word of the latest sheet music at Music for Music Teachers?  Sign up for "Take Note!"