Gilbert and Sullivan Lyrics
Modern Major-General
Gilbert and Sullivan lyrics and music for tenors "I Am the Very Model of a Modern Major-General," free!  
Download:
the vocal line in four keys, or 
just the lyrics in a PDF for your tenor to carry around to practice the words.
Gilbert and Sullivan operas (or operettas) are famous for the "patter" songs, filled with sometimes silly and even incomprehensible (to our modern ears) lyrics, frequently sung by a crusty old fellow with great personality and breath control!
The video below comes from "The Pirates of Penzance," my own favorite of the Gilbert and Sullivan operettas.  
(You can find this fun version, which stars Linda Ronstad, Kevin Kline, and Rex Smith, at Amazon.)
This fun solo spends a lot of time up high for the average teen tenor; so I have set it in several lower keys.  
Here is the vocal part, all four pages.   (The piano accompaniment can be purchased from Musicnotes.com in several different keys.)
Below the music, I've included a downloadable sheet of just the Gilbert and Sullivan lyrics.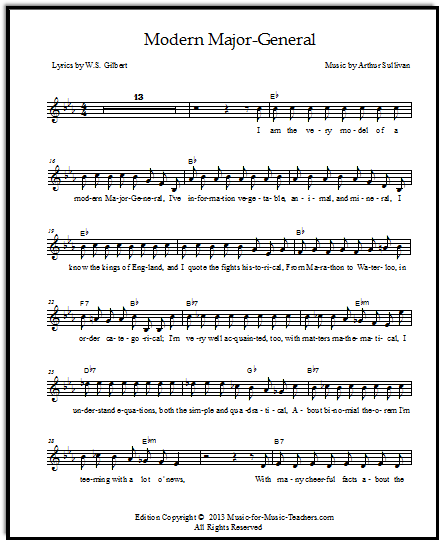 Here is a closeup of page one: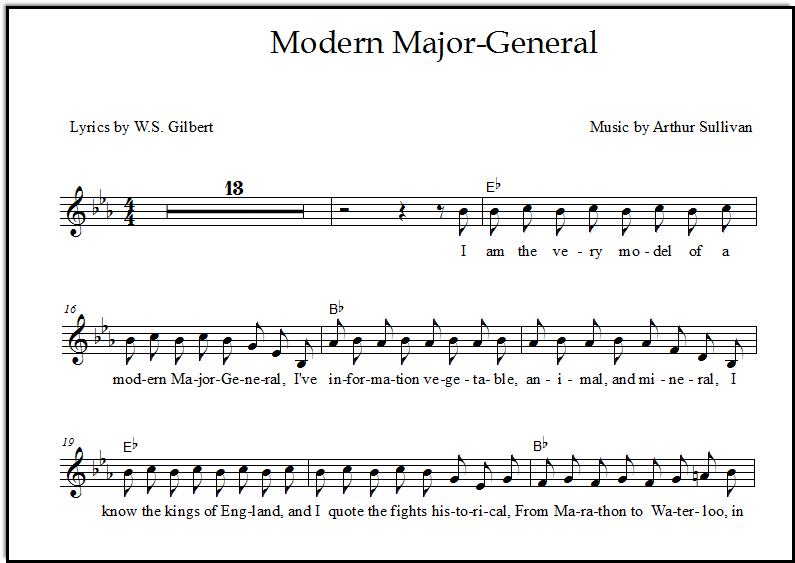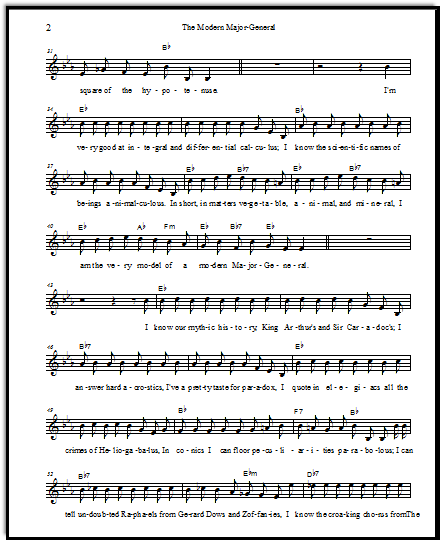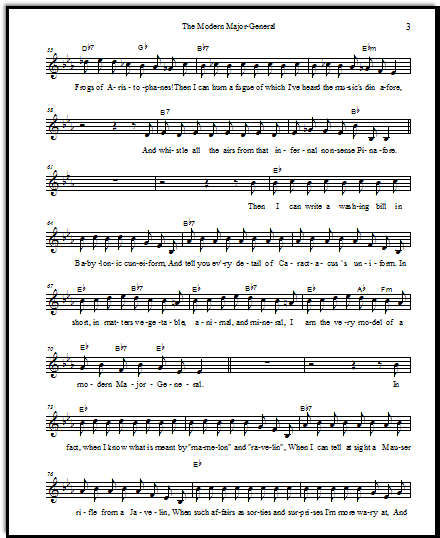 Please scroll down the page for the links to the lead sheet PDFs.
In addition to being a great song for practice with breath control, this song will be fabulous for your students' articulation!  
If your tenors/baritones have a tendency to slur or mush-mouth their words, this song's lyrics will tighten up that problem.  The object is clarity, but also SPEED.

(And did I mention, the piano accompaniment can be purchased from Musicnotes.com in several different keys.)
Here is the promised downloadable sheet of Gilbert and Sullivan lyrics: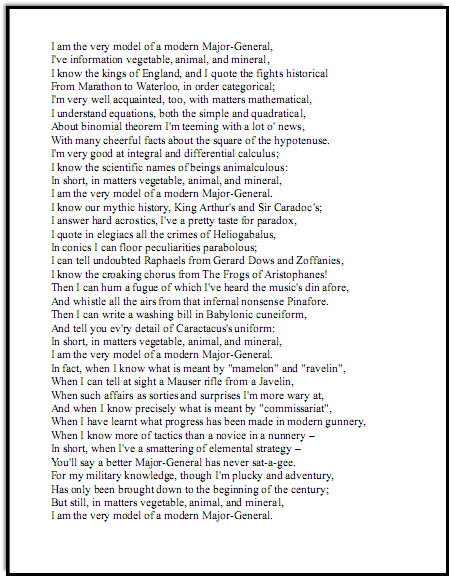 Below is a Youtube video with audio only, with the lyrics superimposed on the screen:

---
The links for the vocal lines, in different keys:
Download free Gilbert and Sullivan vocal Modern Major General in Eb (original key)

Download Modern Major General for tenor in D

Download Gilbert and Sullivan operetta song in Db

Download Pirates of Penzance solo in key of C

The link for the lyrics to Modern Major-General:
Download Gilbert and Sullivan LYRICS for Modern Major-General from Pirates of Penzance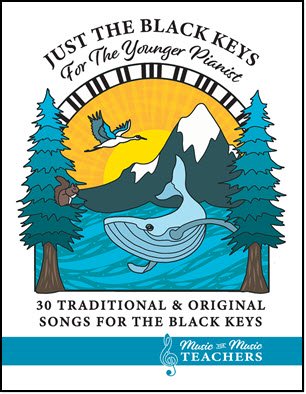 This book is available as a digital download  from this site, and also from Amazon as a paperback!
This is the perfect easy start for little pianists.
And when they start reading white-key notes on the staff, this is a fun easy resource to say each week, "Choose a new black-key song at home this week and figure it out to show me next lesson!"  They will be spending more time at the piano.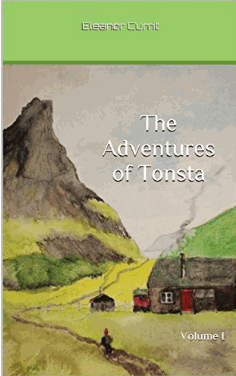 A perfect read aloud storybook
for little boys or girls. 
The Adventures of Tonsta highlight the travels of a very young boy with a good heart, who goes about helping folk in trouble.  
With a red cap on his head and a sack of tools slung over his shoulder, Tonsta seems to meet people in distress wherever he goes.
Lots of trolls in this book - including one who gives him a Christmas gift!
Sign up for "Take Note!" to see what's new every month.
Comments
Do you have a funny story about this music, or does it remind you of something you'd like to share with other readers? Do you have a question? I'd love to hear it!

Please note that all comments are moderated, and will not appear until I have approved them. Also, IF YOU ARE ASKING FOR MUSIC THAT IS NOT IN THE PUBLIC DOMAIN, YOUR REQUEST WILL BE IGNORED. That's pretty much any music written in the last 75 years...

About the Author


Hi, I'm Dana!  (Say that like "Anna".)  I'm the owner of Music-for-Music-Teachers.com.

Like some of you, I've been playing the piano since early childhood, and added a few other instruments along the way, plus an interest in arranging and composing music.

You can find out more about me and the reason for this website at my About Me page.