Loveliest of Sad Songs,
The Grenadier and the Lady
Sad songs such as The Grenadier and the Lady are likely to be among your students' favorite music. Get:
free vocal sheet music and 
piano accompaniment and
easy guitar tabs for this traditional English ballad.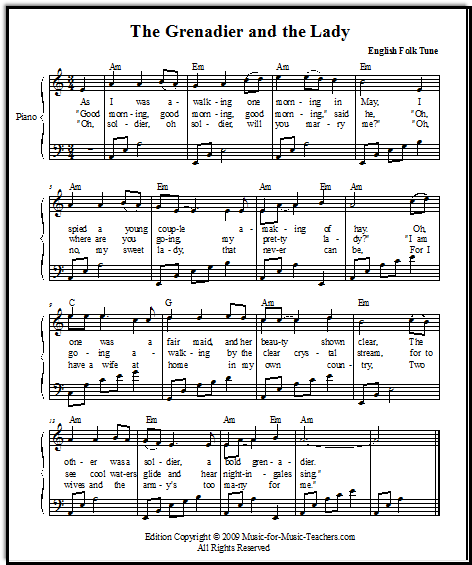 Please scroll down the page for the download links.
The Grenadier and the Lady is a great song for a beginning singer. The range is only an octave, and the melody stays mostly in the middle, with two little climbs to the top. It is easily memorized, as it tells a story. And the phrases are very singable -- no hard parts.

Yet the song has many opportunities for breath control practice. Even the first phrase, "As I was a-walking one morning in May..." offers the temptation to take a little breath after "a-walking."
Singers don't need to breathe there...make them get at least to the comma!
Generally, the phrases of this song should not be interrupted by a breath.  I make an exception down at the bottom line, and allow a breath before the last 5 notes if it seems necessary...and always on the final verse, where a ritard is natural.
The Grenadier and the Lady is one of the most hauntingly beautiful sad songs your students will ever love. Well, you don't really know how sad it is unless you read between the lines of "O soldier, O soldier, will you marry me?'

I first heard this lovely ballad in the movie Far from the Madding Crowd with Julie Christie, Terence Stamp and Alan Bates. It is a fascinating film, set in a sometimes bleak landscape, based on the book by Thomas Hardy.
Listen to the movie excerpt from "Far from the Madding Crowd". This is a stirring performance, especially if you are caught up in the story.
Here, Sergeant Troy, a British Grenadier, has just buried the woman he truly loves (it is not his new-married wife), and his infant son whom he never met. You can't help but think, "If only...if only..." 

This is a story about choices, careless choices that ruin many lives.
It is a good use for this beautiful English ballad. In verse 2, the soldier asks the lady where she is going, and I almost think in a foreshadowing of heaven, she replies "I am going a-walking by the clear crystal stream..." 
But folk songs are not like classical music, so the reason I'm picky about phrasing in this English ballad is because I want to train students to breathe for singing: 
- to take quick breaths and long exhalations, and to observe natural pauses in the sentence structure. Breathing for singing has to become a habit.

Pianists who want to play this song may find the extra melody notes confusing. 
Of course, the extra voicings are there to accommodate the rhythm changes which occur with the different words in each verse. I have made an easy piano version for students with fingering but no left hand -- just chord symbols. 

Please scroll down the page for the download links.
Here is a version for guitarists who love sad songs.  Finger-picking is very beautiful with this piece.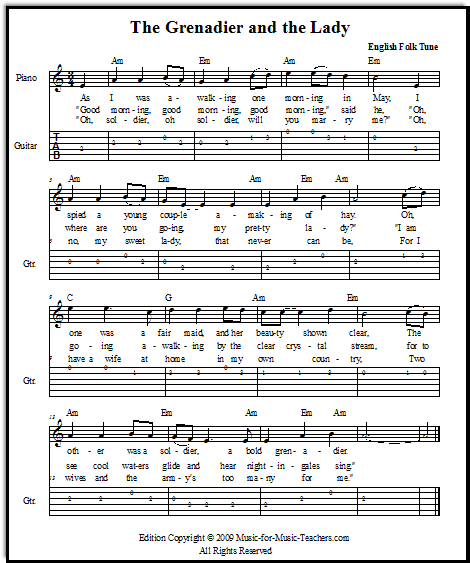 The links for the vocals plus piano:
Download free vocal sheet music with piano accompaniment, sad songs "The Grenadier and the Lady" in Am
Free vocal sheet music with piano in the key of Gm
The Bold Grenadier in Fm for voice and piano
The guitar tabs link:
Easy guitar tabs for The Grenadier and the Lady 
More Folk Songs to Sing:
Ae Fond Kiss - a love song about saying goodbye, from Scotland
All the Pretty Little Horses - a soft and repetitious lullaby, quite pretty
Ash Grove - a famous and lovely song from Wales
Auld Lang Syne - the New Year's Eve song!
Colorado Trail Song - an American tune written by a real cowboy
Come By the Hills - another popular Irish melody
Down By the Salley Gardens - a famous and pretty song, very sweet 
Green Bushes - a brisk little song that is pretty while being good for breath control training
Grenadier and the Lady - my favorite folk song of all.  Find out why
I Gave My Love a Cherry - the "Riddle Song" is very pretty
Johnny Has Gone For a Soldier - very beautiful, very moving, and a chance for your young singer to learn how to let her voice soar
Keegan's Waltz - this is a traditional Gaelic tune, but the lyrics are very new, supplied by a visitor to this site!
Lavender's Blue - this simple song is not only satisfying for beginning pianists, but also young singers who need to focus on basics.  With a lovely piano accompaniment.
Loch Lomond - the famous and sad song about never meeting again
Mari's Wedding - a singable tune with bouncy chords that is fun to play or sing
Minstrel Boy - a lovely and patriotic song about a warrior-poet
Molly Bawn - a sad story of a young hunter who thought he was shooting at a swan
Morning Has Broken - a beautiful melody made famous again by Cat Stevens
Once I Had a Sweetheart - "but now I have none!" Very pretty, and little-known.
Parting Glass - a well-known Irish tune which my singers always love
Raggle-Taggle Gypsies - a story about a young bride who abandons her wealthy new husband to go off with the gypsies. A catchy melody!
Riddle Song - the pretty song that speaks of giving a cherry without a stone, a chicken without a bone, a baby with no crying.
Scarborough Fair - an old and famous tune of lost love
She Moved Through the Fair - this sounds happy, but it is actually a bit of a love story, and a bit of a ghost story!
Shenandoah - a famous and lovely American tune with ambiguous lyrics
Skye Boat Song - a pretty song from Scotland about the escape of Bonnie Prince Charlie over the sea
Spanish Ladies - a minor key sea chanty that swings energetically along - BOYS like singing it too!
The Spanish Lady - Upbeat and energetic, this Irish song is fun to perform with a group
Star of the County Down - LOTS of fun to sing and play!  An excellent ensemble piece
Waltzing Matilda - an unusually pretty melody from Australia; you know this one!  Very popular with kids
The Water is Wide - a very pretty song about disappointed love.  You might have sung this one in high school!
The Wellerman - a sea chanty that is very singable, and very fun!
White, Orange and Green - though not widely known, this charming melody about fighting for the right to carry the flag of Ireland has stirring lyrics and soaring phrases. A favorite of my vocal & guitar students.  I never get tired of this song.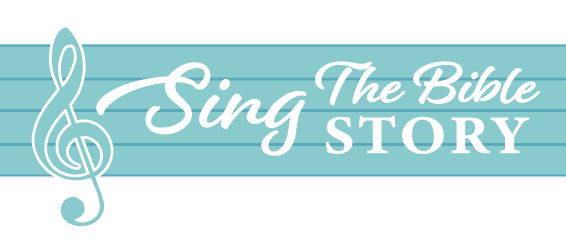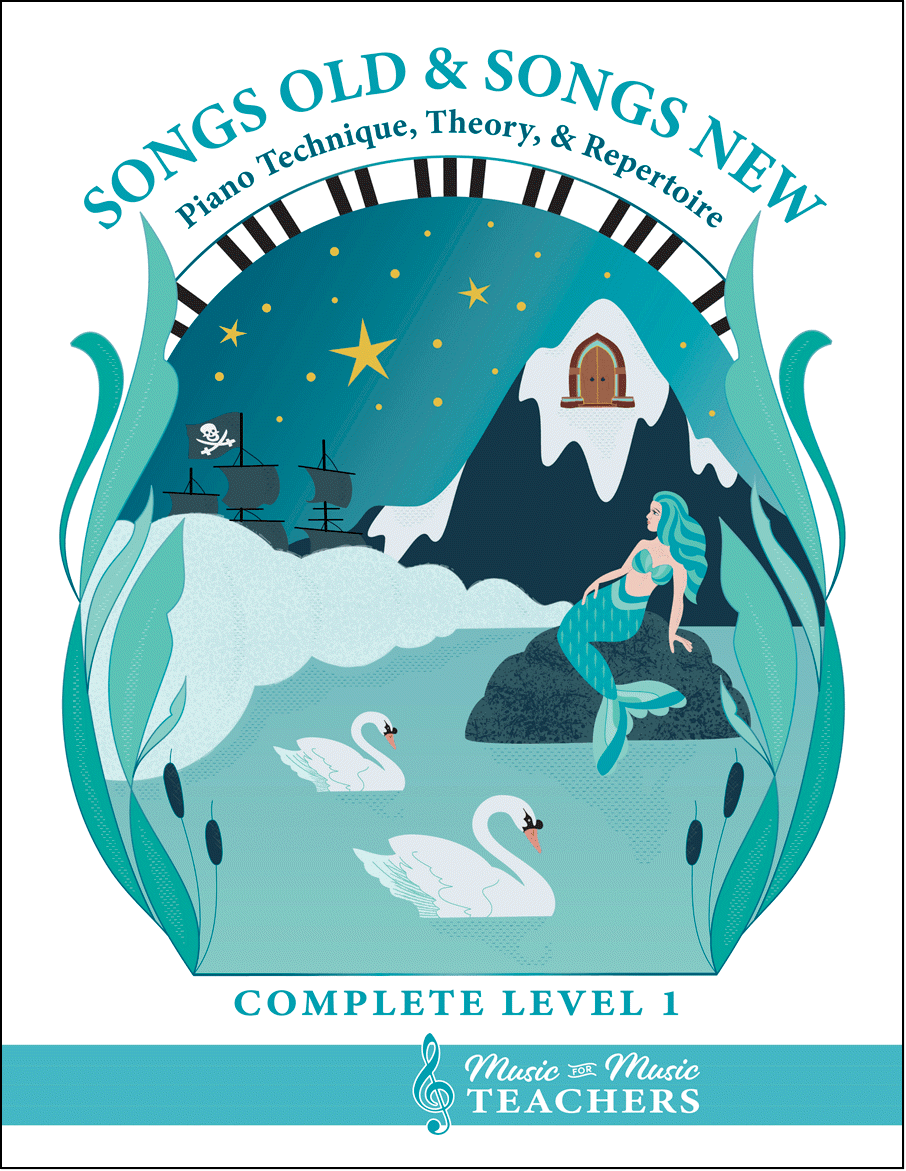 All the first-year material I give my beginner students. 
Piano keyboard sheets, scales, chords, note-reading exercises, and over 256 pages of music!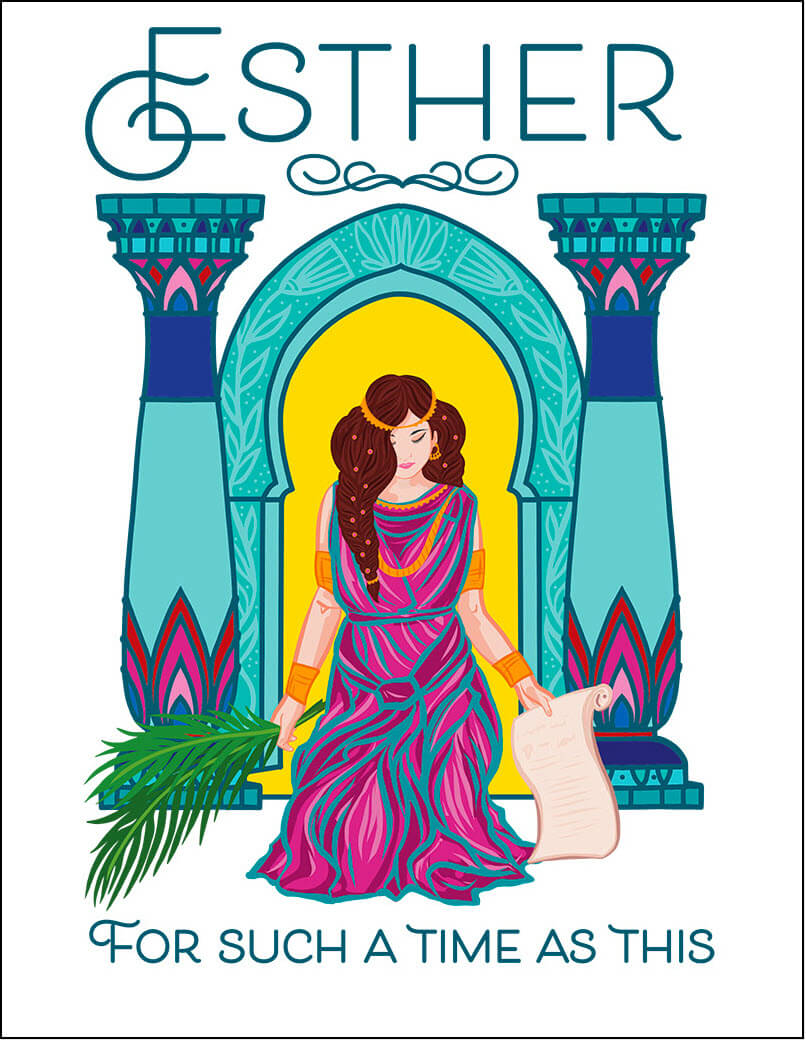 This beautiful song book for piano & voice "Esther, For Such a Time as This",  available as a digital download, tells the riveting story of the time when  Jews in ancient Persia faced a foe named Haman, and how a  brave young queen risked her life to save her people.
A good choice for a singing story-teller, an operatic group, a short theater production, or a class of children!
This book is also available from Amazon as a paperback.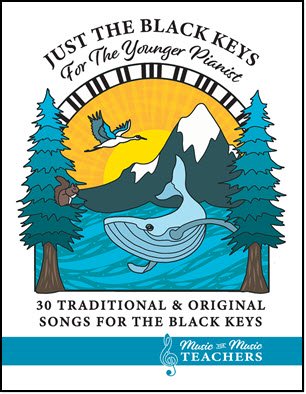 This book is available as a digital download  from this site.  Visit this page to see some free examples from the book.
It is also available from Amazon as a paperback!
This is the perfect easy start for little pianists.
And when they start reading white-key notes on the staff, this is a fun easy resource to say each week, "Choose a new black-key song at home this week and figure it out to show me next lesson!"  They will be spending more time at the piano.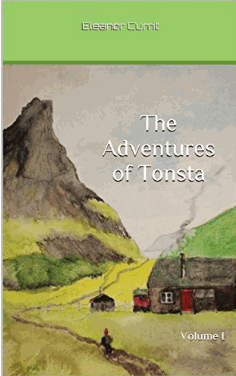 A perfect read aloud storybook
for little boys or girls. 
The Adventures of Tonsta highlight the travels of a very young boy with a good heart, who goes about helping folk in trouble.  
With a red cap on his head and a sack of tools slung over his shoulder, Tonsta seems to meet people in distress wherever he goes.
Lots of trolls in this book - including one who gives him a Christmas gift!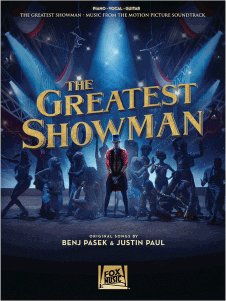 Jane:
I just came across your website.  Thank you for your wonderful generosity in sharing all these tools and tips!  I am 78 years old, have sung solos and in choirs all my life and am currently appearing in our local Mary Poppins production as the Bird Woman. 
The mother of one of our very young actors (7) has asked me if I would teach her to sing.  I am not sure I am qualified, but with all the tools you have provided, I am considering it.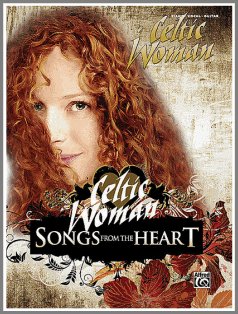 Stasi:  Because I have such a diverse group of students I spend SO much time making supplemental material and I feel like I have to pick through other websites, to only find one or two useful things.
I am so thankful for the wealth of supplement that you have offered here! And it's all SO user friendly!! THANK YOU THANK YOU THANK YOU!!!!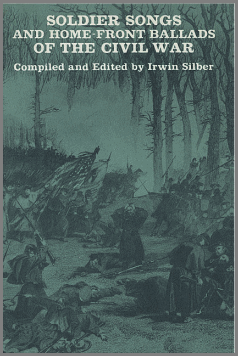 Wynn:
Thank you so much for this site. I admire you so much for taking the time to reach out and share so much with others. After years of singing professionally I am finally making myself re-learn the piano in order to play for myself and to do some piano bar work. Your scales and your feedback are inspiring! Create Beauty and fill the world with LOVE!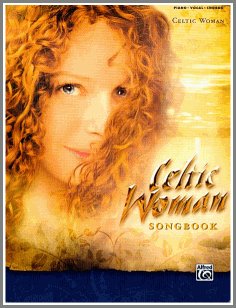 Comments
Music has such power to move the heart... do you have a story or a question about this music?
Sign up for "Take Note!" to see what's new every month.

About the Author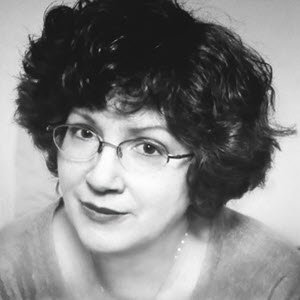 Hi, I'm Dana!  (Say that like "Anna".)  I'm the owner of Music-for-Music-Teachers.com, and a newer site, SingTheBibleStory.com.
Like some of you, I've been playing the piano since early childhood, and have added a few other instruments along the way, plus an interest in arranging and composing music.
You can find out more about me and the reason for this website at my About Me page.