Free Christmas Vocal Sheet Music "Gaudete"
Free Christmas vocal sheet music "Gaudete" with piano and guitar tabs, 3 versions, below.  This beautiful Christmas carol is very old -- and very unusual.  
I will not promise that your younger students will immediately like this song!  However, old as it is (apparently 600-700 years old) it is very popular; a search at Sheetmusicplus yields 113 results! (2014)
The elegant rendition above by The King's Singers is totally outside the experience of a lot of pre-college students... but it shouldn't be!
Here is my version of the Christmas song. It is not a choral arrangement, but a single vocal line with a simple open-sounding accompaniment.  The word "Gaudete" means "Rejoice!":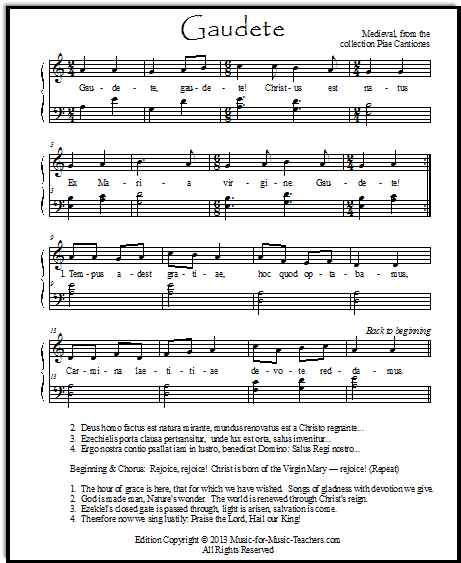 Scroll down the page for the links to the free printable PDFs of sheet music.
Here is a closeup of the page:
The English translation of the Latin text is not meant to be sung; it is more literal than poetic.  I always like to know what I am singing.  The words of this free Christmas vocal sheet music are truly beautiful.

The shifting rhythm is reflected in the changing time signatures; there is a version at IMSLP that does it all in 4/4 time, but it's good for students to wrestle with a shift from 2/4 to 6/8.  Think of it as an opportunity!

There are so many fine versions of Gaudete at Youtube, that it was really hard to choose just one... so I didn't.  Here is video number two, the very beautiful early music group Medieval Babes.  Their singing starts at about 14 seconds (it's worth the wait!):
What first attracted me to this Christmas song was noticing how the shape of the medieval-sounding chords looked so easy to do on guitar... and I thought how nice this piece would sound with guitar and recorder or other treble instrument together.  
Therefore, my first version of Gaudete was the arrangement below, for "classical'-style guitar and melody instrument: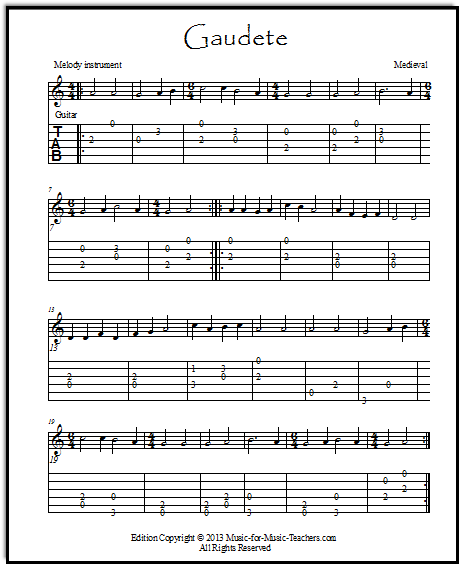 Please scroll down the page for the download links.
The guitar part - for fingerpicking, of course - is not difficult.  The hardest thing for the guitar player will be coordinating with the melody instrument.  

Therefore, I also wrote up sheet music that has a tablature line for the melody, so guitarists who don't yet read standard notation can figure out how the melody is supposed to sound:
Please scroll down the page for the download links.
This version has two pages...
Please scroll down the page for the download links.
And here is a closeup of this file: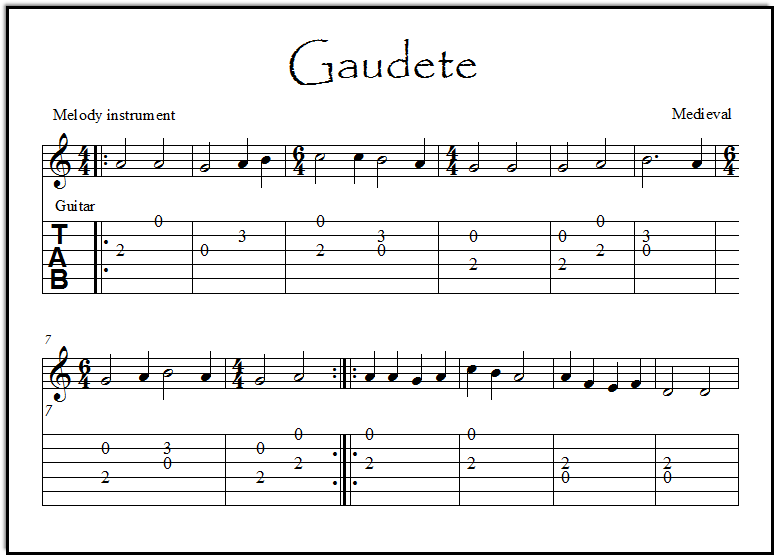 Try this piece at your next Christmas (or any) recital - it will really break the routine and inject a fresh sound into your students' repertoire!
And lastly, "Celtic Christmas," at a very lively pace.  Wait for the deep organ drone about halfway through, then the addition of bright harp chords.  This version is anything but static:
The vocal link:
Download free Christmas vocal sheet music "Gaudete"
The guitar links:
Download guitar tablature with early Renaissance melody line Gaudete
Download Gaudete guitar chords and guitar melody tabs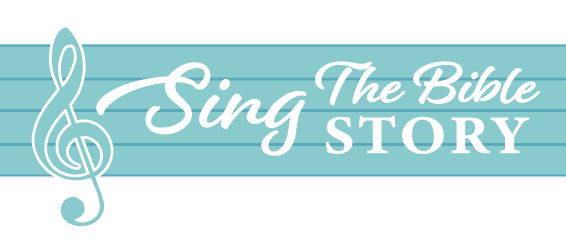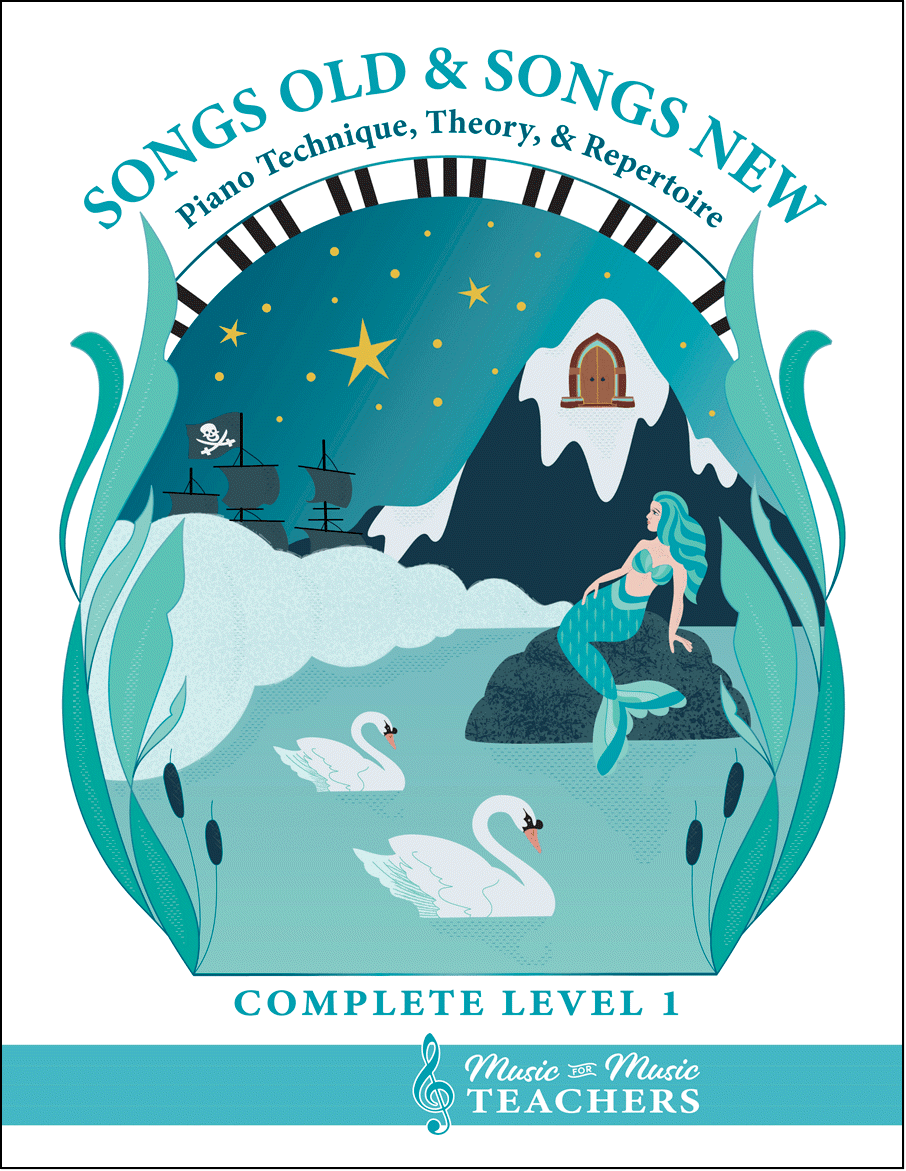 All the first-year material I give my beginner students. 
Piano keyboard sheets, scales, chords, note-reading exercises, and over 256 pages of music!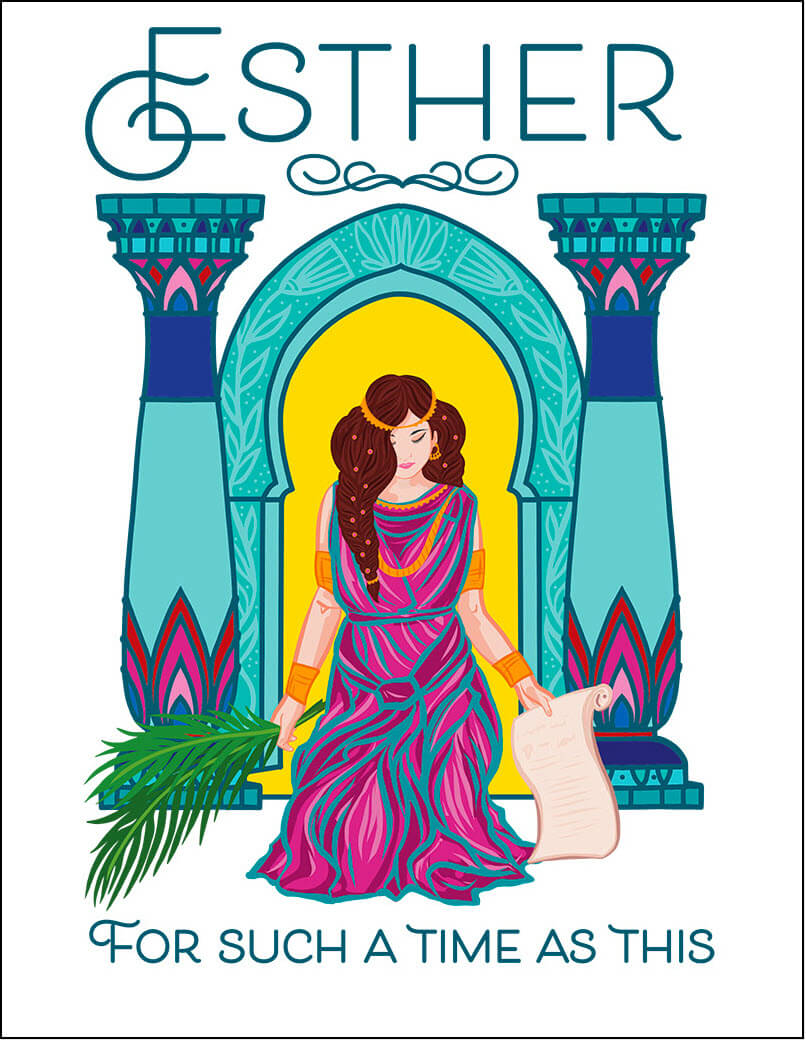 This beautiful song book for piano & voice "Esther, For Such a Time as This",  available as a digital download, tells the riveting story of the time when  Jews in ancient Persia faced a foe named Haman, and how a  brave young queen risked her life to save her people.
A good choice for a singing story-teller, an operatic group, a short theater production, or a class of children!
This book is also available from Amazon as a paperback.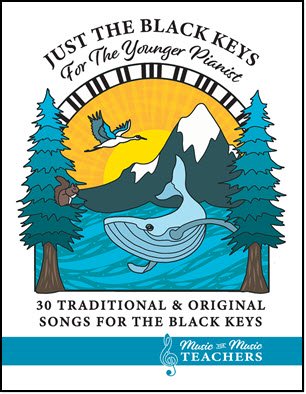 This book is available as a digital download  from this site.  Visit this page to see some free examples from the book.
It is also available from Amazon as a paperback!
This is the perfect easy start for little pianists.
And when they start reading white-key notes on the staff, this is a fun easy resource to say each week, "Choose a new black-key song at home this week and figure it out to show me next lesson!"  They will be spending more time at the piano.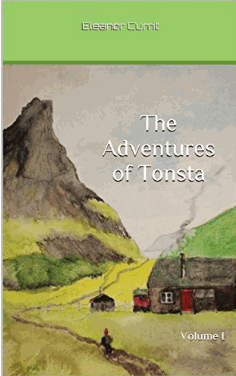 A perfect read aloud storybook
for little boys or girls. 
The Adventures of Tonsta highlight the travels of a very young boy with a good heart, who goes about helping folk in trouble.  
With a red cap on his head and a sack of tools slung over his shoulder, Tonsta seems to meet people in distress wherever he goes.
Lots of trolls in this book - including one who gives him a Christmas gift!
Sign up for "Take Note!" to see what's new every month.

About the Author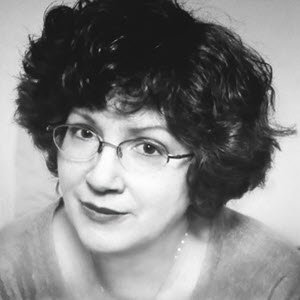 Hi, I'm Dana!  (Say that like "Anna".)  I'm the owner of Music-for-Music-Teachers.com, and a newer site, SingTheBibleStory.com.
Like some of you, I've been playing the piano since early childhood, and have added a few other instruments along the way, plus an interest in arranging and composing music.
You can find out more about me and the reason for this website at my About Me page.