Free Christmas Vocal Sheet Music "Gaudete"
Free Christmas vocal sheet music "Gaudete" with piano and guitar tabs, 3 versions, below.  This beautiful Christmas carol is very old -- and very unusual.  I will not promise that your younger students will immediately like this song!  However, old as it is (apparently 600-700 years old) it is very popular; a search at Sheetmusicplus yields 113 results! (2014)
The elegant rendition above by The King's Singers is totally outside the experience of a lot of pre-college students... but it shouldn't be!
Here is my version of the Christmas song. It is not a choral arrangement, but a single vocal line with a simple open-sounding accompaniment.  The word "Gaudete" means "Rejoice!":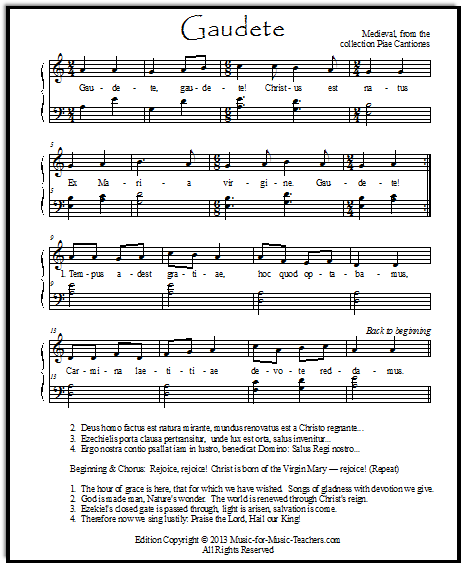 Download free Christmas vocal sheet music "Gaudete"
The English translation of the Latin text is not meant to be sung; it is more literal than poetic.  I always like to know what I am singing.  The words of this free Christmas vocal sheet music are truly beautiful.
The shifting rhythm is reflected in the changing time signatures; there is a version at IMSLP that does it all in 4/4 time, but it's good for students to wrestle with a shift from 2/4 to 6/8.  Think of it as an opportunity!

There are so many fine versions of Gaudete at Youtube, that it was really hard to choose just one... so I didn't.  Here is video number two, the very beautiful early music group Medieval Babes.  Their singing starts at about 14 seconds (it's worth the wait!):
What first attracted me to this Christmas song was noticing how the shape of the medieval-sounding chords looked so easy to do on guitar... and I thought how nice this piece would sound with guitar and recorder or other treble instrument together.  
Therefore, my first version of Gaudete was the arrangement below, for "classical'-style guitar and melody instrument: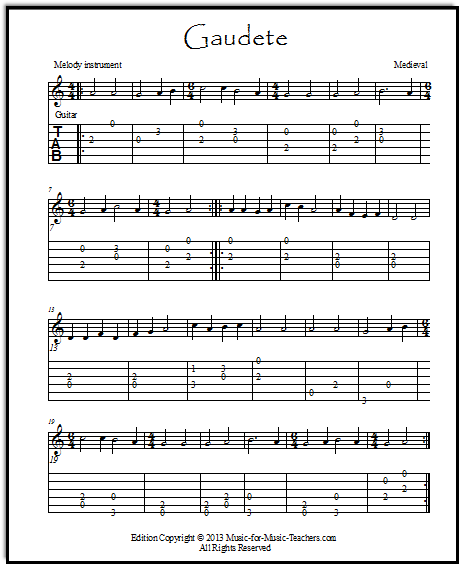 Download guitar tablature and early Renaissance melody Gaudete
The guitar part - for fingerpicking, of course - is not difficult.  The hardest thing for the guitar player will be coordinating with the melody instrument.  
Therefore, I also wrote up sheet music that has a tablature line for the melody, so guitarists who don't yet read standard notation can figure out how the melody is supposed to sound: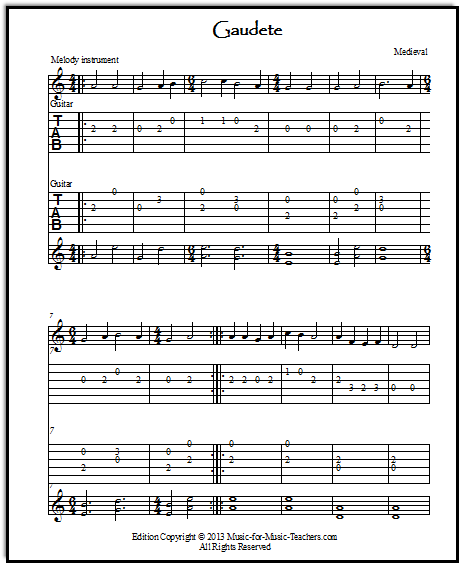 This version has two pages...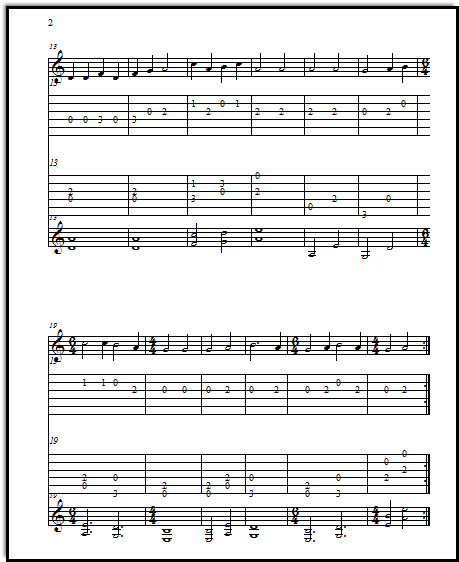 Download Gaudete guitar chords and melody tabs
Try this piece at your next Christmas (or any) recital - it will really break the routine and inject a fresh sound into your students' repertoire!
One more video... Okay, two more! First, The Bedford Family Ringers & MYKL, an all-instrumental version of Gaudete:
And lastly, "Celtic Christmas," at a very lively pace.  Wait for the deep organ drone about halfway through, then the addition of bright harp chords.  This version is anything but static:
Sign up for "Take Note!" to see what's new every month.