Scarborough Fair
Free Vocal Sheet Music
Scarborough Fair is a timeless folk song from England. This is its most famous melody (yes, there are others, less familiar, but also beautiful). 
Here is an arrangement in Dm especially for singers.  If you would like very simple sheet music for piano, lead sheets for Scarborough Fair in many different keys, or guitar tabs, please visit those other pages.

Amy Nutall sings a lovely version of this old folk song - I find her mannerisms a bit stagey, but she delivers beautifully on passion:

Here is the free Scarborough Fair voice arrangement in a good range for most singers, the key of Dm. (The version on my Beginning Guitar page, while great for guitarists, is not easy for most sopranos, especially young girls, to sing with strength. Too low.)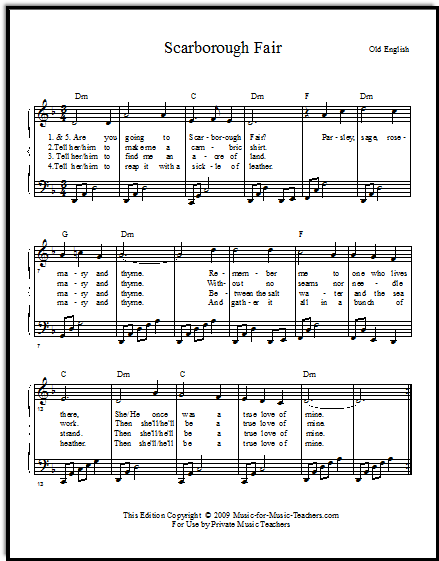 Download FREE English folk song Scarborough Fair 


If you were looking for the vocal duet that Simon and Garfunkel sang, I'm sorry I can't offer it here.  Though the folk song, Scarborough Fair, is public domain, Simon and Garfunkel's ARRANGEMENT of the music is NOT public domain.
I'm pretty sure Simon and Garfunkel wrote the version they sang, which means it is their copyrighted intellectual property.  However, you can find several versions, in multiple keys, by looking for "Scarborough Fair/Canticle" at Musicnotes.com:
---
---
Get word of the latest sheet music at Music for Music Teachers?  Sign up for "Take Note!"
Comments
Do you have a story or even a question about this vocal piece? Share it!

Please note that all comments are moderated, and will not appear until I have approved them. Also, IF YOU ARE ASKING FOR MUSIC THAT IS NOT IN THE PUBLIC DOMAIN, YOUR REQUEST WILL BE IGNORED. That's pretty much any music written in the last 75 years...
What Other Visitors Have Said
Click below to see contributions from other visitors to this page...

Story about Scarborough Fair Not rated yet
This is one of my favourite songs. I don't know if the story is interesting but let's give it a try. It happened back in the Stone Age of cassette players; …
Very useful! Not rated yet
Hi! Is this only for voice? I ask this, because I didn't realise- and I play keyboard. It sounded fine- but I just want to know! P.S. I really love this …
Thanks for Scarborough Fair Not rated yet
I love genuine folk songs, without too much embellishment and arrangment. Glad to have found your site. Jeannette