Gabriel's Message:
The Angel Gabriel from Heaven Came
Gabriel's Message: "The Angel Gabriel from heaven came" is a Christmas song that is almost unknown. It makes a lovely vocal duet - now updated and SIMPLIFIED.

This free online Christmas music for a capella singers "Gabriel's Message" is a haunting and very beautiful old carol.  Also check out my link below to access a very pretty piano arrangement.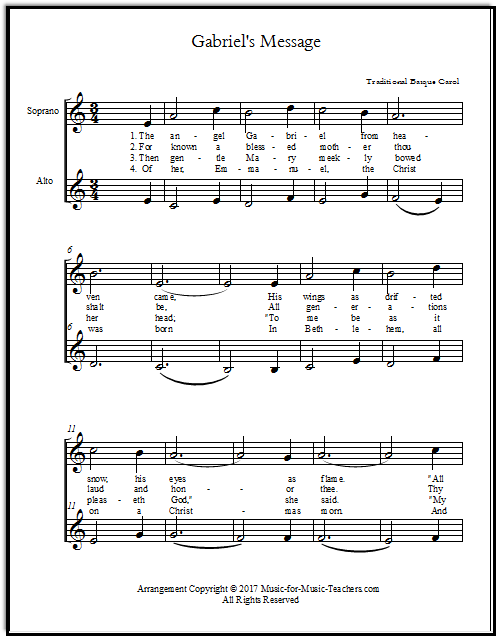 Scroll down the page to access the free printable PDF links.

This is my 2-part arrangement for unaccompanied singers.
The Choir of Winchester Cathedral sings a traditional arrangement of Gabriel's Message:
Page two of the duet "Gabriel's Message":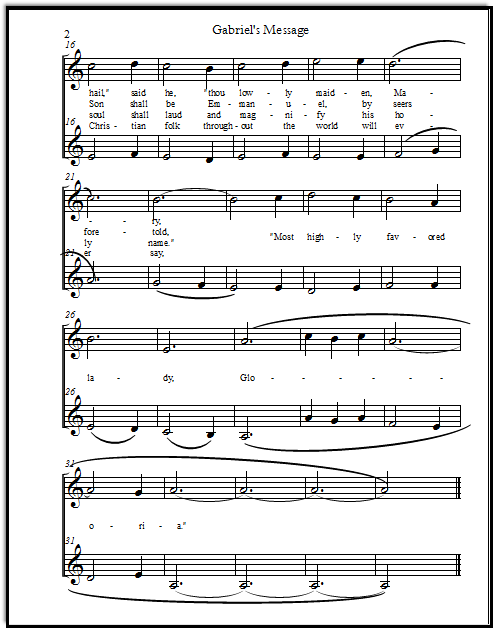 Please scroll down the page for the download links.
My arrangement has enough harmonic dissonance in it to give it an other-worldly flavor, but the feeling is more medieval than contemporary. 
Are you interested in a piano version of Gabriel's Message?
Jump over to my new and tiny website, SingTheBibleStory.com, to get a look at this piece of music.
One version comes with fingering; the other does not.  
Lead sheets too.
I've made a new vocal duet version, below, with letters in the notes for the weak pianists (or non-pianist singers), who must take the music home and learn it with little help: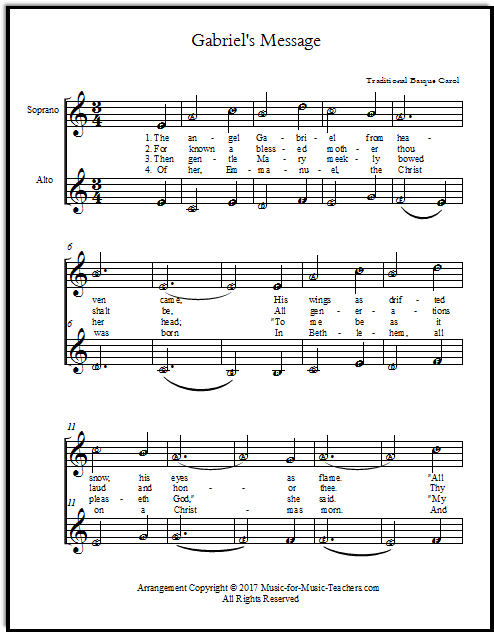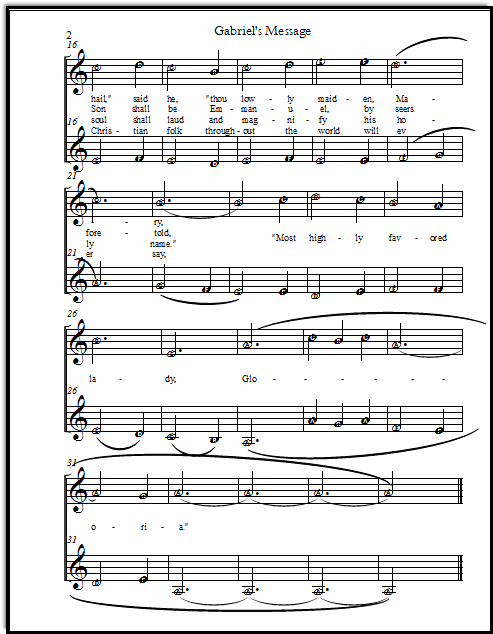 Please scroll down the page for the download links.
I've changed my original arrangement a bit to make it easier.

The dissonant seconds and the tritone require confidence for small groups to sing, so I decided to clean the harmonies up a bit.  
How hard is this duet for young singers?
The soprano melody is lovely and easy; the alto part is tricky (for a beginning choir) and requires careful attention to the notes, as there is much step-wise motion back and forth, and slurs that look deceptively like ties.
After singing it with the words, my choir sang it with the counting. ("3, 1-2, 3, 1-2, 3, 1-2" etc.) This is always a good way to "burn" the counting in.
Also called "The Angel Gabriel" and "The Basque Carol," it is believed that this carol was "found" by French composer Charles Bordes (1863-1909) while researching traditional Basque music.

The English translation was written by Sabine Baring-Gould (1834-1924).
I hope you and your students come to love this evocative carol as much as I do! 
The vocal links:
Download free online Christmas music Gabriel's Message 
Download lettered-notes version of Gabriel's Message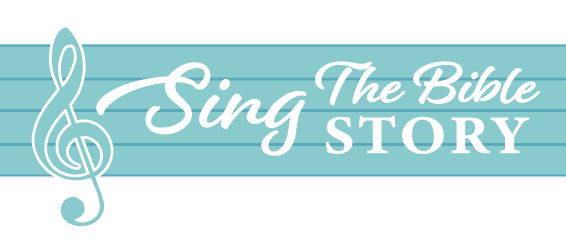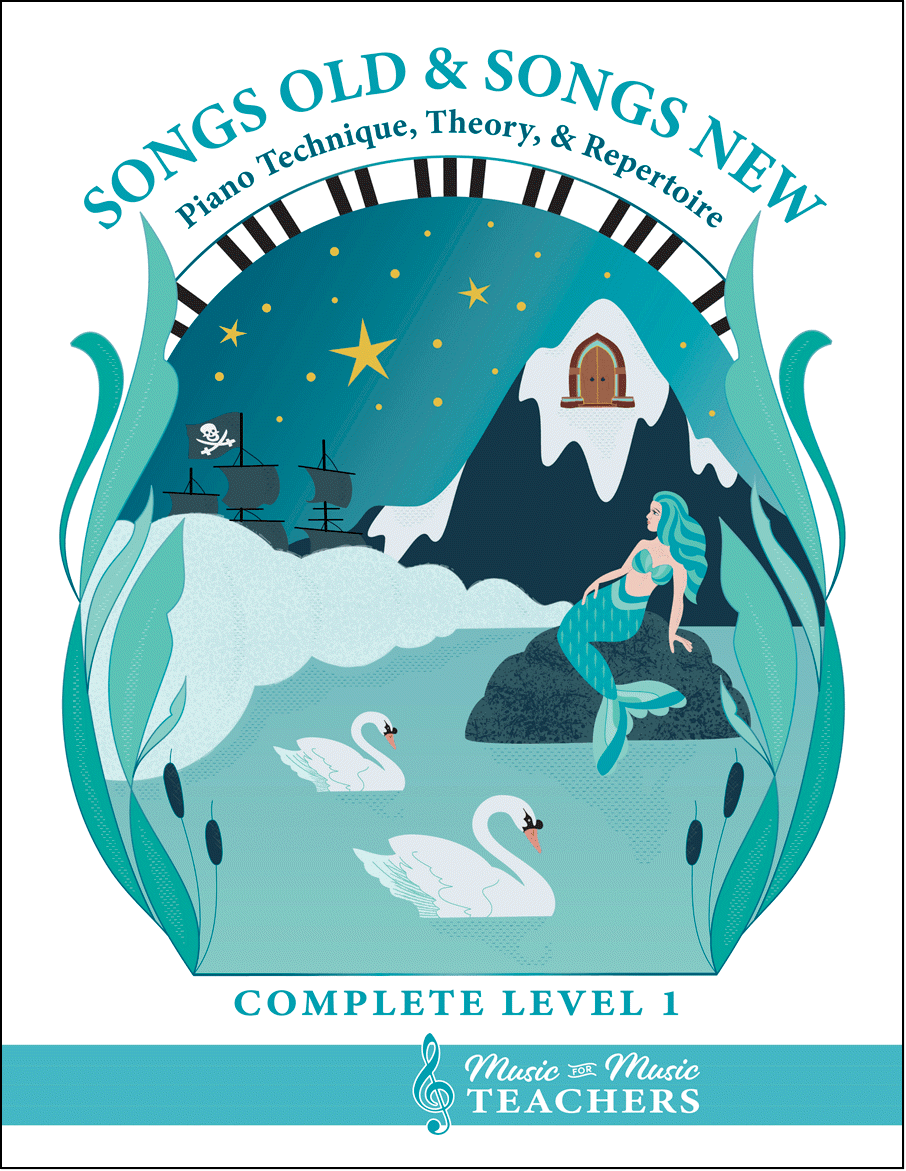 All the first-year material I give my beginner students. 
Piano keyboard sheets, scales, chords, note-reading exercises, and over 256 pages of music!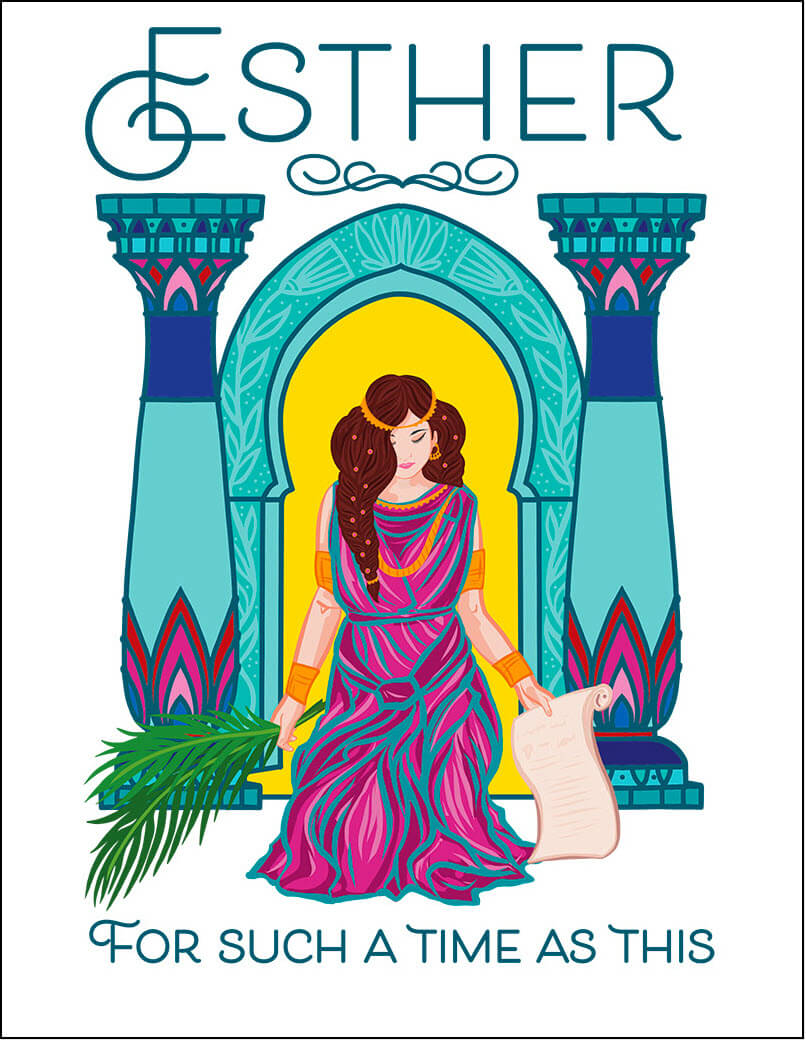 This beautiful song book for piano & voice "Esther, For Such a Time as This",  available as a digital download, tells the riveting story of the time when  Jews in ancient Persia faced a foe named Haman, and how a  brave young queen risked her life to save her people.
A good choice for a singing story-teller, an operatic group, a short theater production, or a class of children!
This book is also available from Amazon as a paperback.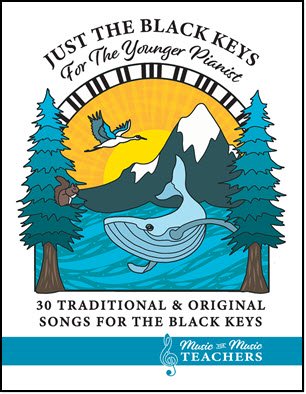 This book is available as a digital download  from this site.  Visit this page to see some free examples from the book.
It is also available from Amazon as a paperback!
This is the perfect easy start for little pianists.
And when they start reading white-key notes on the staff, this is a fun easy resource to say each week, "Choose a new black-key song at home this week and figure it out to show me next lesson!"  They will be spending more time at the piano.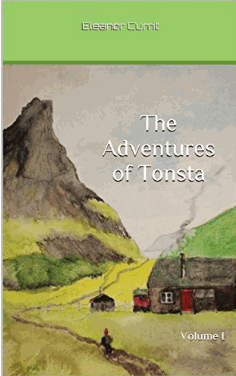 A perfect read aloud storybook
for little boys or girls. 
The Adventures of Tonsta highlight the travels of a very young boy with a good heart, who goes about helping folk in trouble.  
With a red cap on his head and a sack of tools slung over his shoulder, Tonsta seems to meet people in distress wherever he goes.
Lots of trolls in this book - including one who gives him a Christmas gift!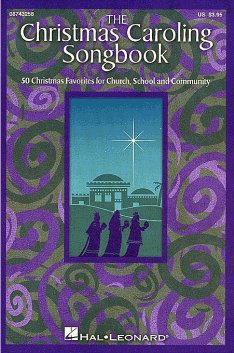 Liz:
Hello - I just want to say THANK YOU so much for the duet version of Oh Holy night (in Bb too!), which is great, as I have two students at school that are going to sing this in a concert in 3 weeks.  
With not much time and no budget, it is so nice to find an arrangement!   Thank you.
Shanette, US:
I just purchased O Holy Night to use as a duet for Christmas Eve Mass.  
Thank you so much for this simple, easy to read version as my vocalists are not professional and this music won't be quite so intimidating as other arrangements I have. Your expertise is much appreciated!!  Merry Christmas!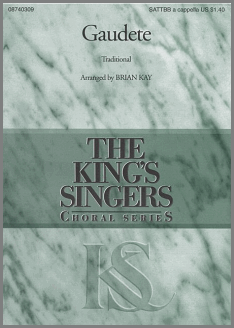 Sign up for "Take Note!" to see what's new every month.

About the Author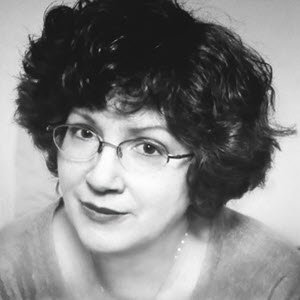 Hi, I'm Dana!  (Say that like "Anna".)  I'm the owner of Music-for-Music-Teachers.com, and a newer site, SingTheBibleStory.com.
Like some of you, I've been playing the piano since early childhood, and have added a few other instruments along the way, plus an interest in arranging and composing music.
You can find out more about me and the reason for this website at my About Me page.