The First Year:
Free Piano Sheetmusic
Primarily, this page is made up of Middle C music with "shared-between-the-hands" melodies.

Additionally, there are some pieces that make use of left hand chords or very simple accompaniments.  Most of the Middle C melodies have chord suggestions or illustrative graphics for an enterprising accompanist to devise his or her own backup.  A few also have written-out secondo parts, for easy duet playing. (In that case, the melody part usually needs to move up an octave.)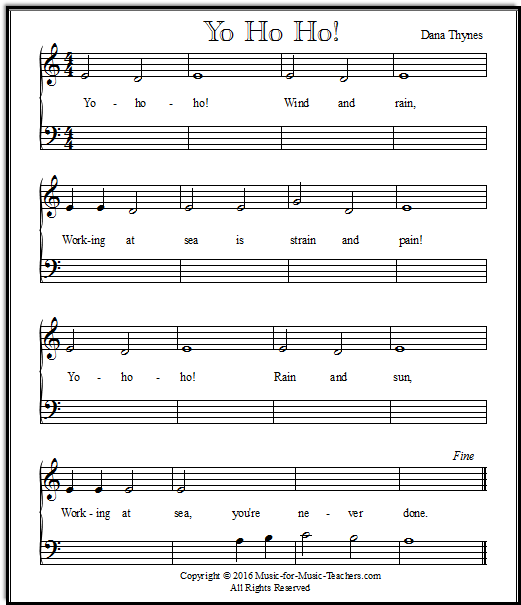 All the Pretty Little Horses


Amazing Grace


Arabian Dance (from The Nutcracker)


Ash Grove, a Welsh folk song


Away in a Manger


Back and Forth


Be Thou My Vision


B-I-B-L-E


Bingo


Blow Ye Winds in the Morning


Burleske, by Mozart


Canon in D (in the key of C)


Cat Came Back


Come Ye Sinners, Poor and Needy


Cowboy's Lament (I'm Going to Leave Old Texas)




Fairies in the Garden


Farther On


Found a Peanut


For the Beauty of the Earth


Funeral March (Chopin)


Fur Elise


Go Tell It On the Mountain


Goober Peas


Greensleeves Duet melody

If I Give to You My Heart


I'm a Pirate


In the Hall of the Mountain King


Jingle Bells


Jolly Old Saint Nicholas



Kum Ba Yah


Lavender's Blue, with the Cinderella song lyrics 


Little Man Who Wasn't There


Loch Lomond, a Scottish song



Morning Has Broken


O Holy Night


Old Joe Clark


On Top of Old Smoky


Pat-a-Pan, a French Christmas song


Rain, Rain, Go Away


Red River Valley


Scarborough Fair


Shalom Chaverim



Sonatina in C by Clementi, easy


Snake Charmer


Spanish Ladies


Star of the County Down


Streets of Laredo


Swan Lake

Take Me Out to the Ballgame


Tarantelle, the Spider song


The B-I-B-L-E


Waltzing Matilda


The Water is Wide


We Wish You a Merry Christmas


What Child is This


What Do You Do With a Drunken Sailor


Wolken

Yankee Doodle


Yellow Rose of Texas


Yo Ho Ho

Comments: Do you have a story or a question about music teaching? Share it!
Please note that all comments are moderated, and will not appear until I have approved them. Also, IF YOU ARE ASKING FOR MUSIC THAT IS NOT IN THE PUBLIC DOMAIN, YOUR REQUEST WILL BE IGNORED. That's pretty much any music written in the last 75 years...
Sign up for "Take Note!" to see what's new every month.