The Minstrel Boy
"The Minstrel Boy" for voice with beautiful piano accompaniment in four keys
This lovely song is not actually a folk song, though it is very old.
According to Wikipedia:
'"The Minstrel Boy" is an Irish patriotic song written by Thomas Moore (1779–1852) who set it to the melody of The Moreen, an old Irish air.
It is widely believed that Moore composed the song in remembrance of a number of his friends, whom he met while studying at Trinity College, Dublin and who had participated in (and were killed during) the Irish Rebellion of 1798.'
Here is the loveliest rendition of this beautiful melody that I have found, an instrumental-only version by The Corrs . This version is superior: 
Many Irish songs do seem to be about battles and freedom.  I used to get a little choked up (still do, sometimes) when singing or playing this for a student... and occasionally, one of my own vocal students can bring tears to my eyes when I am accompanying them on this beautiful song.

The love of country, and especially the heroism of young men embodied in this song, remind me of White, Orange and Green, another Irish song. 
This is page 2, in the key of Db: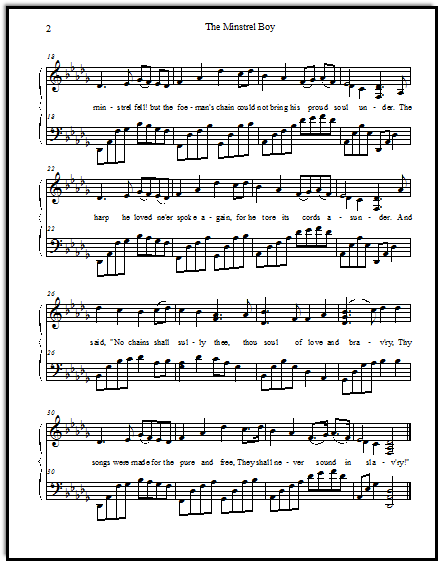 Unlike almost all of the music on my site, this arrangement is for sale only.
Buy The Minstrel Boy for voice & piano in 4 keys, UNLIMITED COPIES for your students only, $5.00
Below is a stirring interpretation of Minstrel Boy from the movie "Black Hawk Down" (WARNING - VIOLENCE).  
When I watch these scenes and remember that this event really happened, I am filled with anguish and fury at the fecklessness, the callousness of politically-minded leaders:
Buy The Minstrel Boy for voice & piano in 4 keys, UNLIMITED COPIES for your students only, $5.00
So why should you buy the patriotic song "The Minstrel Boy" vocal and piano arrangements from me?
I give you permission to make UNLIMITED COPIES, for YOUR STUDENTS ONLY.
The Minstrel Boy is available immediately as a digital download onto your computer.  In 4 keys!
You don't have to download any new software into your computer in order to download this PDF. I don't know about you, but I hate clogging up my computer with yet another program I didn't know I needed. You just need a version of Adobe Acrobat or another PDF reader, which all computers come with. If you DON'T have Adobe Acrobat or a similar program, then you couldn't download any of my other PDFs either.
The notes and lyrics are a LOT bigger than the copies currently available in music stores, making reading easier!
Speaking of reading the music, you can print this music on any kind of paper you want, and thus avoid the glare of shiny pages (so irritating for accompanists!).
Write and make notes all over these copies, in red and other colors, without feeling you are spoiling your music for posterity. I dislike messing up my music books, but learning the piece is always the first priority. These printouts will make great working copies.
Do you need a letter of permission in order to use this music at a competition? Write me through the Contact Me form, and I will email you a personal letter.
I give you permission to make UNLIMITED COPIES legally (for your students only). When you need music, you usually need it NOW.  Your accompanist, your soloist-student... let them have this music without fear of copyright infringement.   And help them learn respect for the musician's trade!
Paypal, the payment system I use, is a secure and recognized payment system. You can pay by credit or debit card, or your bank account. E-Junkie delivers the PDF document, working as a partner with PayPal... your purchase is guaranteed.
What are you waiting for?  This is a moving, beautiful love song - of love for one's country.
Buy The Minstrel Boy for voice & piano in 4 keys, UNLIMITED COPIES for your students only, $5.00
Lastly, here is a stirring vocal version of The Minstrel Boy, sung by John McDermott:
More Folk Songs to Sing:
Ae Fond Kiss - a love song about saying goodbye, from Scotland
All the Pretty Little Horses - a soft and repetitious lullaby, quite pretty
Ash Grove - a famous and lovely song from Wales
Auld Lang Syne - the New Year's Eve song!
Colorado Trail Song - an American tune written by a real cowboy
Come By the Hills - another popular Irish melody
Down By the Salley Gardens - a famous and pretty song, very sweet 
Green Bushes - a brisk little song that is pretty while being good for breath control training
Grenadier and the Lady - my favorite folk song of all.  Find out why
I Gave My Love a Cherry - the "Riddle Song" is very pretty
Johnny Has Gone For a Soldier - very beautiful, very moving, and a chance for your young singer to learn how to let her voice soar
Keegan's Waltz - this is a traditional Gaelic tune, but the lyrics are very new, supplied by a visitor to this site!
Lavender's Blue - this simple song is not only satisfying for beginning pianists, but also young singers who need to focus on basics.  With a lovely piano accompaniment.
Loch Lomond - the famous and sad song about never meeting again
Mari's Wedding - a singable tune with bouncy chords that is fun to play or sing
Minstrel Boy - a lovely and patriotic song about a warrior-poet
Molly Bawn - a sad story of a young hunter who thought he was shooting at a swan
Morning Has Broken - a beautiful melody made famous again by Cat Stevens
Once I Had a Sweetheart - "but now I have none!" Very pretty, and little-known.
Parting Glass - a well-known Irish tune which my singers always love
Raggle-Taggle Gypsies - a story about a young bride who abandons her wealthy new husband to go off with the gypsies. A catchy melody!
Riddle Song - the pretty song that speaks of giving a cherry without a stone, a chicken without a bone, a baby with no crying.
Scarborough Fair - an old and famous tune of lost love
She Moved Through the Fair - this sounds happy, but it is actually a bit of a love story, and a bit of a ghost story!
Shenandoah - a famous and lovely American tune with ambiguous lyrics
Skye Boat Song - a pretty song from Scotland about the escape of Bonnie Prince Charlie over the sea
Spanish Ladies - a minor key sea chanty that swings energetically along - BOYS like singing it too!
The Spanish Lady - Upbeat and energetic, this Irish song is fun to perform with a group
Star of the County Down - LOTS of fun to sing and play!  An excellent ensemble piece
Waltzing Matilda - an unusually pretty melody from Australia; you know this one!  Very popular with kids
The Water is Wide - a very pretty song about disappointed love.  You might have sung this one in high school!
The Wellerman - a sea chanty that is very singable, and very fun!
White, Orange and Green - though not widely known, this charming melody about fighting for the right to carry the flag of Ireland has stirring lyrics and soaring phrases. A favorite of my vocal & guitar students.  I never get tired of this song.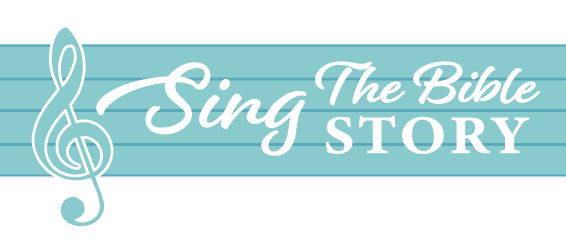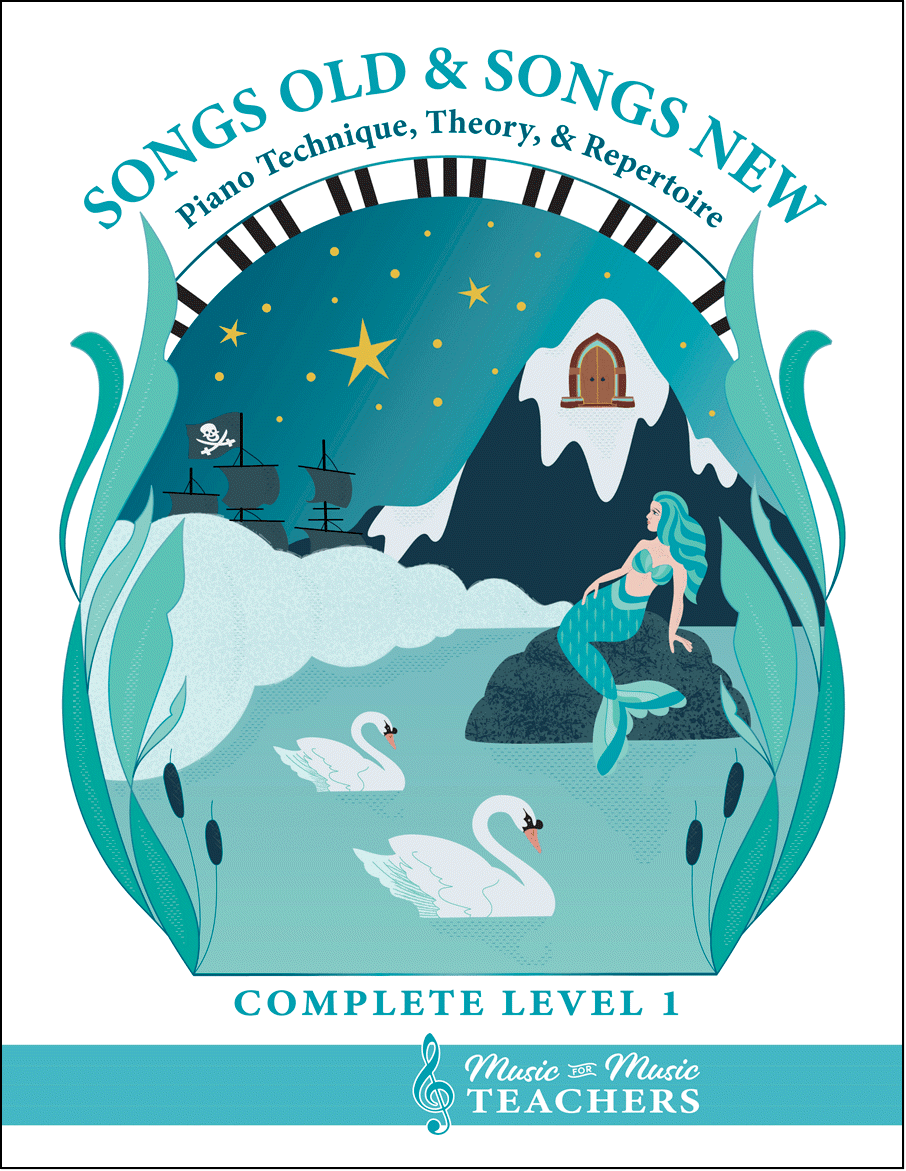 All the first-year material I give my beginner students. 
Piano keyboard sheets, scales, chords, note-reading exercises, and over 256 pages of music!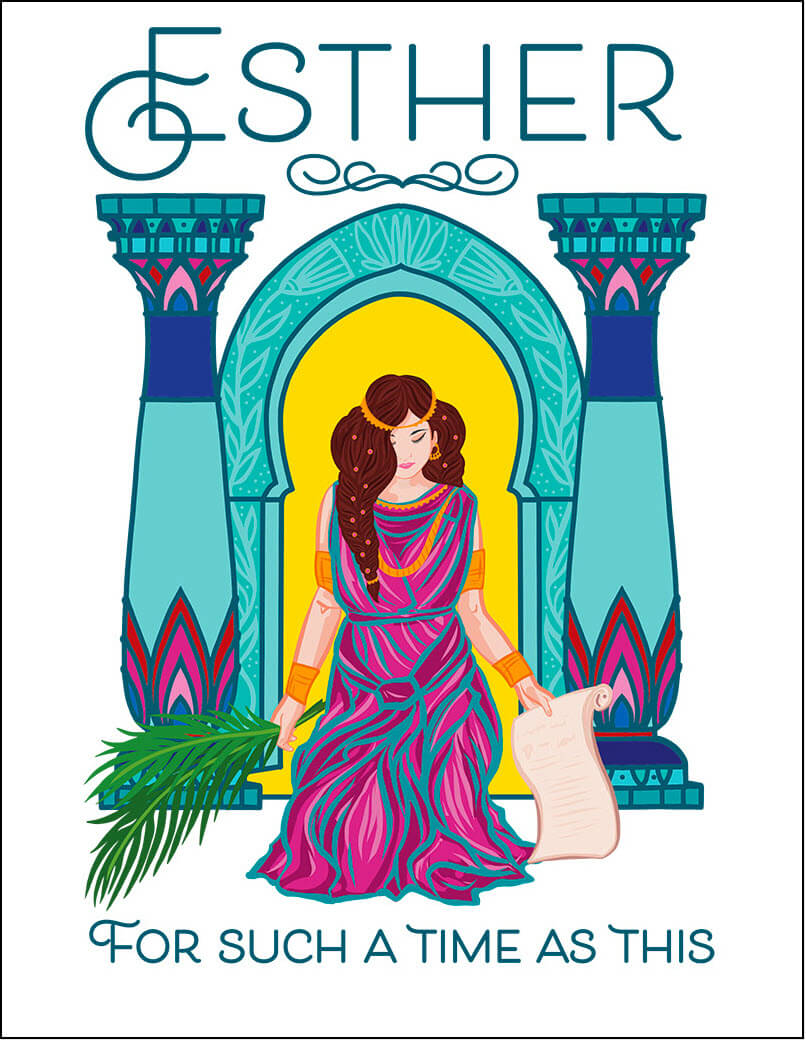 This beautiful song book for piano & voice "Esther, For Such a Time as This",  available as a digital download, tells the riveting story of the time when  Jews in ancient Persia faced a foe named Haman, and how a  brave young queen risked her life to save her people.
A good choice for a singing story-teller, an operatic group, a short theater production, or a class of children!
This book is also available from Amazon as a paperback.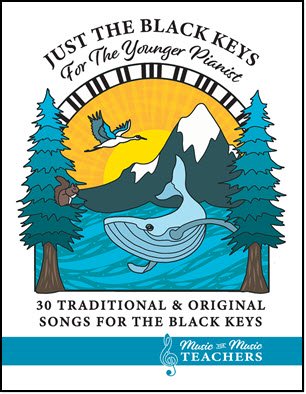 This book is available as a digital download  from this site.  Visit this page to see some free examples from the book.
It is also available from Amazon as a paperback!
This is the perfect easy start for little pianists.
And when they start reading white-key notes on the staff, this is a fun easy resource to say each week, "Choose a new black-key song at home this week and figure it out to show me next lesson!"  They will be spending more time at the piano.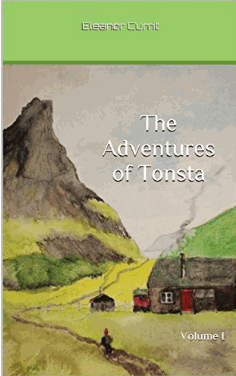 A perfect read aloud storybook
for little boys or girls. 
The Adventures of Tonsta highlight the travels of a very young boy with a good heart, who goes about helping folk in trouble.  
With a red cap on his head and a sack of tools slung over his shoulder, Tonsta seems to meet people in distress wherever he goes.
Lots of trolls in this book - including one who gives him a Christmas gift!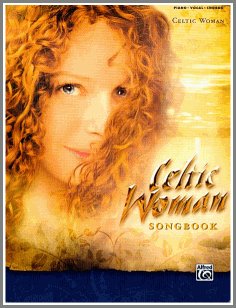 Lin:
Thank you for a most excellent site. I am a classical guitar teacher, who endeavors to cover chords and finger style as well.
I especially liked the printable Celtic music, as some of my teenage students enjoy it! Thank you, again.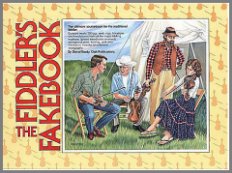 Caroline:
I was looking for some easy (classical) pieces to play that wouldn't require much prep.
I hit the jackpot here with classical and other, Celtic, lovely tunes!  Thanks again!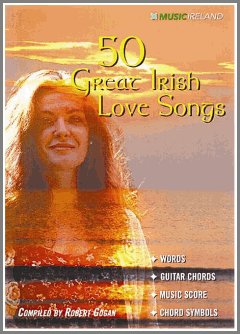 Sign up for "Take Note!" to see what's new every month.
Comments
Music has such power to move the heart... do you have a story or a question about this music?

About the Author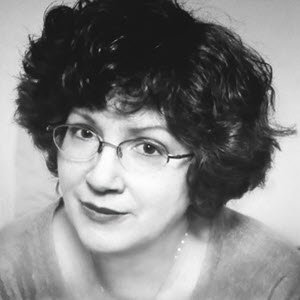 Hi, I'm Dana!  (Say that like "Anna".)  I'm the owner of Music-for-Music-Teachers.com, and a newer site, SingTheBibleStory.com.
Like some of you, I've been playing the piano since early childhood, and have added a few other instruments along the way, plus an interest in arranging and composing music.
You can find out more about me and the reason for this website at my About Me page.