Christmas Rounds to Sing
Christ is Born, 3 parts
Christmas rounds to sing for your choir or vocal group!  
Offered here in three different keys, this lovely melody by Franz Joseph Haydn is not well-known.  It begins with a slow, sturdy first line, which is followed by two flowing ornate lines.
Haydn didn't put these lyrics to the melody; I did.  
I frequently substitute lyrics in public domain works, particularly if the original lyrics are a foreign language, or the occasion calls for it.  
The children's choir singing in the video is using different words than mine - "Welcome, all...", which can be found in the book  "150 ROUNDS for Singing and Teaching".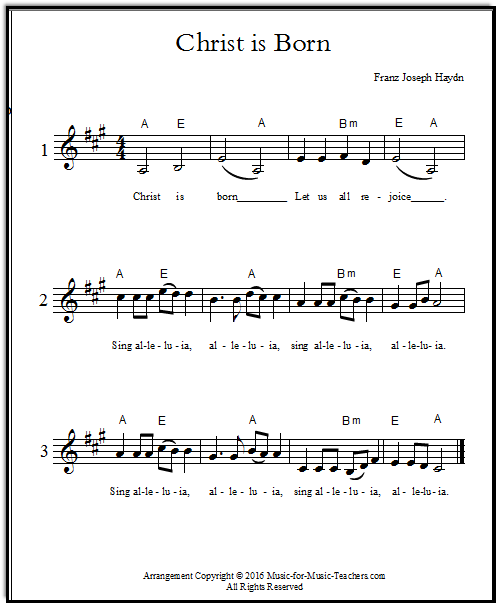 Please scroll down the page for the free PDF links.
Because of limited time and the inability of my vocal students to get together to practice more than a scant few minutes two times, I'm using a different approach with this round:

Singer 1, a senior boy, will sing solo line 1, then keep singing it.  Over and over, for a total of 4 passes.

When part 2 comes, that singer (a high-voiced young lady), will sing that line, and also sing ONLY that line.  She will sing it 3 times total.
When part 3 comes, that young lady to whom the part is given will sing it through, then repeat it.  She will only sing it 2 times in all.
We'll see how this goes!  I like the idea of the young man's low voice forming a slow bass foundation to the very-much-higher alleluia lines.
Update: Yes, this worked pretty well!  I'd do it again.
The book "150 Rounds" is full of unknown, interesting rounds like this one
and canons  that are complicated and unpredictable.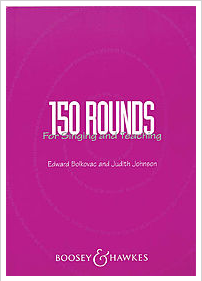 ---
The links to the vocal round PDFs:
Download Christ is Born in the key of A (shown)
Download Christmas rounds to sing song in the key of Bb
Download Christ is Born round in the key of C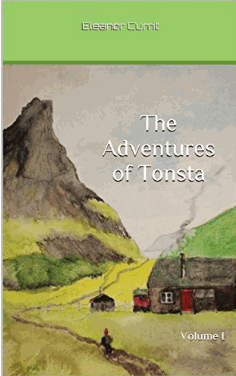 A perfect read aloud storybook
for little boys or girls. 
The Adventures of Tonsta highlight the travels of a very young boy with a good heart, who goes about helping folk in trouble.  
With a red cap on his head and a sack of tools slung over his shoulder, Tonsta seems to meet people in distress wherever he goes.
Lots of trolls in this book - including one who gives him a Christmas gift!
Sign up for "Take Note!" to see what's new every month.
Comments
Do you have a funny story about this music, or does it remind you of something you'd like to share with other readers? Do you have a question? I'd love to hear it!

Please note that all comments are moderated, and will not appear until I have approved them. Also, IF YOU ARE ASKING FOR MUSIC THAT IS NOT IN THE PUBLIC DOMAIN, YOUR REQUEST WILL BE IGNORED. That's pretty much any music written in the last 75 years...

About the Author


Hi, I'm Dana!  (Say that like "Anna".)  I'm the owner of Music-for-Music-Teachers.com.

Like some of you, I've been playing the piano since early childhood, and added a few other instruments along the way, plus an interest in arranging and composing music.

You can find out more about me and the reason for this website at my About Me page.