Down by the Salley Gardens
Down by the Salley Gardens is a pretty English song with poetic words by William Butler Yeats. 
On this page you'll find the piece in seven different keys as lead sheets, and a few different keys for piano as well.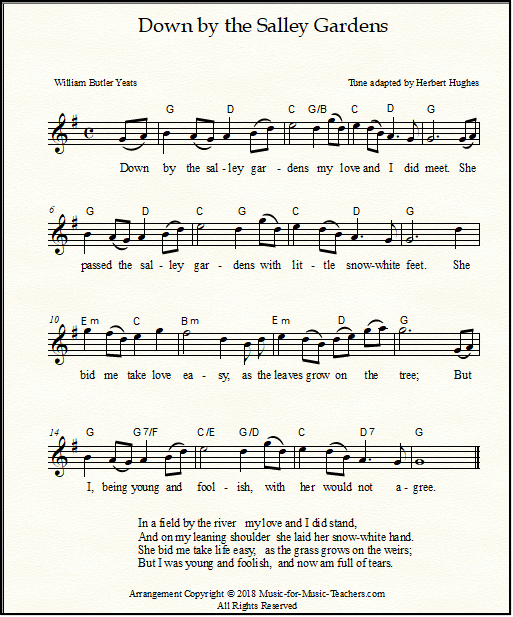 Please scroll down the page for the links to the free printable music.
Here is a beautiful violin rendition of this piece by Retaw Boyce of Australia:
This song has many slurred notes for the singer: view these as learning opportunities! 
Students need to be able to interpret notes and musical symbols, and it is surprising (to me) how often young singers will be baffled by the slurs in a vocal line. 
I like them to be intelligent music "map readers" against that future day when they will become part of a choir; I want them to be an asset, not a drag on the group!

You never know just how particular students will react to a new song, especially a song as old-fashioned as this one. 
But I actually had a young singer once beg me for "Down by the Salley Gardens" after she had been introduced to it at a summer Fine Arts Camp. 
It just goes to show you that good music is going to be loved, if given a chance.   
Fortunately, I found an arrangement in this Folk Songs of England, Ireland, Scotland, & Wales. There are about 100 songs in this book, including a few I have on this site, often with different melodies or lyrics. 
Is Down by the Sally Gardens a folk song?  Perhaps the tune is, but the words by Yeats are less than 150 years old... however, it FEELS like a folk song!
Here is my own piano accompaniment for this lovely song: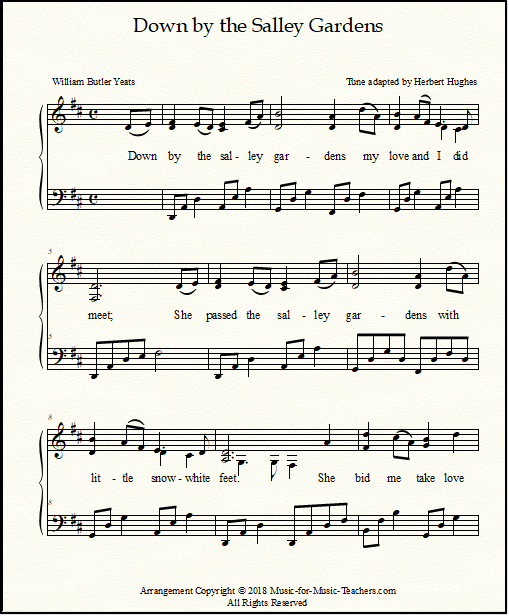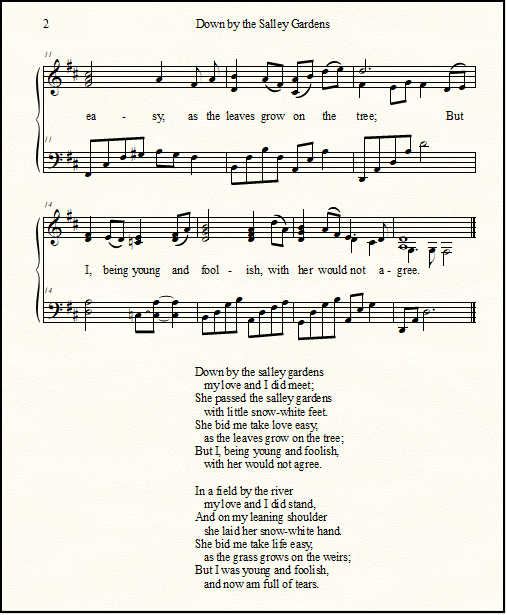 If I have time, I'll make more keys available for this piano accompaniment.  
Meantime, here is another lovely rendition of Salley Gardens, this time a vocal version, by Laura Wright:
What is a "salley garden"? A garden full of willows.
---
The links for the lead sheets:
Download lead sheet Down by the Salley Gardens in the key of A
Download Down by the Salley Gardens in the key of Bb
Download Salley Gardens in the key of C
Download Down by the Sally Gardens in Eb
Download English song in the key of F
Download lead sheet Down by the Sally Gardens in G
The link for the piano accompaniment:
Download piano accompaniment for Salley Gardens in D
---
---
A perfect read aloud storybook
for little boys or girls. 
The Adventures of Tonsta highlight the travels of a very young boy with a good heart, who goes about helping folk in trouble.  
With a red cap on his head and a sack of tools slung over his shoulder, Tonsta seems to meet people in distress wherever he goes.
Lots of trolls in this book.
---
---
Sign up for "Take Note!" to see what's new every month.
Search Music-for-Music-Teachers: