The Spanish Lady 
The Spanish Lady is a fun, pretty, and fast-moving song from Ireland. And vigorous! Download the free fiddle music and easy acoustic guitar tabs for it here!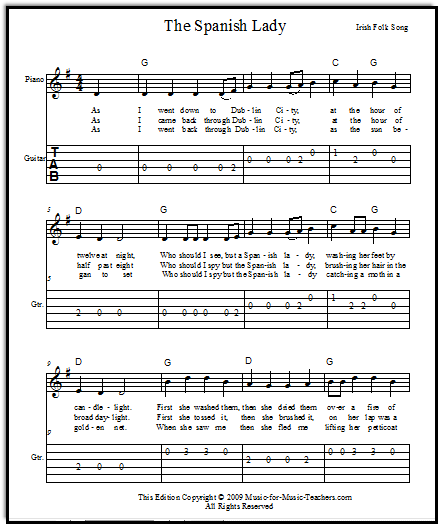 This song was introduced to me by one of my students, who asked if she could sing it. Browsing through her favorite singers on YouTube, she had encountered the group Celtic Woman singing this song.
This free vocal sheet music is very pretty, bouncy, and great fun to sing with a group of other singers. 
Several of my vocal students have and enjoy the Celtic Woman Songbook, which has not just vocal pieces, but also instrumentals such as "The Butterfly" for violin. However, the book does not have Spanish Lady in it!

No sooner had I begun giving this song to my vocal students, than my guitar players and fiddlers also wanted to play it, so I've added guitar tabs to the sheet music.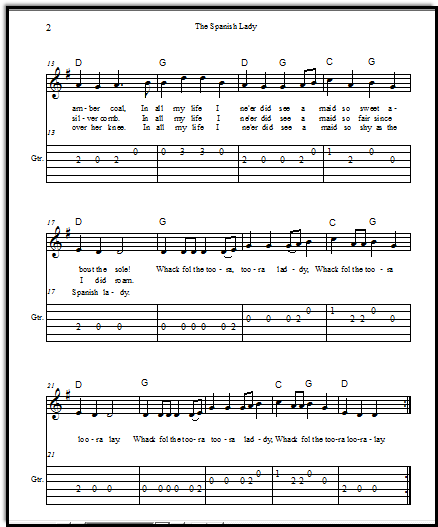 Download free Celtic sheet music and easy acoustic guitar tabs in key of G 

Download free guitar tabs and free fiddle music in key of A

This song is easier both for guitar and violin players in the key of G, I think.
For fiddlers who play it in G, it is very fun and not too hard to execute double stop notes - a drone - at the bottom of page 1, where the melody goes, "First she washed them..." Just use the open D string as harmony for the notes of the A string, until you reach the melody change again at "Whack fol the too-rah..."

(This may seem terribly obvious to all you fiddlers of many years' experience, but to me, a pianist who first held a real violin in her hands as a music major in college in String Methods I, playing the violin is still a learning adventure!) 
Now here is a plain lead sheet, lyrics and music all on one page, to save paper and ink: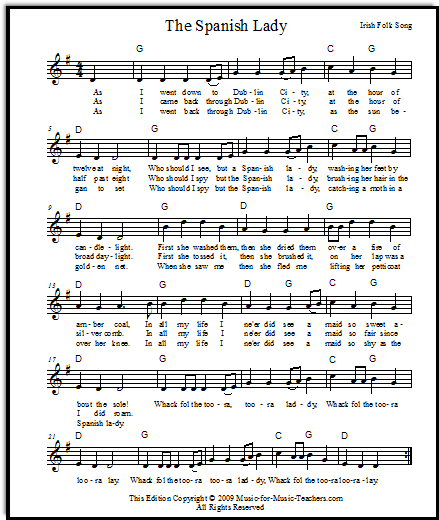 Download Spanish Lady lead sheet in the key of A 

Download printable lead sheet in the key of G

I like the way the Celtic Woman version starts with a soloist, then bursts into harmony, so I wrote parts for the middle and end of each verse. The bottom voices are pretty simple, so less-experienced, younger singers can pick them up quickly.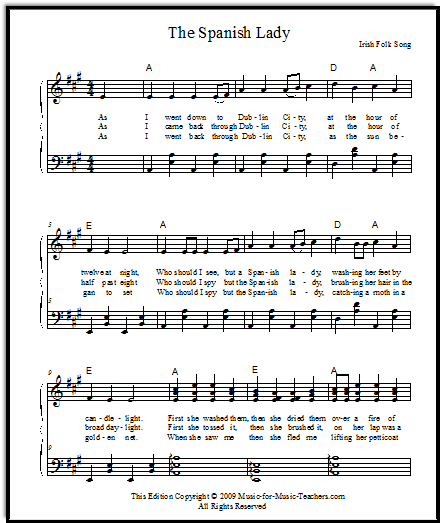 Download Celtic Woman song with vocal harmony in the key of A 

Download Celtic Woman song with vocal harmony in the key of G

Unless you're real handy with fast-moving piano chords, I wouldn't treat the top staff of this version as a piano part -- playing those parallel sixths on the piano could really slow the piece down!
The single line of version one would be preferable, so that the piano could skip along. (Unless playing fast parallel sixths is easy for you, of course. I still think it would weigh the song down.)
The Spanish Lady has become a fast favorite among my students, and I'm betting it will be with yours, too!
---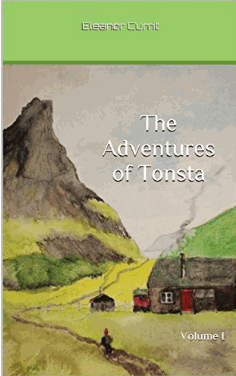 A perfect read aloud storybook
for little boys or girls. 
The Adventures of Tonsta highlight the travels of a very young boy with a good heart, who goes about helping folk in trouble.  
With a red cap on his head and a sack of tools slung over his shoulder, Tonsta seems to meet people in distress wherever he goes.
Lots of trolls in this book - including one who gives him a Christmas gift!
---
---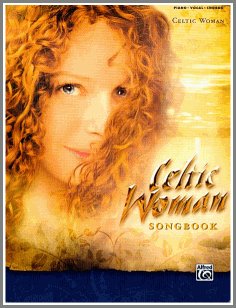 Carrie,Voice and Piano Teacher:
This site is FABULOUS. For all the reasons you explain on the site itself--this is exactly what piano teachers need! (I still need to go look at the vocal music). Wow. THANK YOU SO MUCH!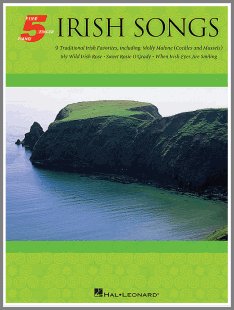 Marianne:
You are awesome. Thank you. I'm a voice and piano teacher and to have so many pieces in one place- for many different levels- is a Godsend. Thank you for the time and effort you have put in to make this so easily available to all of us stressed music teachers!!!
Deb:
... I watched your video "Wondrous Love" with your eight gals - Magnificent! So refreshing to see good harmonies sung a capella these days; it seems to be rare!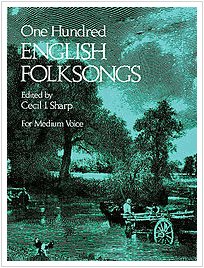 Ruth:
Thanks, Dana, for your excellent customer service.

Amber:
Thank you! THANK YOU!!! For keeping the beautiful art of Opera alive! I stumbled upon this site and I'm so happy I did!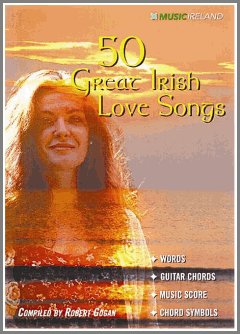 Comments
Do you have a funny story about this music, or does it remind you of something you'd like to share with other readers? Do you have a question? I'd love to hear it!

Please note that all comments are moderated, and will not appear until I have approved them. Also, IF YOU ARE ASKING FOR MUSIC THAT IS NOT IN THE PUBLIC DOMAIN, YOUR REQUEST WILL BE IGNORED. That's pretty much any music written in the last 75 years...
What Other Visitors Have Said
Click below to see contributions from other visitors to this page...

Sign up for "Take Note!" to see what's new every month.
Search Music-for-Music-Teachers: