Coffee Canon - 
A Singing Round in 3 Parts
Coffee Canon  is a fun and energetic singing round with strong harmonies - download it for your singing group free here!
This round is not a quick study like Heigh Ho and Ah Poor Bird, but it is so fun to sing that it is worth the extra work!
Here is a vigorous rendition of the Coffee song:
And the music, in several keys: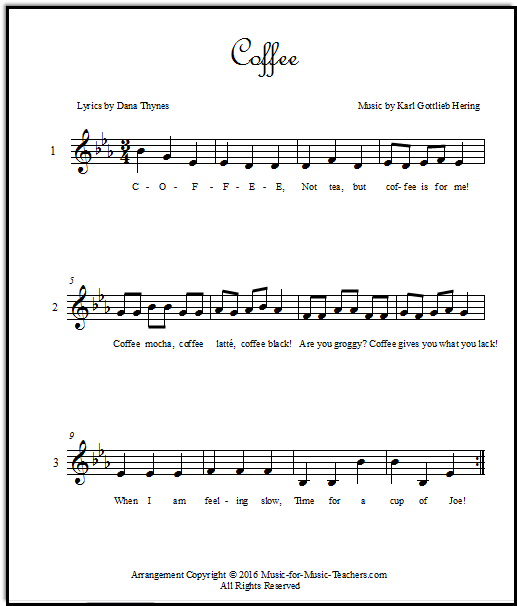 Download the Coffee Canon in the key of A - rather high for singing groups, but nice for violin!
Download the round "Coffee" in F
Download the Caffee Canon in Eb
My students really like this song - if I give them a choice at their lesson - "Which round shall we start with?", it is always "Coffee!"
Now here is a version with lettered notes, which I found useful for beginning singers struggling with this intricate melody: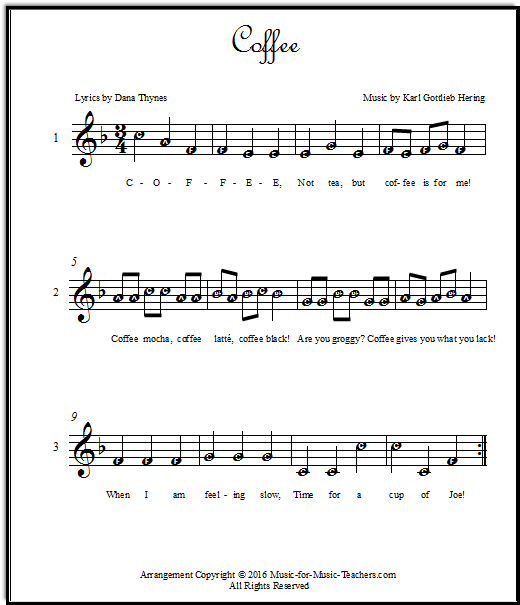 Download easy music notes for Kaffee Canon
I first encountered this round in the sheet music book "150 Rounds for Singing."  There, the lyrics are different - and fun! - but they are an English translation from the original lyrics, which are German, and they are COPYRIGHTED.  Therefore I decided to come up with new lyrics.  I could have written the publisher for permission to use the lyrics they have, but then I probably would have had to charge money for you to use this fun round.  (Besides, some of the publishers take an ETERNITY to reply... or don't reply at all.)
Here is a simple playing of the Coffee song on a piano - it helps you really hear the melody:

Here are the original lyrics to this song, which is presumed to have been composed by Karl Gottlieb Hering (1766-1853); 
C-A-F-F-E-E, trink nicht so viel Kaffee! 
Nicht für Kinder ist der Türkentrank, 
Schwächt die Nerven, macht dich blaß und krank, 
Sei doch kein Muselmann, der ihn nicht lassen kann. 
Essentially, the lyrics say that you shouldn't drink so much coffee, that it is not for children, that it affects the nerves, and that it makes you pale and sick!  The lyrics I've composed, on the other hand, CELEBRATE coffee and express my appreciation for it.
I have found that a good way to practice this song with both groups and individuals is to give them a chord background on every beat, to match the harmony.  Only the I and V chords are needed.  Therefore, in the key of F, that means you will strike F, F, F, C7,C7, C7... etc.
---
A perfect read aloud storybook
for little boys or girls. 
The Adventures of Tonsta highlight the travels of a very young boy with a good heart, who goes about helping folk in trouble.  
With a red cap on his head and a sack of tools slung over his shoulder, Tonsta seems to meet people in distress wherever he goes.
Lots of trolls in this book.
---
---
Sign up for "Take Note!" to see what's new every month.
Search Music-for-Music-Teachers: