Come Ye Sinners
I Will Arise and Go to Jesus
Come Ye Sinners, also known as I Will Arise and Go to Jesus, is a beautiful hymn with a melody from William Walker's "Southern Harmony."  
Free sheet music for all instruments of this hymn, treble  and bass clef, plus viola clef.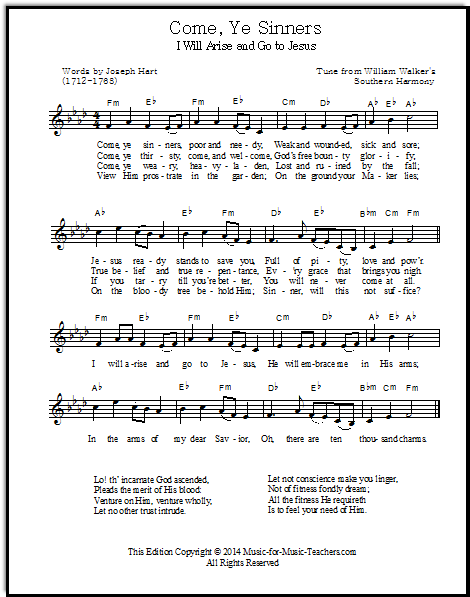 Please scroll down the page for the multiple links to the PDF downloads.
This beautiful old tune from "Southern Harmony"  is known as "Restoration."  This melody can be found with different lyrics.  

At hymnary.org there is a beautiful arrangement which I am using for a model for my own piano arrangement (COMING!).  
The song is pentatonic, but just before the final note of the second phrase, the 7th step of the scale is raised in a startling way!  
This happens twice in the song.  However, I prefer the lowered 7th step instead of that raised seventh - it is the way that Fernando Ortega sings it in the video above, and it is more natural, even if it isn't traditional.

I really love the words of this hymn and verse 3 in particular, which encapsulates the "gospel" or "good news" in just a few phrases:
"Come, ye weary, heavy-laden;
Lost and ruined by the fall;
If you tarry till you're better,
You will never come at all."
The "fall" is of course a reference to the story found in Genesis 3 of the Bible - Adam and Eve turning from God.
"If you tarry till you're better" means that you are trying to become a better person to please God, at which time you will choose to come to Jesus.  
"You will never come at all" indicates the hopelessness of taking that approach, because we NEVER can be good enough or even "better."  

Only his death on "the bloody tree" can "suffice" or be sufficient (verse 4).
Below is a BASS CLEF version, in two keys, of Come Ye Sinners: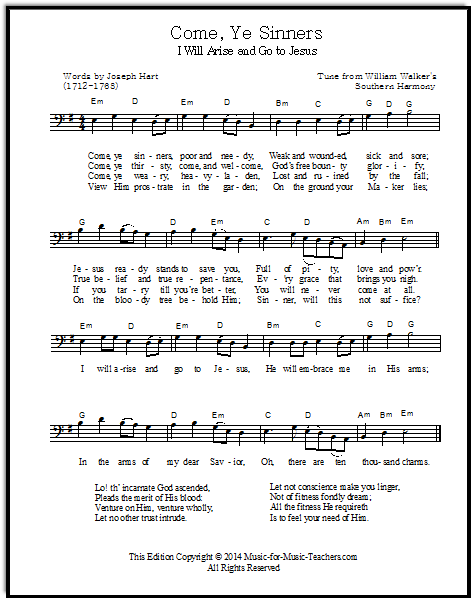 Now, for viola: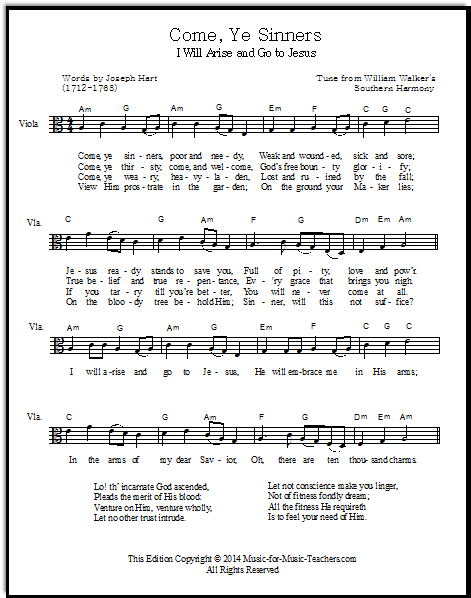 If you are interested in more background on this hymn, there is plenty of information to be found, both about the melody (Restoration) and the writer, Joseph Hart.
In 1757, after living a life he described as "carnal and spiritual wickedness, irreligious and profane," Joseph Hart turned to Christ (Psalter Hymnal Handbook).
Two years later, he wrote this famous hymn. Now, having undergone numerous text and tune changes, it still remains a classic hymn of invitation to turn from our sinful ways by the grace of God into the waiting arms of our Savior.
The added refrain hearkens back to the story of the prodigal son, who, like Hart, turned from a life of waywardness and folly back to his father's waiting arms...
The lead sheet links, treble clef:
Download free sheet music Come Ye Sinners in the key of Bm, low
Download free hymn in the key of Bm, high
Download hymn in the key of Cm
Download free sheet music  in the key of Dm
Download I Will Arise in the key of Em
Download hymn in the key of Fm, the key shown above
Download Southern Harmony hymn in the key of F#m
Download tune "Restoration" in the key of Gm
The bass clef links:
Download hymn for bass clef in the key of Am
Download I Will Arise for bass clef in the key of Em
The viola links:
Download Come Ye Sinners in the key of Am for viola
Download hymn in the key of Dm for viola
Download Southern Harmony hymn in the key of Em for viola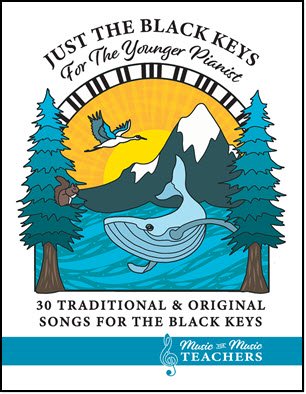 This book is available as a digital download  from this site, and also from Amazon as a paperback!
This is the perfect easy start for little pianists.
And when they start reading white-key notes on the staff, this is a fun easy resource to say each week, "Choose a new black-key song at home this week and figure it out to show me next lesson!"  They will be spending more time at the piano.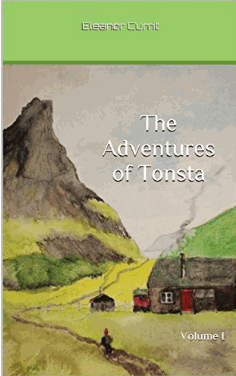 A perfect read aloud storybook
for little boys or girls. 
The Adventures of Tonsta highlight the travels of a very young boy with a good heart, who goes about helping folk in trouble.  
With a red cap on his head and a sack of tools slung over his shoulder, Tonsta seems to meet people in distress wherever he goes.
Lots of trolls in this book - including one who gives him a Christmas gift!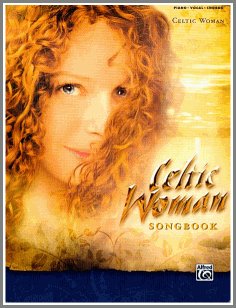 Liz:
Hello - I just want to say THANK YOU so much for the duet version of Oh Holy night (in Bb too!), which is great, as I have two students at school that are going to sing this in a concert in 3 weeks.  
With not much time and no budget, it is so nice to find an arrangement!   Thank you.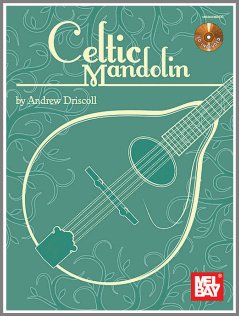 Carrie,Voice and Piano Teacher:
This site is FABULOUS.
For all the reasons you explain on the site itself--this is exactly what piano teachers need! (I still need to go look at the vocal music). Wow. THANK YOU SO MUCH!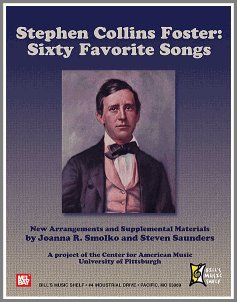 Sign up for "Take Note!" to see what's new every month.

About the Author


Hi, I'm Dana!  (Say that like "Anna".)  I'm the owner of Music-for-Music-Teachers.com.

Like some of you, I've been playing the piano since early childhood, and added a few other instruments along the way, plus an interest in arranging and composing music.

You can find out more about me and the reason for this website at my About Me page.