We Wish You a Merry Christmas
We Wish You a Merry Christmas, with:
First, a very pretty performance of this usually vigorous holiday music... the identification on the Youtube video said "Coral Polifónica Sagrada Familia (Sa-Fa)":
Here is the new piano solo sheet music, which is aimed at late elementary students.  It is shown in the key of F, but I think the key of G is a little bit easier for students to play: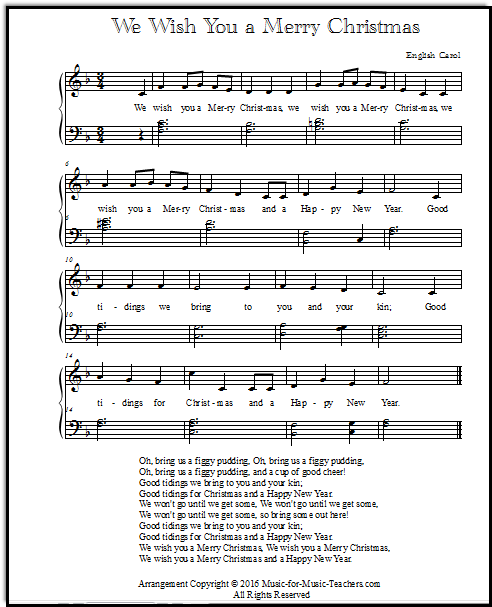 The left hand is full of repeating patterns that can help your piano student catch on to the music sooner:
A full chord, an interval of a fourth.

Another full chord, another interval of a fourth.  
Three times it happens, then there's a big change in direction.  Spotting patterns always makes learning easier.
A version that is the same, note-for-note, as the one above in G, but with larger notes and a few "helper" lettered music notes, may help your reluctant learners: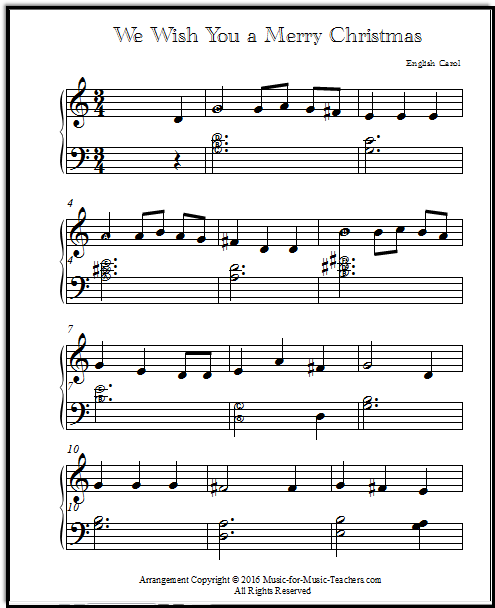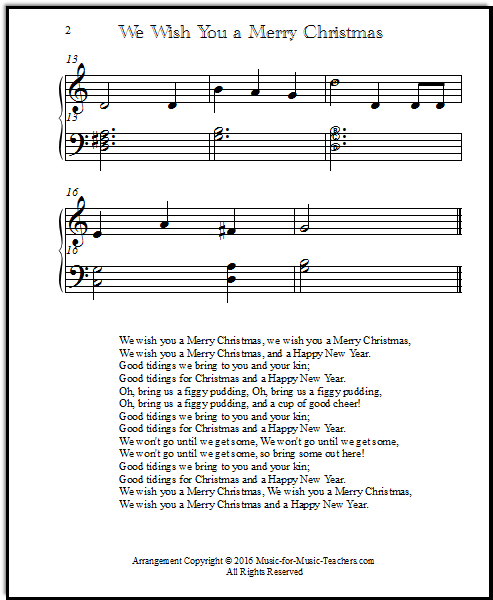 Download piano solo in the key of F

Download piano solo in the key of G

Download "helper notes" version of piano solo of We Wish You a Merry Christmas

You may notice that there are no chord symbols above the chord progressions, as I tend to do.  Still, my students and I study each chord, and write it above in pencil.  Thus, G... C/G... A... D/A.  This helps them to see patterns and analyze.
Now for some beginner Christmas piano music, arranged for first-year piano students:

I have not placed any chord symbols in the arrangement above, but if you wish to turn this into a duet with your student, and can't figure out the chords yourself, cast your eye down the page to the lead sheets, and print out the key of C.

Download beginner Christmas piano music

This energetic holiday song lends itself very well to harmony; I'm having two brothers and their older sister sing this as a trio.  
They are a family that does not celebrate Christmas, but I want them to learn to sing harmony together, and this piece is a good choice for that - or for a group of instrumentalists.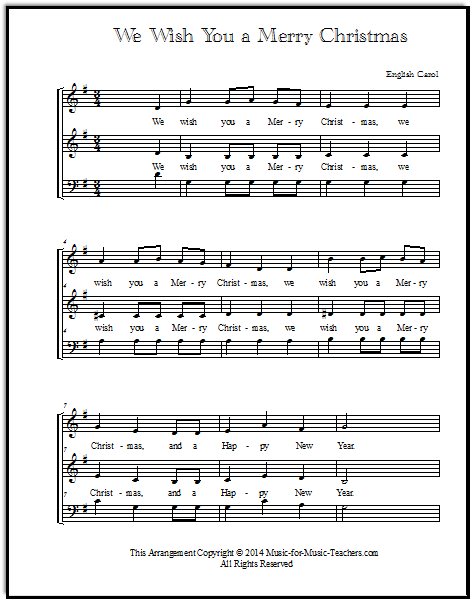 Download trio for singers We Wish You a Merry Christmas in A

Download trio in the key of Bb

Download Christmas song trio in key of D

Download holiday music trio in the key of G

The duet leaves out the bass notes, and is almost the same - not quite - as the top 2 lines of the trio.  Some of the duets are set with bottom lines in the bass clef: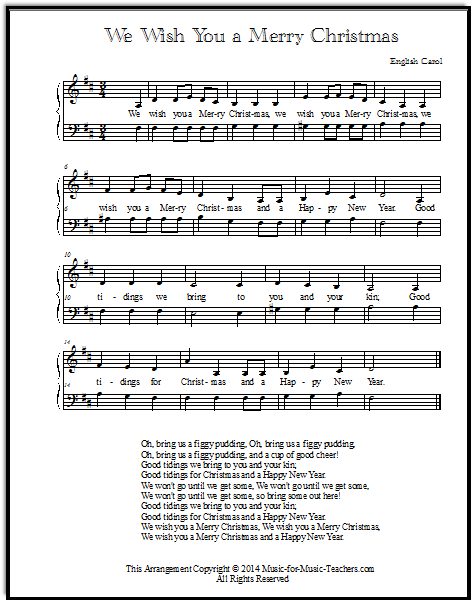 (See farther down the page for the duet links)
...and some of the duets are set entirely in treble staff.
There are two different key of C arrangements of the duets & trios, so take a look at the duet below and compare it with the key of D above, which goes down into bass clef: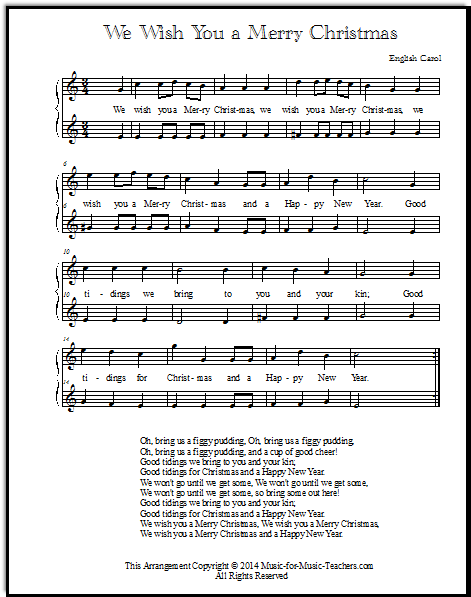 Download duet Christmas song in A

Download Christmas song duet in Bb

Download duet in the key of C, low version

Download duet Christmas song in C, higher (as shown above)

Download holiday song duet in Eb

Download duet holiday song in F

Two young violinists or other instrumentalists - even recorder players, will surely find a key that suits them!  
Now for the lead sheets with their chord symbols...  
You will notice that I couldn't decide which chords I preferred in line two.  Both the minor chords and the major chords can sound satisfying, so I decided to include the optional chords!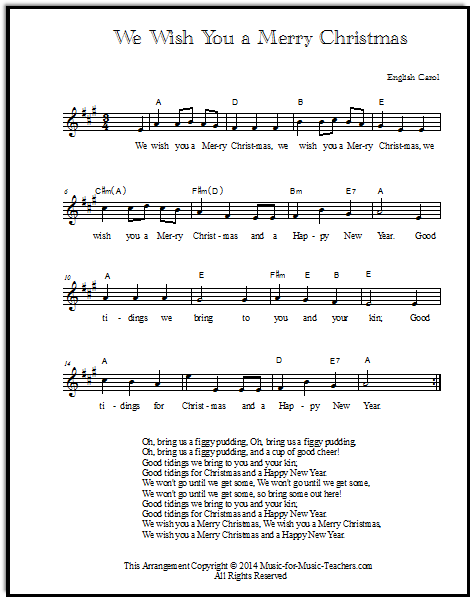 Download We Wish You a Merry Christmas in the key of A

Download free Christmas music Bb

Download Christmas lead sheet in C, low

Download Christmas lead sheet in C, higher

Download free Christmas song lead sheet in G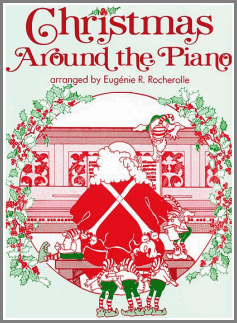 Susie:
Wow! I cannot thank you enough for the free collection of piano sheet music that you created here. My daughter and I are following everything you wrote and we LOVE it. It is super fun!!! She loves to play because of your website. We have a small binder now that is slowly growing! THANK YOU!!!!
Anna Lee:
What a fabulous website! I've been a keen amateur piano player since I first learnt 56 years ago at the age of 8. I now have a three year old granddaughter and am hoping fervently that she'll want to learn - at which point I'll teach her. This is just the kind of resource I'll need to make it comprehensible. Thank you very much.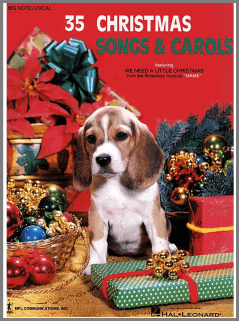 Liz:
Hello - I just want to say THANK YOU so much for the duet version of Oh Holy night (in Bb too!), which is great, as I have two students at school that are going to sing this in a concert in 3 weeks.  With not much time and no budget, it is so nice to find an arrangement!   Thank you.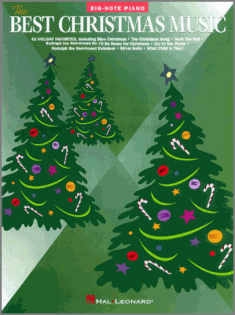 Comments
Do you have a funny story about this music, or does it remind you of something you'd like to share with other readers? Do you have a question? I'd love to hear it!

Please note that all comments are moderated, and will not appear until I have approved them. Also, IF YOU ARE ASKING FOR MUSIC THAT IS NOT IN THE PUBLIC DOMAIN, YOUR REQUEST WILL BE IGNORED. That's pretty much any music written in the last 75 years...
Sign up for "Take Note!" to see what's new every month.