Vocal Score, Piano for
"Ae Fond Kiss"
Vocal score, piano accompaniment, & lead sheets for "Ae Fond Kiss," a flower among Scottish songs.  You may think these simple love lyrics are an old folk song, but in reality, this Scottish poem was written by Robert Burns, a famous Scottish poet.

Robert Burns wrote this poem for a friend and gave it to her at the occasion of their final parting.  These simple love lyrics are so beautiful:
For to see her was to love her, 
Love but her, and love for ever.
Download Vocal Score, Piano Accompaniment for "Ae Fond Kiss" in C

Download Ae Fond Kiss in the key of D

Scottish poem song lyrics "Ae Fond Kiss" in Eb

Download simple love lyrics in the key of F

A note about a few of the lyric's words: 

*ae =  only. The "Ae" is pronounced to rhyme with "hay".
*ilka = every 
*sae =  so 
Here are the lead sheets, below - for treble & bass instruments, and viola: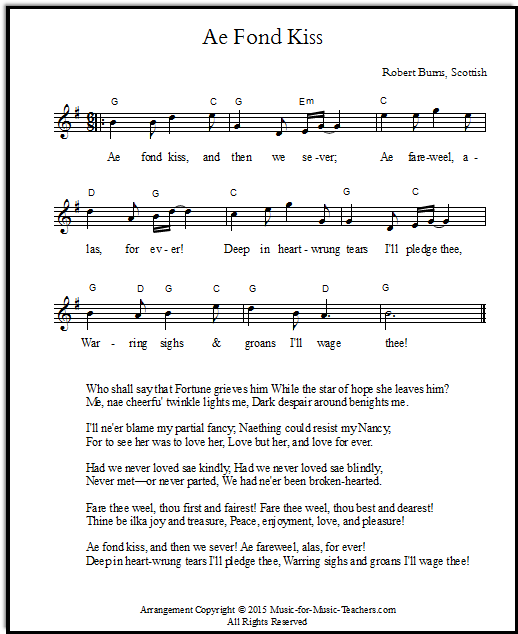 Lead sheet "Ae Fond Kiss" in C

Scottish music in the key of F

Scottish poem song lyrics in G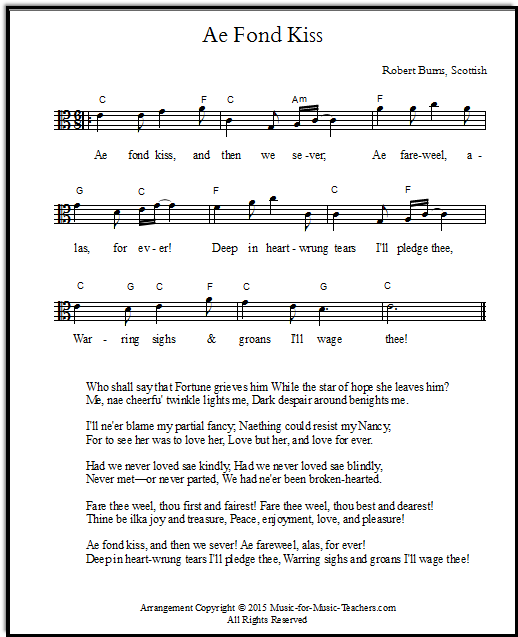 Download "Ae Fond Kiss" lead sheet for viola, key of C
There is some information about the true history of this beautiful Scottish poem at a website with the curious name of dgdclynx:
"... in 1788 Burns conducted, in Edinburgh, a courtly love-affair by letter with Mrs Agnes Craig McLehose (1758-1851). She was unhappily married and her relationship with Burns, the fashionable poet, was more ... platonic than physical. Written at the end of their relationship (before Nancy sailed to Jamaica to rejoin her dissolute lawyer husband). `Ae Fond Kiss' remains one of the most poignant songs of lost love. ... Nowadays it is customarily sung to John Michael Diack's tune `founded on an old Scottish air'."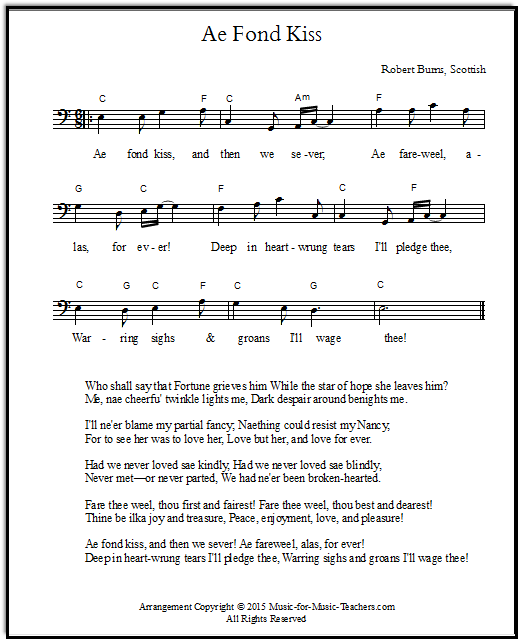 Download Ae Fond Kiss for bass clef, lead sheet in C
In the video below there is an interview smack dab in the middle... worth listening to, if this song catches your fancy!
---
---
Get word of the latest sheet music at Music for Music Teachers?  Sign up for "Take Note!"
Comments
Music has such power to move the heart... do you have a story or a question about this music?
What Other Visitors Have Said
Click below to see contributions from other visitors to this page...

Not all Burns Not rated yet
I think we should stop saying this is by Robert Burns. The music is apparently by Diack, so it should say "by Robert Burns (lyrics) and John Michael Diack …