When He Cometh, or "Jewels"
Old-Time Gospel Music
When He Cometh is an old-time gospel hymn.  Very sweet, and very simple, this is one your piano students can learn from!
Alison Krauss and the Cox Family singing "Jewels," the other name of this song:
An arrangement for piano and voice  (scroll down the page for the free PDF links):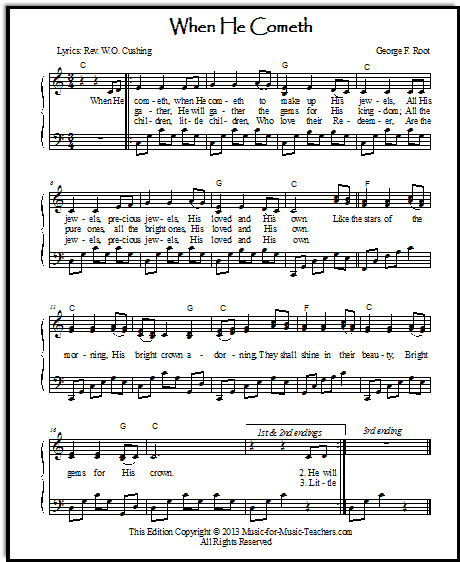 Please scroll down the page for the download links.
Like "Farther On," this music is another old-time gospel hymn I first heard from the Zahasky family of the Alaska String Band.  
Their rendition, a combination of voices and stringed instruments, is sweet, heart-felt, warm, and very polished - my favorite. Scroll farther down the page to hear them.
This is my adaptation of their version.

A word about the piano arrangement: The arrangement above is - basically - how I play When He Cometh when I accompany a singer (or myself, singing for fun).  

If you are baffled by the G chord with C in the bass in measures 4 and 8, and you find you don't like it, just use a G broken chord instead.  

I like using a "pedal point" (unchanging bass note under changing chords) sometimes, because it either builds excitement or musical tension, or makes the change to regular bass notes, when it finally comes, feel so RIGHT - like a fulfillment.

And here is "Jewels" with guitar tabs (scroll down the page for the free PDF links):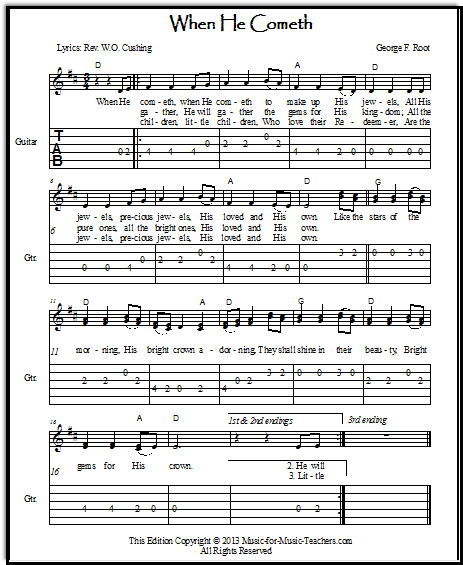 Please scroll down the page for the download links.
Simple for guitar...

Very simple chords - I, IV, & V - make this an easy song for beginning guitarists.  
Either "baby" chords using 3 strings in the key of C (to avoid the difficult and painful F chord), or if your students already play big chords, choose the key of D.
and pianists...

Playing both melody and chords together will require some careful RH (right hand) fingering.  
With my piano students, I have used this lovely hymn to encourage chord accompanying (the lead sheet approach) and then when that is pretty well in hand in the key of C, transpose it up to the key of D.  

and singers...

For vocalists, an easy harmony is possible.  This would be primarily a 3rd apart, which sounds particularly sweet when singers are in unison until the chorus, breaking into harmony at that point.
One additional video, this time from The Alaska String Band from Juneau, Alaska:
Another version of Jewels can be found over at MusicFolkPlayHymns.com, where a verse from the Old Testament of the Bible is transcribed onto the sheet music:
And they shall be mine, saith the LORD of hosts, in that day when I make up my jewels; -- Malachi 3:17
Here is the background to the lyrics of When He Cometh, from the website ScriptureAndMusic.com:
William Orcutt Cushing conceived the idea for his "Jewel Song" text from the promise in Malachi 3:17: "And they shall be mine, saith the Lord of Hosts, in that day when I make up my jewels." Pastor Cushing wrote the text for the children in his own Sunday school in 1856.

Several years later, William Cushing suffered a period of deep despair in his life. After the death of his wife, he developed a paralysis and the loss of his speech at the age of forty-seven. He was forced to retire from the ministry after twenty-seven years as a pastor in the Disciples of Christ churches.
When he pleaded, "Lord, give me something to do for Thee," God answered, giving him the gift of writing appealing hymn texts. He worked with such musicians as Ira Sankey and George Root to produce more than 300 gospel hymns during his remaining years.
The links for the piano and voice arrangements:
Download When He Cometh gospel hymn arrangement for piano in the key of C
Download free old-time gospel hymn for piano in key of D
The links for the guitar tabs sheets:
Download guitar tablature and lead sheet in key of C
Download free hymn sheet music guitar lead sheet in D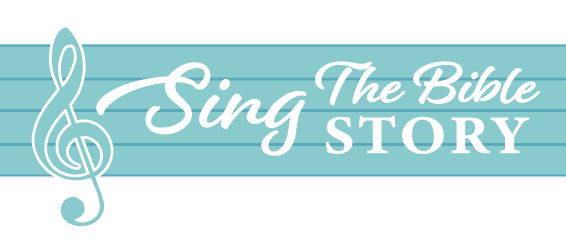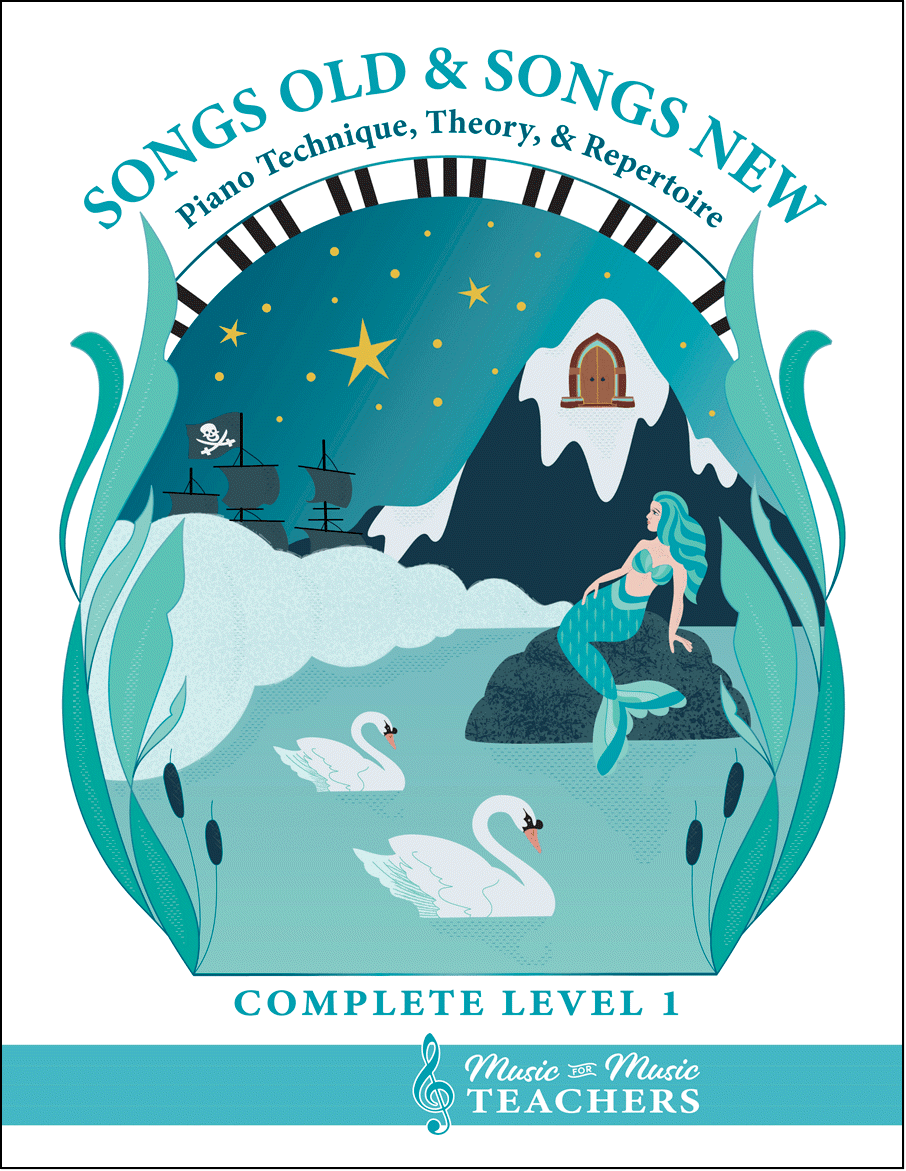 All the first-year material I give my beginner students. 
Piano keyboard sheets, scales, chords, note-reading exercises, and over 256 pages of music!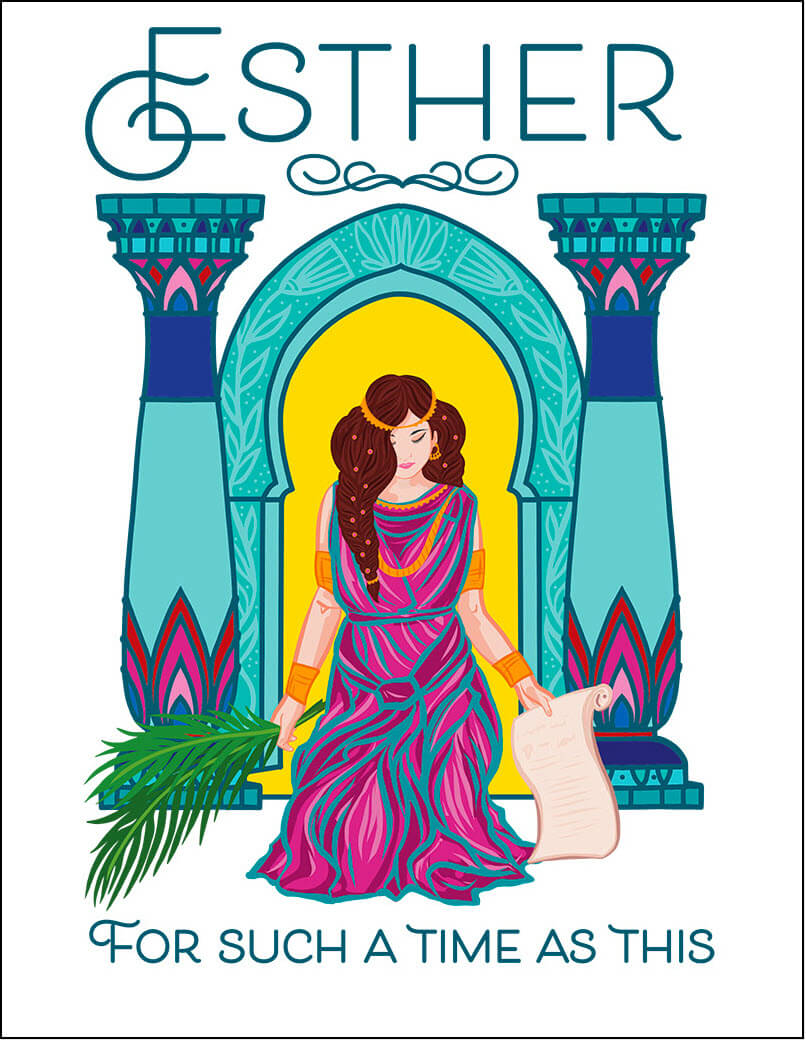 This beautiful song book for piano & voice "Esther, For Such a Time as This",  available as a digital download, tells the riveting story of the time when  Jews in ancient Persia faced a foe named Haman, and how a  brave young queen risked her life to save her people.
A good choice for a singing story-teller, an operatic group, a short theater production, or a class of children!
This book is also available from Amazon as a paperback.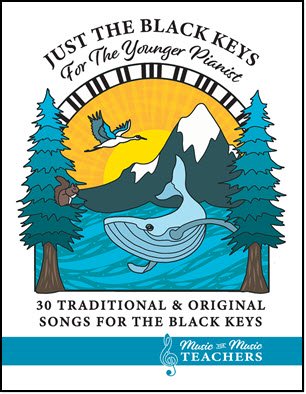 This book is available as a digital download  from this site.  Visit this page to see some free examples from the book.
It is also available from Amazon as a paperback!
This is the perfect easy start for little pianists.
And when they start reading white-key notes on the staff, this is a fun easy resource to say each week, "Choose a new black-key song at home this week and figure it out to show me next lesson!"  They will be spending more time at the piano.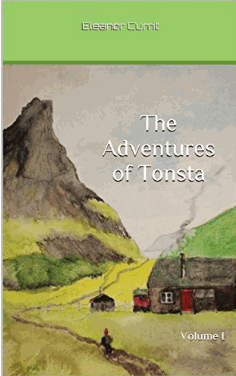 A perfect read aloud storybook
for little boys or girls. 
The Adventures of Tonsta highlight the travels of a very young boy with a good heart, who goes about helping folk in trouble.  
With a red cap on his head and a sack of tools slung over his shoulder, Tonsta seems to meet people in distress wherever he goes.
Lots of trolls in this book - including one who gives him a Christmas gift!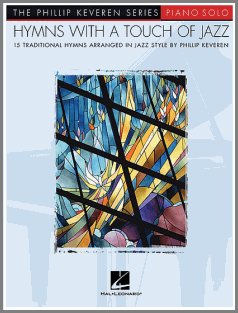 Cailan:
There are an incredible amount of people online who just want to be heard, but very few who have given what you have so clearly. Regarding instruction for those of us who can't afford lessons,your site has been a real gift to stumble across. I'm looking forward to now removing a few bad habits. My humblest thanks from Australia.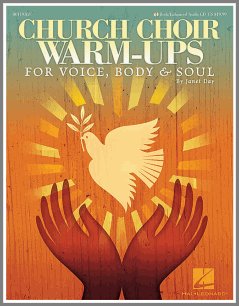 Donna:
Thank you for providing this website of piano music. 
I am a retired music educator.  My 90-year old mom wants to play the piano again!  Her age and eye sight have robbed her of her technique, but not her love of music.  She often says about herself:  "the old grey mare just ain't what she used to be."  But deep down, the old grey mare is still kicking around and enjoying life. 
I can't wait to try some of the beginner music with her.  I am so grateful for your well-organized resource.  Thank you!  It is remarkable what a difference music can make in a person's life.  It brings great joy to my mom.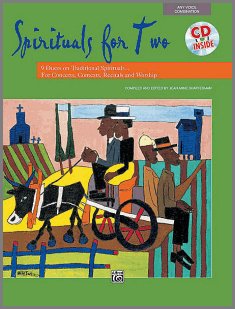 Comments: Do you have a story or a question about music teaching? Share it!
Please note that all comments are moderated, and will not appear until I have approved them. Also, IF YOU ARE ASKING FOR MUSIC THAT IS NOT IN THE PUBLIC DOMAIN, YOUR REQUEST WILL BE IGNORED. That's pretty much any music written in the last 75 years...
Sign up for "Take Note!" to see what's new every month.

About the Author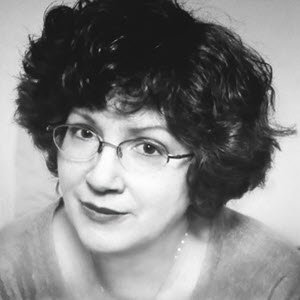 Hi, I'm Dana!  (Say that like "Anna".)  I'm the owner of Music-for-Music-Teachers.com, and a newer site, SingTheBibleStory.com.
Like some of you, I've been playing the piano since early childhood, and have added a few other instruments along the way, plus an interest in arranging and composing music.
You can find out more about me and the reason for this website at my About Me page.