Traditional Kids Songs - White Sand & Grey Sand
Traditional kids songs are timeless. White Sand & Grey Sand is a singing round from England with beautiful harmonies that your students will like for the pretty melody and the unusual round lyrics!  Take note: I have TWO DIFFERENT VERSIONS on this page...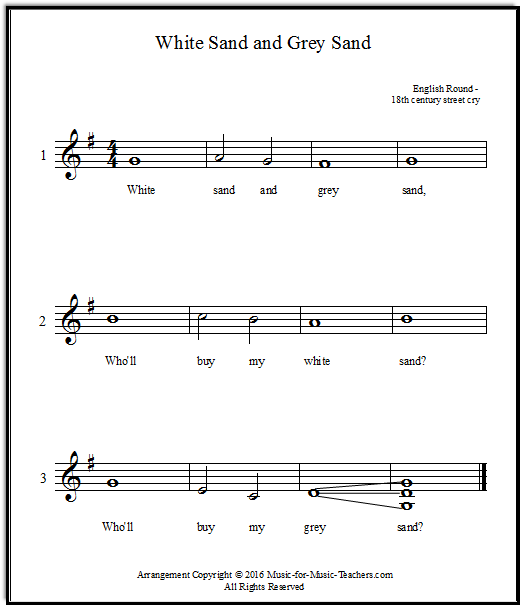 Download traditional kids songs White Sand and Grey Sand, version 1
Here is an adult group singing this song, apparently for the first time.  See if you can detect their uncertainty about the 3rd note of line 3, after they split into sections:
Yes, that third note of line three is tricky to sing in harmony.  Melodically, it is very beautiful, but it clashes with the 3rd note of line two.  The dissonance is quite charming when it resolves to the next notes, but for a tiny group of singers it may be a real challenge to hold on to that C against B! 
For that reason, I made a second arrangement for my tiny group of summer lesson singers.  The only difference is that third note in the last line - they hold onto the D through the end of the song, for best harmony.  Soon they will be stronger, or have more numbers to support them, then we'll go back to the other version (though this one works very well):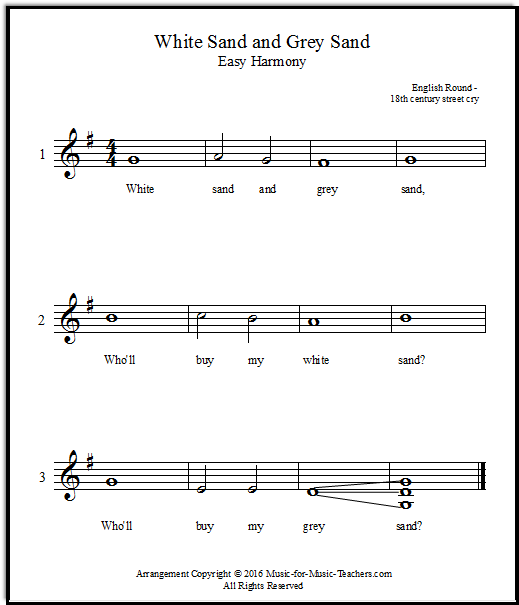 Download the round lyrics and sheet music for easier harmony White Sands
What are the lines coming off that penultimate note to the last cluster of notes?  Just in case you have a large group of confident singers, they can split into two or three parts at the end.  Very satisfying.
And here is a version sung in a MINOR key, instead of major.  Everything is the same melodically except (using my key of G arrangement as a reference) the B's will become Bb's, and the E's will become Eb's.  I haven't tried this with my singers yet, but I'm going to!
For chord accompaniment, use the I, IV, and V chords (G, C, and D in this key).  If you change it to minor, use i, iv, and V - Gm, Cm, and D - you will keep the V chord major.
---
---
Get word of the latest sheet music at Music for Music Teachers?  Sign up for "Take Note!"