Irish Songs About Love
Keegan's Waltz
Irish songs about love are part of the folk tradition; here is an old melody with beautiful new lyrics in a courtly style.  Vocal with piano arrangement (in several keys), and lead sheets too.
This song, already beautiful as a piano solo, has been rendered even lovelier by the lyrics written by Matthew Meyers, an American teenager.  

The words talk about a young knight passing beneath a tower window, wherein sits a young woman with dark hair and bright eyes.  His heart is drawn to her even as he sets off for war, and he takes a moment to stop, rest his sword beside a tree, and speak with her for a while.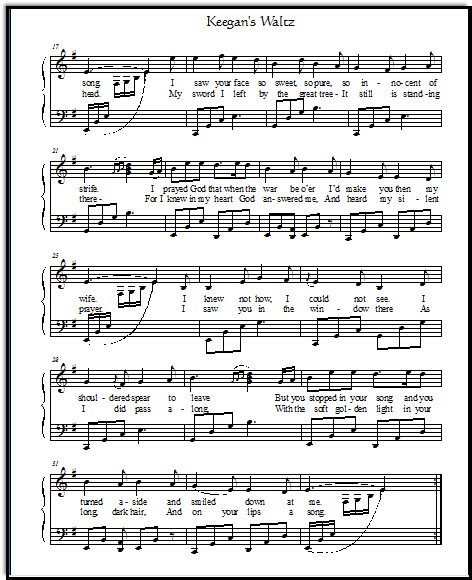 Download Keegan's Waltz in Am for voice and piano
Download Irish music in Bm for voice and piano
Download Irish songs about love Keegan's Waltz in Dm
Download Irish sheet music Keegan's Waltz in Fm
Download free Irish sheet music Keegan's Waltz in Gm
The two pages shown above are in the key of Em (E minor).
Here are lead sheets for this Irish song about love: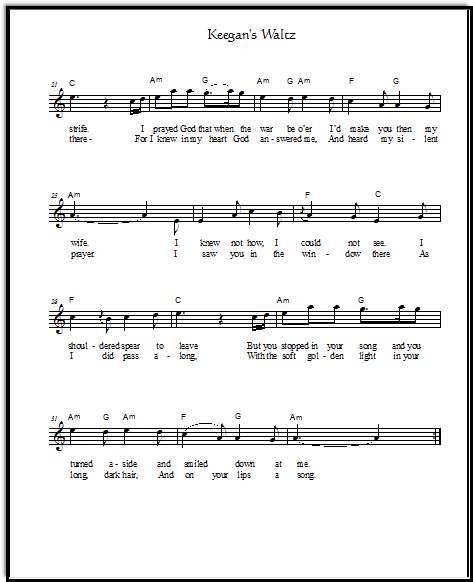 Download Keegan's Waltz lead sheet in Am

Download Keegan's Waltz lead sheet in Em
Download Irish love song in Fm
Download Irish lead sheet in Gm
I am sorry there is no video to accompany this page... I'm hoping Matthew - or someone! - will make one and place it on Youtube for others to enjoy.
Thanks, Matthew, for your song lyrics, which enable us to sing this beautiful Irish melody, and carry us back in imagination to another time!
---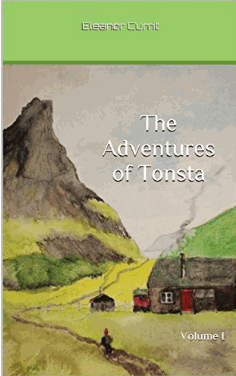 A perfect read aloud storybook
for little boys or girls. 
The Adventures of Tonsta highlight the travels of a very young boy with a good heart, who goes about helping folk in trouble.  
With a red cap on his head and a sack of tools slung over his shoulder, Tonsta seems to meet people in distress wherever he goes.
Lots of trolls in this book - including one who gives him a Christmas gift!
---
---
Sign up for "Take Note!" to see what's new every month.
Search Music-for-Music-Teachers:
Comments
Music has such power to move the heart... do you have a story or a question about this music?