Wooden Heart/Muss i Denn:
Valentine Songs for Voice or Piano
Wooden Heart, a free Valentine song in three keys for vocal duet or piano, now with an easy-to-play arrangement for beginning pianists.
This cute traditional German tune (Abschied, or Muß i denn) is great fun to sing!  See the bottom of the page to download the new version for beginner piano students...
This melody is very familiar, thanks to Elvis Presley. Here he is singing it in both English and German. 
Though the tune is traditional (and therefore copyright-free), the English words to Wooden Heart, as sung by Elvis, are not in the public domain, so I have written my own rather corny lyrics: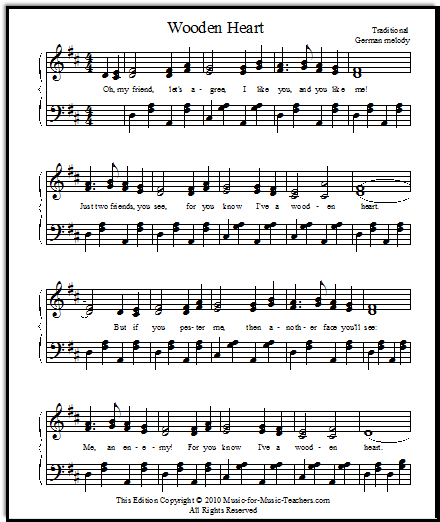 Download free vocal duet in the key of C 

Download Wooden Heart in the key of D 

Download printable vocal duet in the key of F 

If you want to sing the English words that Elvis and others have made famous, just go hunt online for the Wooden Heart lyrics - you will surely find them!
This song makes an excellent vocal duet for beginning voice students who are just learning to hold a harmonizing line. Because almost all the harmony consists of parallel thirds, the bottom line is fairly easy and predictable. I have used this song successfully at a few music recitals.
Now here below is a very easy version, for beginning pianists, of this Valentine's Day song.  Add chords to it if you want to make a duet out of it: G, C, and D.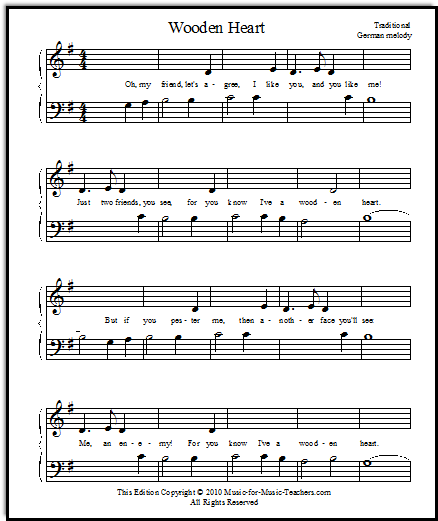 Download free easy piano music Wooden Heart for beginners

Below is another video, sung in German, from Raymond Crooke, who specializes in recording folk songs onto Youtube:

---
---
Get word of the latest sheet music at Music for Music Teachers?  Sign up for "Take Note!"
Comments
Do you have a story or even a question about this vocal piece? Share it!

Please note that all comments are moderated, and will not appear until I have approved them. Also, IF YOU ARE ASKING FOR MUSIC THAT IS NOT IN THE PUBLIC DOMAIN, YOUR REQUEST WILL BE IGNORED. That's pretty much any music written in the last 75 years...