Celtic Sheet Music
She Moved Through the Fair
Celtic sheet music "She Moved Through the Fair" is a haunting melody telling a strange love story, one of those sad love songs that young girls find irresistible!  
Now with a flowing piano accompaniment.  Your students will want to sing - and play - this beautiful free Celtic music.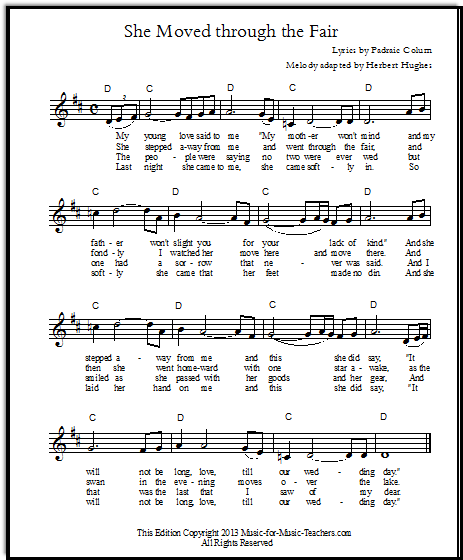 Here is my favorite musical rendition (today) of this Celtic love song. The name that goes with the performers is "Tir Eolas":
My chord symbols are just suggestions - these are the harmonies I hear when I sing or listen to this Celtic music.  
Below is an arrangement similar to the way I play this when I accompany my vocal students - at least, this is one verse.  
I tend to change things up a little so that each verse is different.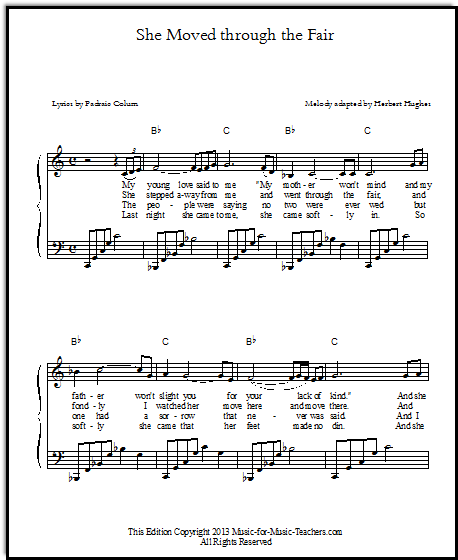 Here is a closeup look at this piano arrangement: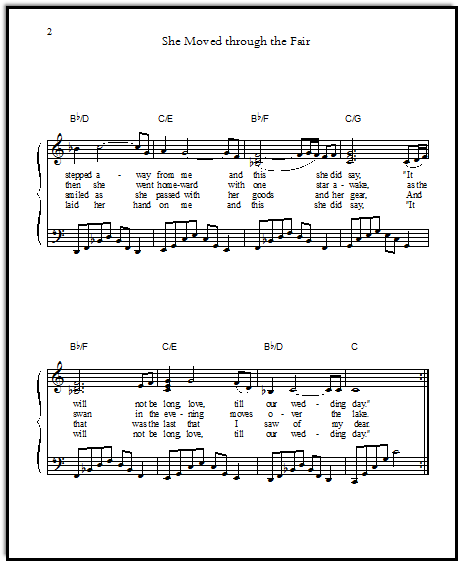 I have several teenagers working on this lead sheet in the key of D right now, and they are mesmerized.  
Really!  The song itself is haunting, then when you add the big open chords, it gives it a feeling of echoes, of spaciousness, of floating.

The arrangement is perhaps over-simple, but I really wrote out what I am having my students do WITHOUT THE PIANO SHEET MUSIC - this is what they are doing with the plain lead sheet at the top of the page.  
I always write in the chord inversions as slash chords, since this is how they will encounter these chords in church music.

My students really love the feeling of movement that comes halfway through, when the chords leave root position and begin climbing in the bass.
I point it out to them and I think it gives them a sense of power to understand how this works.
Even though this is, apparently, a traditional tune, the melody of this song doesn't vary much from one rendition to another.  
However, you will hear the underlying pulse of the song change, sung by different singers in EITHER 3 beats OR in 4 beats, (as I have notated it here).  Or in BOTH at the same time.
And frequently, singers don't seem to have ANY underlying meter at all for this song.  That doesn't always work, but with this spooky piece it can be pulled off.
 I suggest you listen to many versions of She Moved Through the Fair and decide how YOU want to sing it.
On the other hand, the following strong and beautiful performance by Caitlan Grey feels almost (but not really) metrical.  This version is apparently for sale on her website, www.caitlangrey.com.
Now here is a truly SPOOKY and artistic video (sung by Hayley Westenra) that I love of She Moved Through the Fair...
---
The links for the leadsheets:
Celtic downloadable sheet music in key of C
She Moved Through the Fair in key of D
Free Celtic sheet music in key of E
She Moved Through the Fair in key of F
The links for the piano arrangements:
Download She Moved Through the Fair for piano in the Key of C
Piano sheet music for She Moved Through the Fair in D
---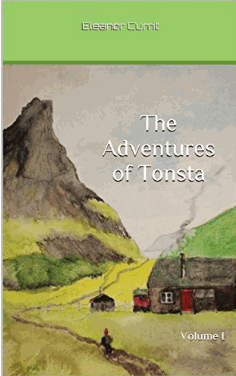 A perfect read aloud storybook
for little boys or girls. 
The Adventures of Tonsta highlight the travels of a very young boy with a good heart, who goes about helping folk in trouble.  
With a red cap on his head and a sack of tools slung over his shoulder, Tonsta seems to meet people in distress wherever he goes.
Lots of trolls in this book - including one who gives him a Christmas gift!
Sign up for "Take Note!" to see what's new every month.

About the Author


Hi, I'm Dana!  (Say that like "Anna".)  I'm the owner of Music-for-Music-Teachers.com.

Like some of you, I've been playing the piano since early childhood, and added a few other instruments along the way, plus an interest in arranging and composing music.

You can find out more about me and the reason for this website at my About Me page.