Free Christmas Songs
Sing We Noel, Noel Nouvelet
Free Christmas songs in 3 formats: Here is sheet music for "Sing We Noel" (Noel Nouvelet) in
Middle C position for young beginner pianists, as 

a lead sheet in 7 different keys for all instruments (chord symbols included), and 

as 
an easy piano arrangement for late Elementary piano in the keys of Dm and Em.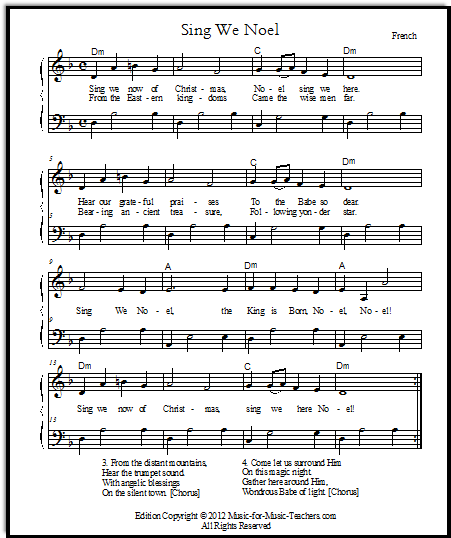 Please scroll down the page for the links to the free downloadable PDFs.
I found some truly lovely videos on Youtube.com of this beautiful Christmas song -- but the best were all sung in French.
Here is the first and perhaps most mesmerizing performance of the song "Noël Nouvelet " performed by Ireland's National Choir, called "Anuna." 

Though I have labeled these downloads "Key of Dm," "Key of Em," etc., this song, Noel Nouvelet, is not really minor.
It is one of the church or ecclesiastical modes known as Dorian; that is, the notes of its scale correspond to what we find if we play white keys D-E-F-G-A-B-C-D on a piano.
It is ALMOST a D minor scale, but with a raised sixth.

Below is the beginner's version of this free Christmas song.
Note that although I am calling this a "Middle C" song, the student's thumbs must not be placed together on C. Rather, place them side-by-side, with left hand thumb on B, so that finger 5 can reach down to the low E.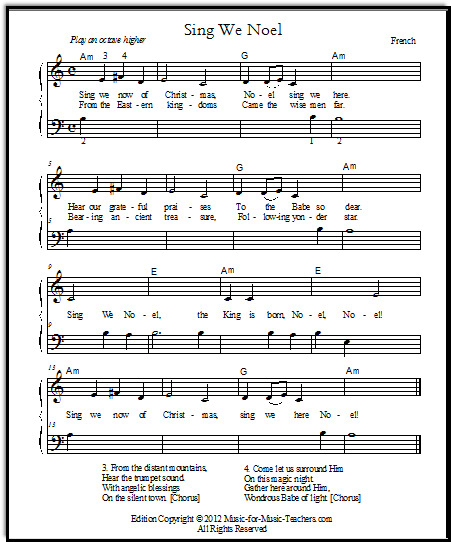 I suggest playing Sing We Noel up an octave, or even 2 octaves. High piano notes, with a sustained pedal, have a very Christmasy feeling!
Also, you can work up an accompaniment, using the chord symbols, and turn it into a duet.
Here is another lovely performance of Noel Nouvelet by a trio, singing with instruments, in French: 

Now here are seven lead sheets for the free Christmas songs. I have included Fm and F#m as well:
Loreena McKennitt sings Noel Nouvelet on her CD Midwinter Night's Dream. Her rendition is quite haunting and beautiful: 

---
The links to the piano music:
Download free Christmas songs Sing We Noel in the key of Dm
Download Sing We Noel in the key of Em 
Download free Christmas song Sing We Now of Christmas for Middle C piano 

The links to the lead sheets:
Download free Christmas lead sheet music Sing We Noel in the key of Am 

Download Noel Nouvelet in the key of Bm 

Download Sing We Noel Here in the key of Dm 

Download Sing We Here Noel in the key of Em 

Download Sing We Here Noel in the key of Fm 

Download Noel Nouvelet in the key of F#m 

Download free Christmas songs in the key of Gm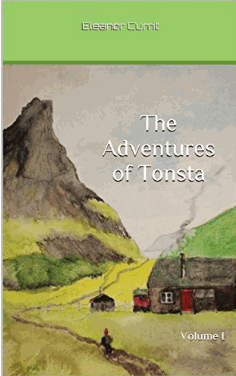 A perfect read aloud storybook
for little boys or girls. 
The Adventures of Tonsta highlight the travels of a very young boy with a good heart, who goes about helping folk in trouble.  
With a red cap on his head and a sack of tools slung over his shoulder, Tonsta seems to meet people in distress wherever he goes.
Lots of trolls in this book - including one who gives him a Christmas gift!
Comments
Do you have a funny story about this music, or does it remind you of something you'd like to share with other readers? Do you have a question? I'd love to hear it!

Please note that all comments are moderated, and will not appear until I have approved them. Also, IF YOU ARE ASKING FOR MUSIC THAT IS NOT IN THE PUBLIC DOMAIN, YOUR REQUEST WILL BE IGNORED. That's pretty much any music written in the last 75 years...
What Other Visitors Have Said
Click below to see contributions from other visitors to this page...

Problem downloading
Dana, Thank you for sharing your expertise and the wealth of material here on your website. It's such a wonderful resource! I just tried downloading …
Sign up for "Take Note!" to see what's new every month.
Search Music-for-Music-Teachers: