Waltzing Matilda
Free Sheet Music and Guitar Tabs
"Waltzing Matilda" is a very popular song in my studio. Guitar players love it, singers love it, piano players love it. At my recent Spring recital, I had to deny one student the privilege of playing this song, because two others had already spoken for it! (A fiddle and guitar duo, and a pianist who had made an arrangement with broken chords.)
This famous Australian song has a beautiful melody, but funny lyrics.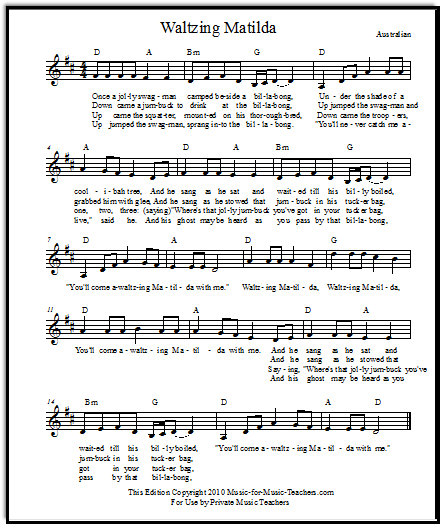 Download Waltzing Matilda lead sheet in Key of C 

Like The Water is Wide, Waltzing Matilda uses most of the chords in its "chord family group". It is therefore not just a really beautiful song, but a good chord training song, both for pianists and for guitar players.

So far, I have resisted writing out left hand chords for pianists, because part of what I want my piano players to learn is how to take chord symbols in a Fake book or lead sheet, and make up their own arrangements. This song lends itself to a walking bass, and pretty right hand harmony such as thirds. 
Below is the same melody, but with free guitar tabs: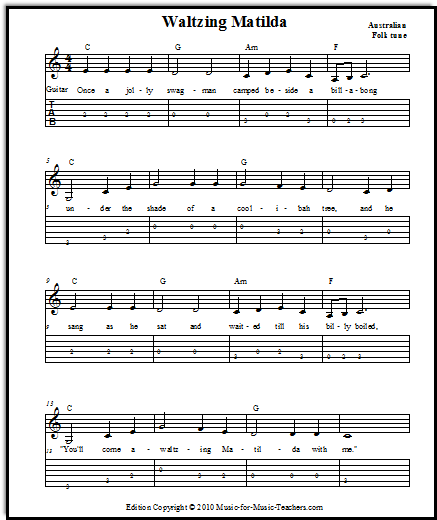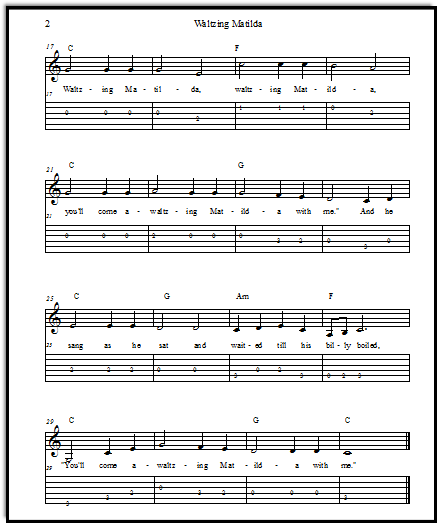 Download free guitar tabs in the key of C 

Download free guitar tablature in the key of D 

After students have conquered the melody -- sometimes it will be at the same lesson -- we start the chords. For pianists, Weeks 1 and 2 will likely be just simple open chords. For beginning guitar players, they will be happiest with simple strumming.

But after they have learned the rhythm and chord changes well, it is time to make the accompaniment more interesting. For guitar, try different fingerpicking patterns, such as Thumb, index, middle, ring, with an alternating thumb (use primary and secondary strings for the bass of the chord), or get a little fancier with Thumb, index, middle & ring together, back to index. Repeat.
For piano, try different kinds of broken chords, and even some right-hand harmony. This is a good opportunity to discuss and try chord inversions and slash chords. What is a slash chord? Here is a C slash chord: C/G, which means a C chord with a G note in the bass instead of C.  See the second line of music below.
Here is an example of what you and your student could try: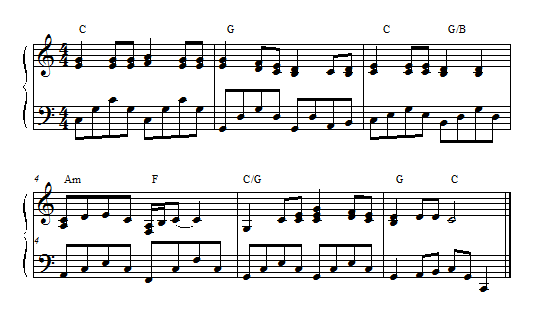 The smoothest fingering I have found for the right hand in Waltzing Matilda for beginners is to lift the thumb off the lowest note (beat 1) of measure 3 and place the thumb on the next note, 4 steps higher. (That would take place on the word "Un-der".)
This isn't a standard kind of fingering, but it works for a young player. The pedal can smooth it out! The rest of the fingering is pretty intuitive.
I know your students -- vocal, piano, and guitar -- will love this free popular sheet music!
---
---
Get word of the latest sheet music at Music for Music Teachers?  Sign up for "Take Note!"