Away in a Manger
Free Christmas Sheet Music

Free Christmas sheet music "Away in a Manger" with guitar tabs and also a Middle C piano arrangement for young beginners! Or choose to play off a lead sheet with chord symbols, or a regular arrangement with broken chords in the left hand. The Christmas song lyrics are included for singers.
This song always makes me think of very young children dressed up as shepherds and angels, but it is always a pleasure to play! When I offer this song to my students, I frequently say apologetically, "This is kind of a baby song..." and then am surprised, again, when they jump on it! It does have an irresistably sweet melody.  Here is the Middle C sheet for free Christmas sheet music "Away in a Manger".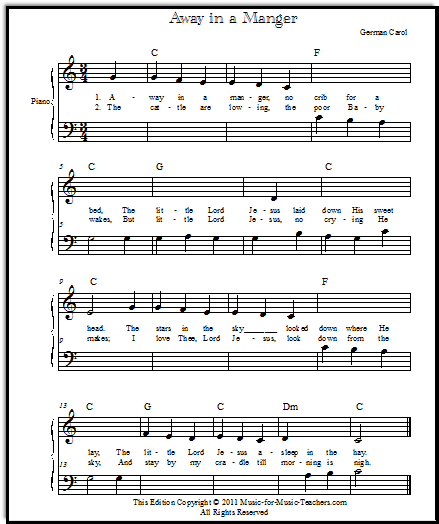 Download Christmas song Middle C Away in a Manger
The rhythm of the Middle C version is simplified -- no dotted notes -- but if your student knows this melody already, they won't be able to HELP playing the dotted rhythm! If you wish to remind them of the true rhythm, just add dots and flags to the appropriate notes to make them look right.

I have put chord symbols above each measure where the chords change. This was at the request of one of my students who wished to play a duet at church with a friend, and only needed the chord symbols to figure out some kind of secondo part. (If we'd had this sheetmusic in hand at her lesson, I might have made her figure out the chords on her own and write them in. It's just the three main chords plus -- my own preference -- the Dm chord.) Be aware that when you play a duet, the primo part will almost always be performed an octave higher than it is written.

I did not add fingering... but most of their beginner songs use this position, so your students will probably fall right into it.
Here are the new guitar tabs for Away in a Manger, arranged in 3 keys: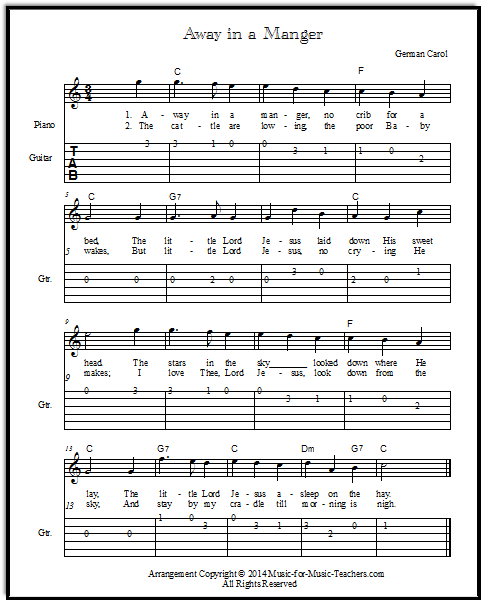 Download Away in a Manger for guitar in the key of A

Download Christmas song for guitar in the key of C

Download guitar tabs in the key of G
These tabs are mostly easy, with just a bit of encountering finger 4 in the melody of both keys of G and A.

Now below is the lead sheet for this free Christmas sheet music in the key of G. This is a nice key for guitar and violin also, and is especially pretty when the guitar plays a finger-picking chord pattern.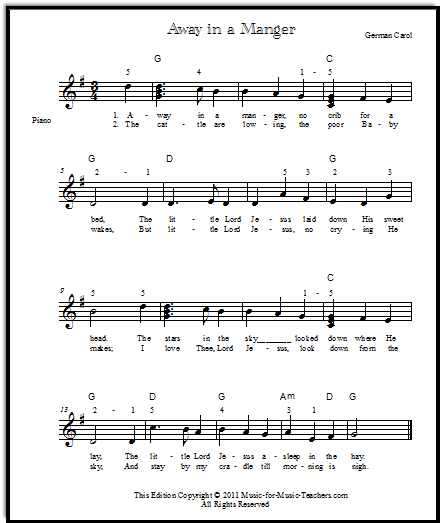 Download free Christmas lead sheet Away in a Manger
Here is the song with the left hand accompaniment written out: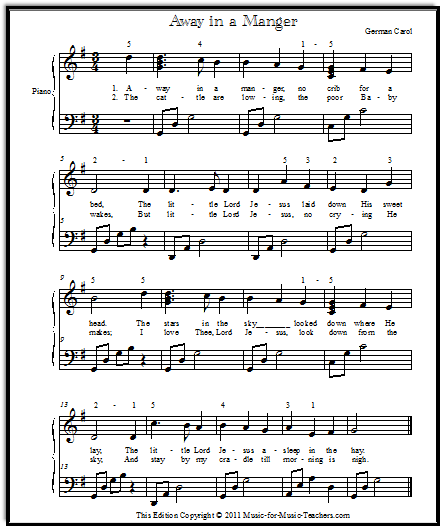 Download free Christmas sheet music Away in a Manger
The left hand chords may seem repetitious if your student has already mastered pieces similar to this; in that case, you may want to encourage the student to alter the initial bass note on a chord, especially if there are two measures of the same chord. Here is an example, where the G chord starts on the root (G) of the chord in the first measure, but changes to the third (B) of the chord in the second measure:

This kind of pattern seems so simple and obvious to advanced musicians that it is tempting to push it too soon onto students who are not ready for it. Play with chord inversions a lot first; then they will have a frame of reference for what is happening in this measure.
I know that your students will love playing this piece!
Sign up for "Take Note!" to see what's new every month.