Lakme Flower Duet Sheet Music -- Download Now!
The Lakme Flower Duet sheet music in the standard vocal-piano arrangement, and also transposed down a 3rd into the key of G. Now, you can also perform the full Flower Duet if you are a bass instrumentalist, in B or in G! Download one of these beautiful copies for the lowest price around.

These Flower Duets are each a 16-page document (only some of the pages are shown below) which, unlike most of the free sheet music on my site, I am offering for sale -- $3.75 USD for 3 copies. The standard version, in the key of B (shown below) is the same as the score you would find at a music store, only better, with a larger font and lots of white space! 

Get the Lakme Flower Duet in B (standard version), $3.75:
Get the Lakme Flower Duet in G, a third lower, $3.75:

Check out the Lakme Flower Duet in the graphics below: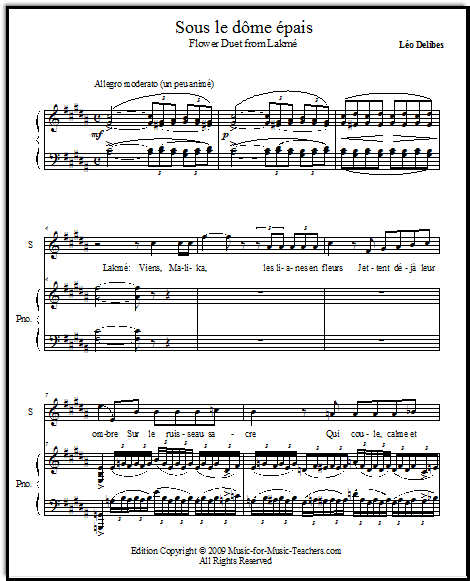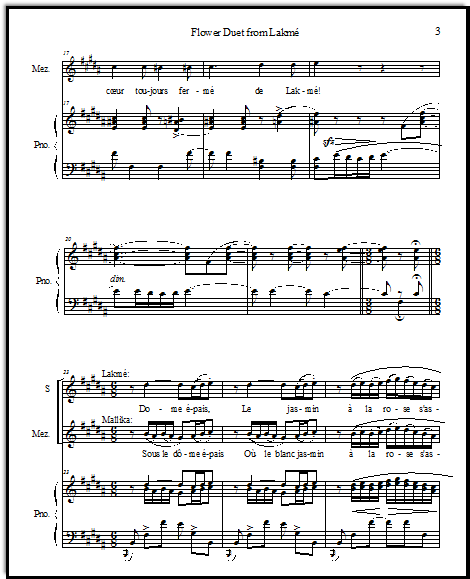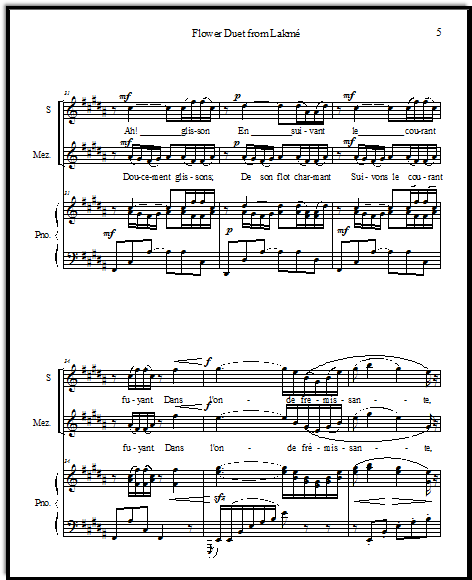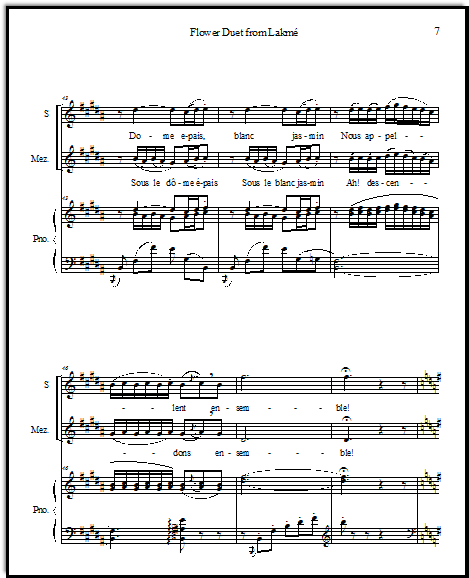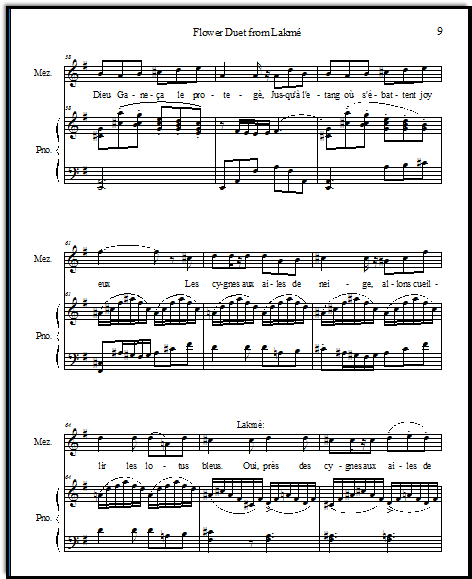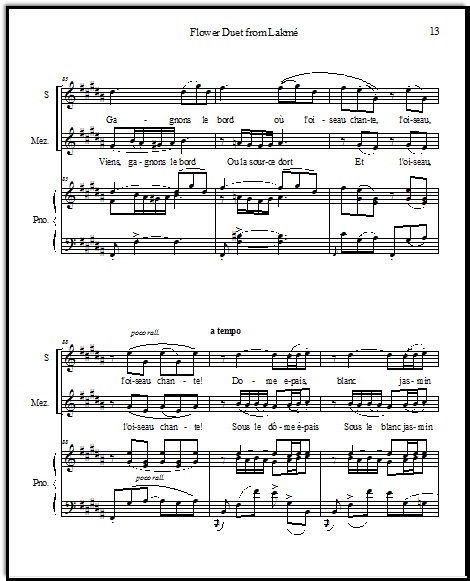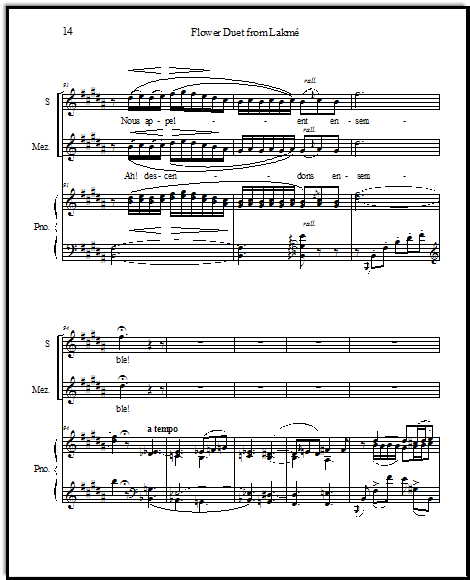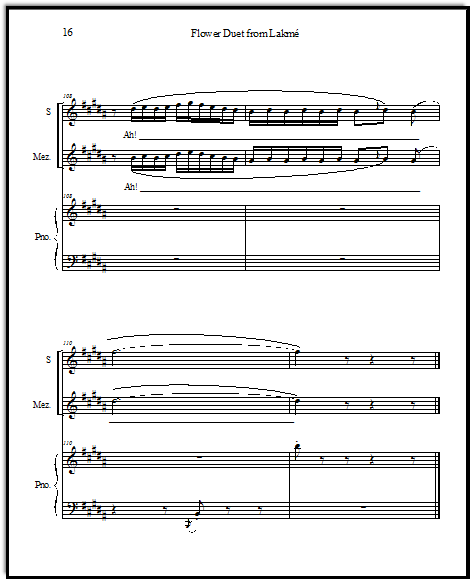 If you have questions or doubts about the quality of the file, please visit other pages on my site where music is free to download.  My graphic program, unfortunately, cannot show the beauty of these pages!
Get the Lakme Flower Duet Sheet Music (Key of B, standard version) $3.75:

Get the Lakme Flower Duet in G, a third lower, $3.75:

Flower Duet for Bass Instruments
Below, you can have a look at a page from each of the Flower Duet versions for bass instruments; one in the original key of B, and the same page in the key of G: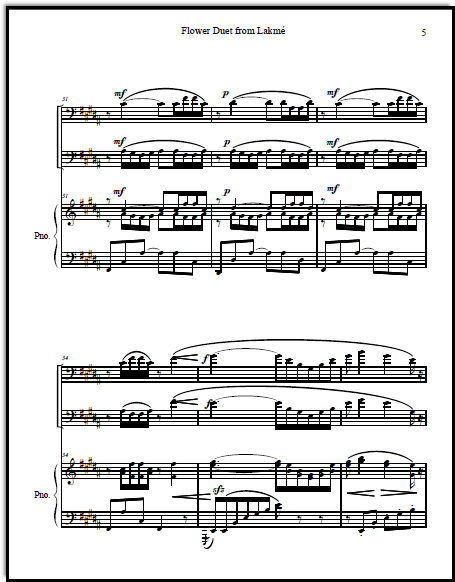 Here is the same page, but in the key of G: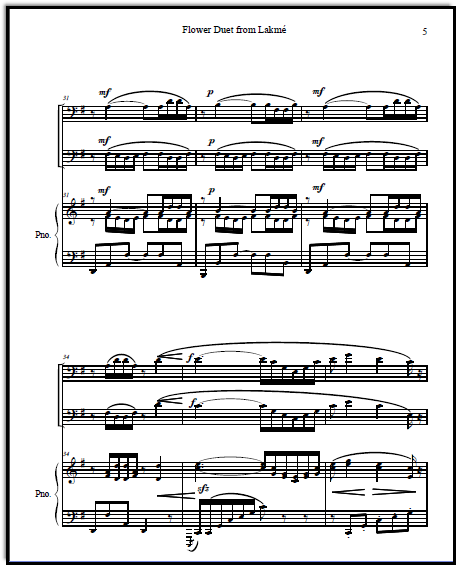 Buy Lakme Flower Duet for Bass Instruments:
Buy Lakme Flower Duet in G for Bass Instruments: