Cinderella Song Lyrics
Lavender's Blue
Cinderella song lyrics and sheet music "Lavender's Blue", free!
 The vocals with piano accompaniment now come in six different keys.  

I

n

addition, you will find five free piano versions (from beginner to late elementary) and lead sheets on this page...
This pretty lullaby featured in Cinderella (2015) is actually a very old song from England.  

To my surprise, it was the #1 MOST POPULAR SONG that I gave my vocalists and younger pianists a couple of years ago - I knew it was a charming, simple melody, but apparently it has something extra going for it!  
Beginners (girls) still love it, and I always give it to them in the first few months.

You can also watch the Cinderella trailer at the bottom of this page...
Here are easy piano music sheets for beginners of the lullaby in the new Cinderella movie, with left hand chords, in four different keys to choose from.
Scroll down the page for the free downloadable PDF links: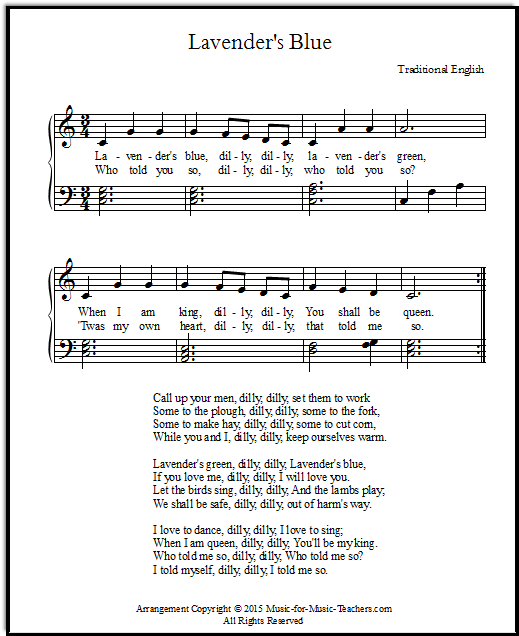 Please scroll down the page for the download links.
Although the Cinderella song  Lavender's Blue is still pretty with only 3 chords - the I, IV, and V chords - there's a bit more depth of feeling when you incorporate some secondary chords.  

Good practice for young players to get away from the I-IV-V7 construction, too!

For late elementary students, this broken chord arrangement is more satisfying: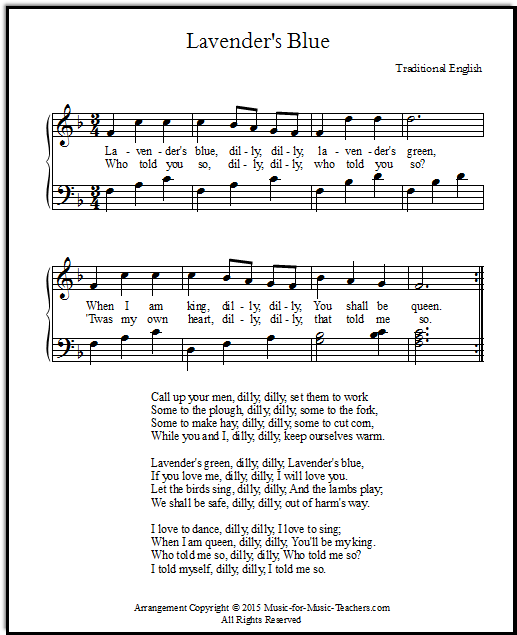 Please scroll down the page for the download links.
And here is an in-between version, which avoids the complication of two hands moving with quarter notes at the same time, in the key of C only: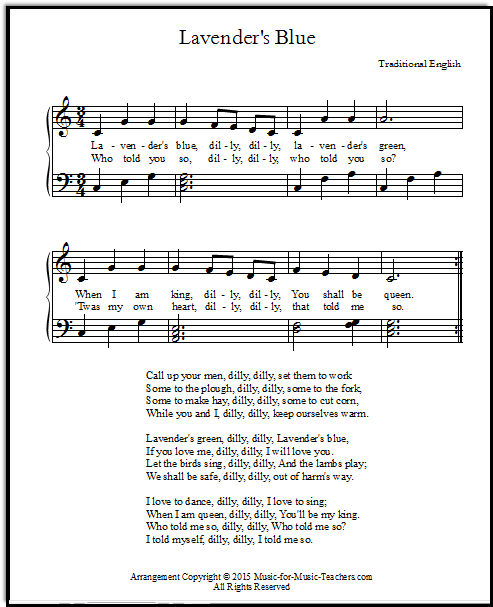 Please scroll down the page for the download links.
Below is a graphic of one of the lead sheets, also with the traditional Lavender's Blue lyrics, (which just happen to be the Cinderella song lyrics as well)!  There are lead sheets in four keys.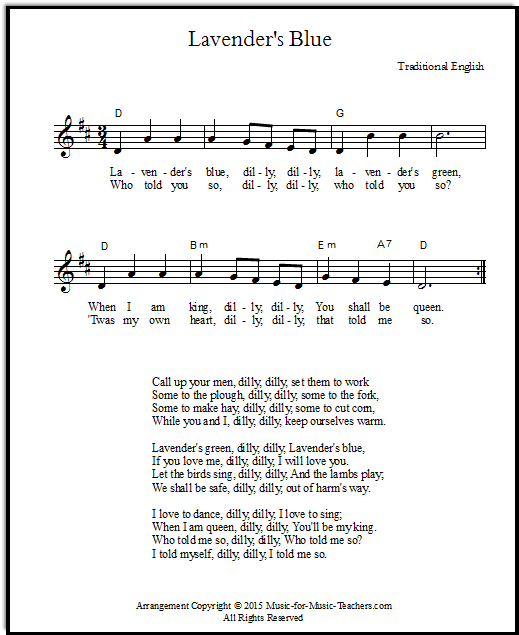 Please scroll down the page for the download links.
This easy lullaby, with its stretch of only six notes, is just right for beginning piano players, singers, and other instrumentalists.  

Finally, here is an "ABCDEFG" kid piano music sheet for this pretty lullaby: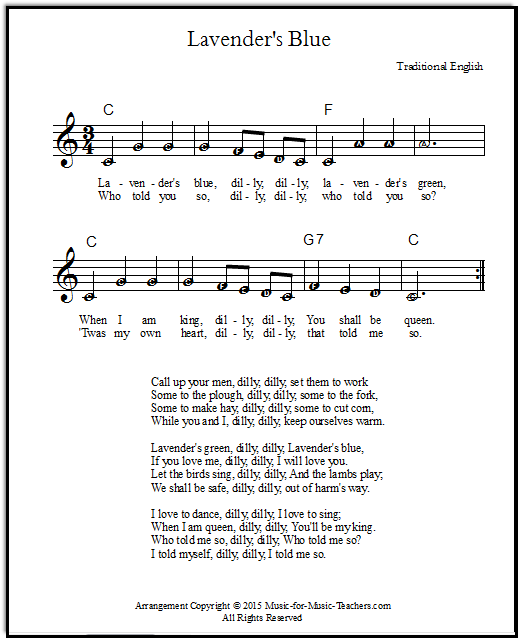 Please scroll down the page for the download links.
I OFTEN give this to young beginners who are still in the "black notes" stage, as long as they can identify notes.

Now here's a fun way to help those little girls playing this song break into accompanying the melody with the chords:  
Using my own left hand as the model, I encourage a student to take HER left hand and play an OPEN C chord (just C & G without the middle of the chord) in measures 1 and 2.  

Then, when it's time for the F chord, sneak the left hand down to that chord using the C (the one her "pinky" finger was just pressing in the C chord) as a marker.  
Instead of finger 5, now finger 1 is on the C, and pinky (finger 5) is on F.  

When it is time to come back up to the C chord, sneak again.  As for the G chord, use a G pinch (G and F pressed together with 1 and 2).  

I tried this with a little girl today and she was even able to close her eyes and sneak from chord to chord!  
Then we sang the words to verses 1 and 2 as we played the chords.  It was very fun.  Still, we aren't putting right hand and left hand together yet.  I think I'll just wait a few weeks and see if it happens all on its own...

Even though this is, really, a nursery song, it is very appealing and fun to sing.  
However, the easy piano arrangements above are not lively enough for a singing performance, in my opinion!

I've arranged a simple accompaniment that is very pretty and bit more like the audio from the Lily James Cinderella.  
My arrangement includes the melody line, as beginning singers usually need this support.

Here is the arrangement, showing page one in the key of Eb, and page two in the key of C: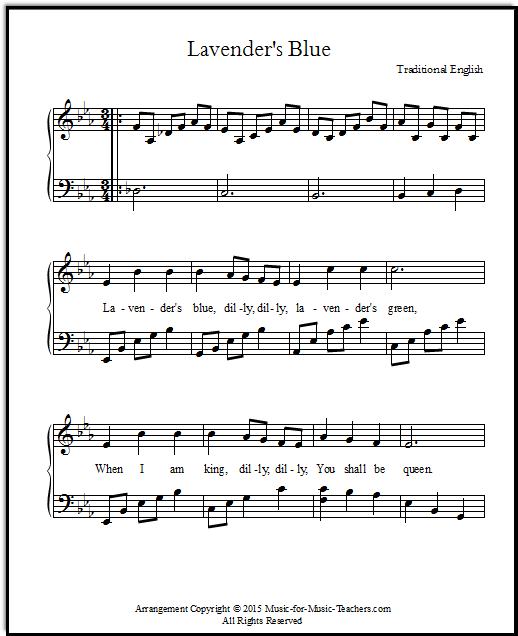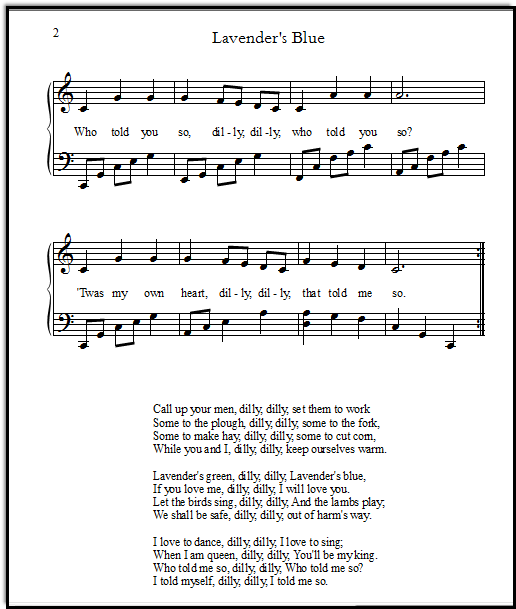 This arrangement comes in six keys, and is for sale, all six keys for $5.00, with the right of unlimited printing FOR YOUR STUDENTS ONLY.  

Buy Lavender's Blue for Vocal & Piano in the keys of C, Db, D, Eb, F, & G, $5.00 US for all 6 keys:
This lovely song is IDEAL for beginning singers.  
The melody spans only six steps, and repeats frequently, with easy intervals.  A good reason to have it in multiple keys.  
The interlude in-between each two verses keeps it feeling fresh.

Tell young girls that THIS is the song Cinderella was singing, high up in the attic where her stepmother had imprisoned her, when the Prince was searching for her.  
Because he heard her singing far above, he was able to rescue her!

They will be SOLD.  But also show them the movie trailer video at the bottom of this page, followed by a portion of the video above.  

You will see some wide eyes!  All my singers have loved this piece.

Buy Lavender's Blue for Vocal & Piano in the keys of C, Db, D, Eb, F, & G, $5.00 US for all 6 keys:
So why should you buy this music from me, aside from the fact that music stores on and off-line will charge more for just one copy (not counting postage or sales tax!), while I am only charging $5.00 for the right to print unlimited copies (for your students only)?


It is available immediately as a digital download onto your computer.


You don't have to download any new software into your computer in order to download this PDF. I don't know about you, but I hate clogging up my computer with yet another program I didn't know I needed. You just need a version of Adobe Acrobat or another PDF reader, which all computers come with. If you DON'T have Adobe Acrobat or a similar program, then you couldn't download any of my other PDFs either.


The notes and lyrics are a little bigger than the copies currently available in music stores, making reading easier!
Speaking of reading the music, you can print this music on any kind of paper you want, and thus avoid the glare of shiny pages (so irritating for accompanists!).


Write and make notes all over these copies, in red and other colors, without feeling you are spoiling your music for posterity. I dislike messing up my music books, but learning the piece is always the first priority. These printouts will make great working copies.


Do you need a letter of permission in order to use this music at a competition? Write me through the Contact Me form, and I will email you a personal letter.


I give you permission to make unlimited copies legally. When you need music, you usually need it NOW.  Your accompanist, your soloist-student... let them have this music without fear of copyright infringement.
PayPal, the payment system I use, is a secure and recognized payment system. You can pay by credit or debit card, or your bank account. E-Junkie delivers the PDF document, working as a partner with PayPal...your purchase is guaranteed.


Problems downloading?  Write me personally through the Contact Me link, and I will take care of it promptly.
Buy Lavender's Blue for Vocal & Piano in the keys of C, Db, D, Eb, F, & G, $5.00 US for all 6 keys:
As a treat, here is the Cinderella 2015 trailer:

I am truly loving this movie, although Ever After - A Cinderella Story is really my favorite of all the Cinderella versions.  
That particular version is set in a historical time period, the "forward-looking" time of the Italian renaissance, the time of Michelangelo and Leonardo da Vinci, while portraying Prince Henry as the almost-victim of an arranged marriage.  (He calls his royal father "The King of Backward".)
Give your students this easy to learn free piano music from the most recent of the Cinderella movies...  AND...

Buy Lavender's Blue for Vocal & Piano in the keys of C, Db, D, Eb, F, & G, $5.00 US for all 6 keys:
Download the triad-chords-plus-inversions arrangements:
Download Lavender's Blue Dilly-dilly in the key of C
Download Cinderella song in the key of D
Download Cinderella lyrics and music in the key of  E
Download Lavender's Blue in the key of F
Download the broken chord piano arrangements:
Download broken chord arrangement of Lavender's Blue in C
Download broken chord version of Lavender's Blue in D
Download broken chord arrangement in E
Download key of C arrangement, with part broken and part solid chords:
Download Lavender's Blue with "in-between" left hand 
Download the lead sheets:
Download lead sheet for Lavender's Blue in C
Download Cinderella song Lavender's Blue in E
Download Cinderella lyrics and sheet music in F
Download the easiest arrangement, with lettered notes:
Download ABCDEFG kid piano music sheet Lavender's Blue
Check out more easy free songs with a reach of just 6 or 7 notes:
Egyptian Dance - not as hard as it sounds! Very mysterious & beautiful.
I'm a Pirate - a good song for imaginative young kids! Several settings.
Indian Dance - one of the most popular & accessible songs for beginners here
Irish Wedding (easy version) - all my students want to play this high-energy song!
Kum Ba Yah - very pretty and easy - just 6 notes.
Lavender's Blue - young girls love this music, especially if they have seen Lily James' Cinderella!

Oh, How Lovely is the Evening - a round for singers, but also a pretty piano piece, with the addition of left hand chords.
Twinkle Twinkle Little Star - simple or even beautiful, depending on the accompaniment.  Very useful for learning chords & transposition.
Winds in the Willow - scale practice disguised as a mysterious, pretty minor melody.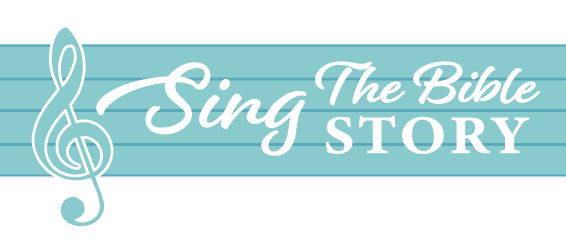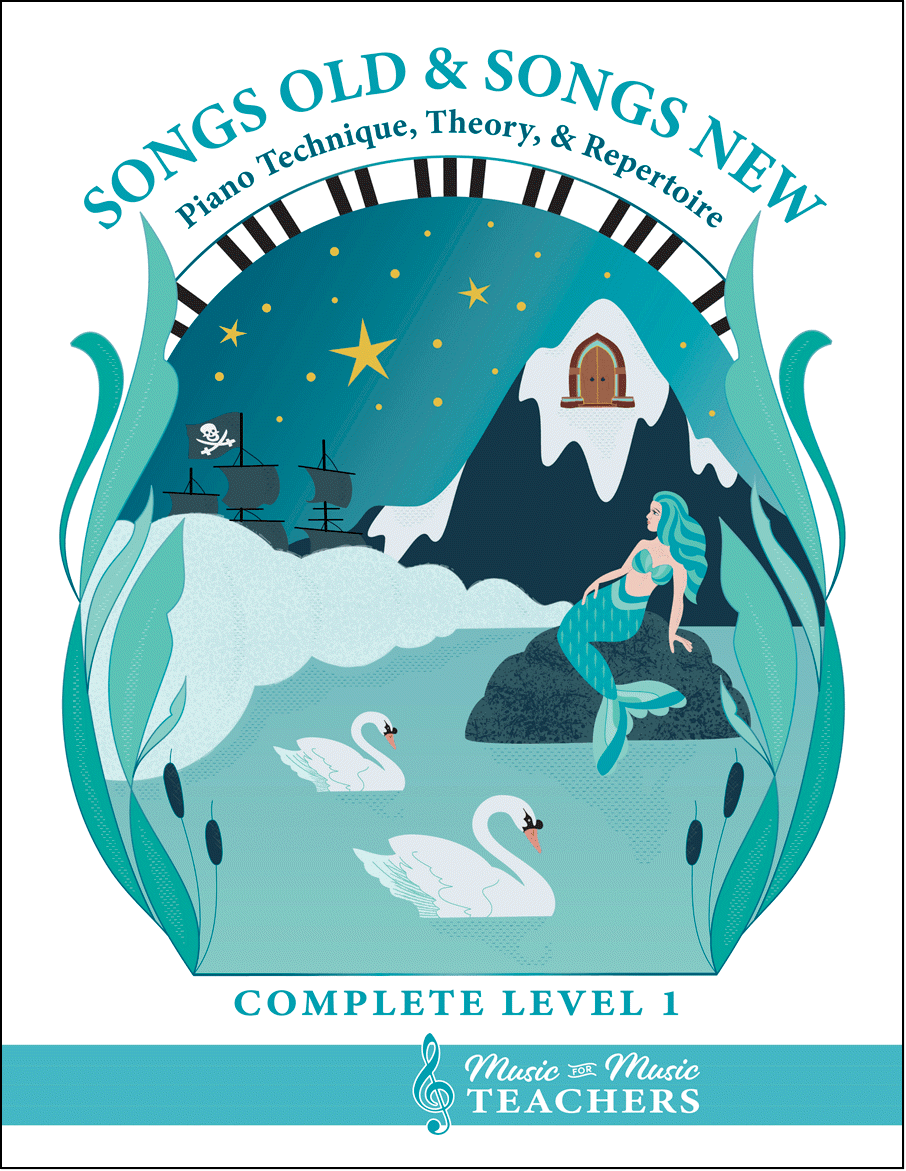 All the first-year material I give my beginner students. 
Piano keyboard sheets, scales, chords, note-reading exercises, and over 256 pages of music!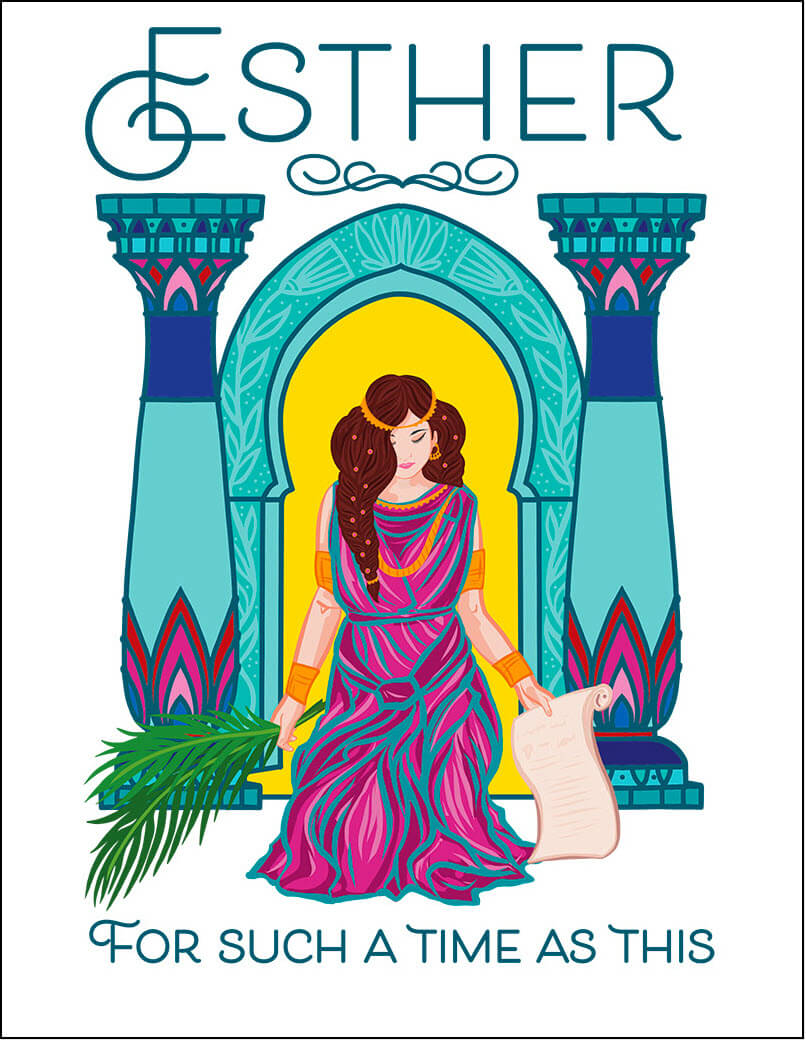 This beautiful song book for piano & voice "Esther, For Such a Time as This",  available as a digital download, tells the riveting story of the time when  Jews in ancient Persia faced a foe named Haman, and how a  brave young queen risked her life to save her people.
A good choice for a singing story-teller, an operatic group, a short theater production, or a class of children!
This book is also available from Amazon as a paperback.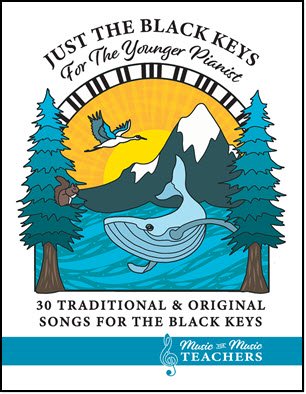 This book is available as a digital download  from this site.  Visit this page to see some free examples from the book.
It is also available from Amazon as a paperback!
This is the perfect easy start for little pianists.
And when they start reading white-key notes on the staff, this is a fun easy resource to say each week, "Choose a new black-key song at home this week and figure it out to show me next lesson!"  They will be spending more time at the piano.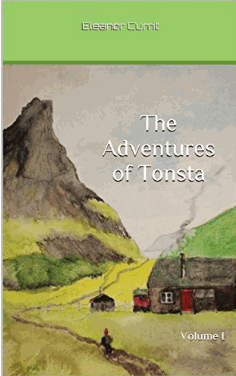 A perfect read aloud storybook
for little boys or girls. 
The Adventures of Tonsta highlight the travels of a very young boy with a good heart, who goes about helping folk in trouble.  
With a red cap on his head and a sack of tools slung over his shoulder, Tonsta seems to meet people in distress wherever he goes.
Lots of trolls in this book - including one who gives him a Christmas gift!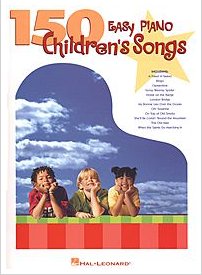 April:
Thank you so much for all the information and materials! Your site is very thorough and well organized!
I am a piano teacher in New Orleans, LA and in the process of putting together my own curriculum and recordings. You have inspired me to make my materials available to all online!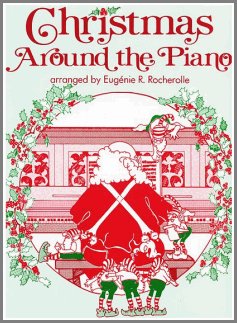 Shanette, US:
I just purchased O Holy Night to use as a duet for Christmas Eve Mass.  
Thank you so much for this simple, easy to read version as my vocalists are not professional and this music won't be quite so intimidating as other arrangements I have. Your expertise is much appreciated!!  Merry Christmas!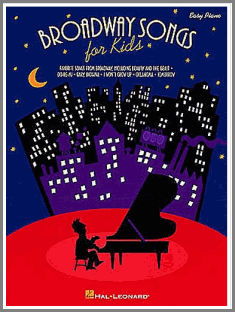 Sign up for "Take Note!" to see what's new every month.
Comments
Do you have a funny story about this music, or does it remind you of something you'd like to share with other readers? Do you have a question? I'd love to hear it!

Please note that all comments are moderated, and will not appear until I have approved them. Also, IF YOU ARE ASKING FOR MUSIC THAT IS NOT IN THE PUBLIC DOMAIN, YOUR REQUEST WILL BE IGNORED. That's pretty much any music written in the last 75 years...

About the Author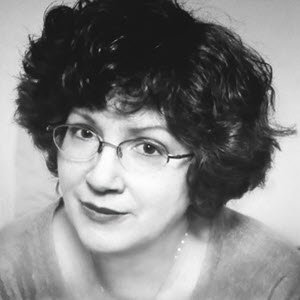 Hi, I'm Dana!  (Say that like "Anna".)  I'm the owner of Music-for-Music-Teachers.com, and a newer site, SingTheBibleStory.com.
Like some of you, I've been playing the piano since early childhood, and have added a few other instruments along the way, plus an interest in arranging and composing music.
You can find out more about me and the reason for this website at my About Me page.