Star of the County Down Voice Sheet Music
Star of the County Down - voice students will enjoy this fun,vigorous, and beautiful Irish sheet music. And it's free! Some pieces of music seem to spread like wildfire through a group of musicians, and this free vocal sheet music will do that with your students too. 
If you want to hear --and see! -- a fun rendition of this song, complete with fiddle, pipes, and drums, watch the "Orthodox Celts" perform "Star of the County Down" on the YouTube video below. Vigorous, humorous, and very musical, my students and I have watched this video many times!
Here is Star of the County Down vocal sheet music: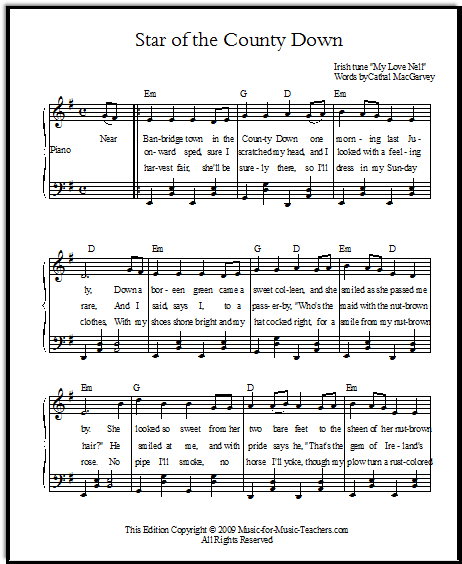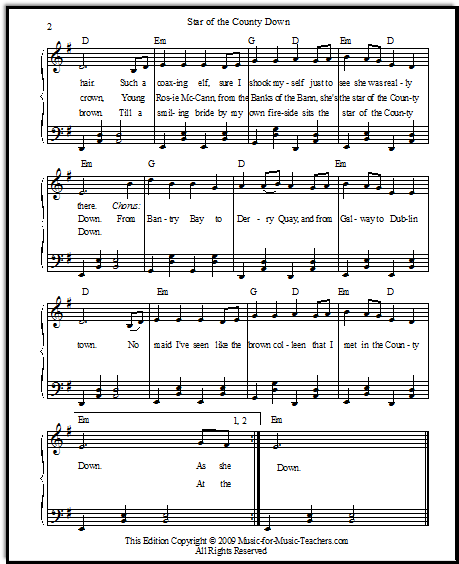 Download printable free Star of the County Down voice sheet music

I have used big chords in the piano left hand to help propel energy into this song.  But if I had only ONE vocalist singing, instead of a group, I would not use such big chords - or at least they would be played softly!
When I have a really terrific piece like this that is also a song, I usually end up giving it to my pianists, guitarists, and singers alike.  Oh, and fiddle students too! They all benefit, and frequently end up playing it together.
I have to thank a local fiddle and guitar teacher named Dan for introducing local musicians to this great piece! You'll thank him too. 
---
---
Get word of the latest sheet music at Music for Music Teachers?  Sign up for "Take Note!"
Comments
Do you have a funny story about this music, or does it remind you of something you'd like to share with other readers? Do you have a question? I'd love to hear it!

Please note that all comments are moderated, and will not appear until I have approved them. Also, IF YOU ARE ASKING FOR MUSIC THAT IS NOT IN THE PUBLIC DOMAIN, YOUR REQUEST WILL BE IGNORED. That's pretty much any music written in the last 75 years...