Beginner Guitar 
For a child who is a beginning string player, making music can be BAFFLING. There are so many things going on!  Check out this page for easy guitar songs and exercises, as well as some violin and fiddle music.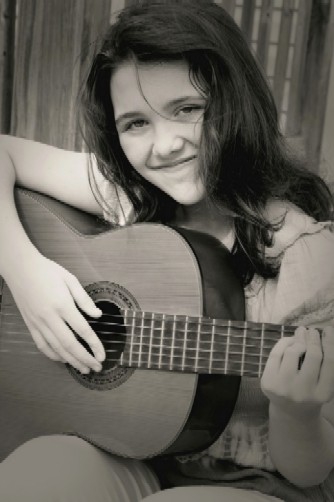 Very Easy Guitar Tabs


12-Bar Blues

Boil'em Cabbage Down


Easiest Guitar Tab to Play


God is So Good


Jingle Bells


Mary Had a Little Lamb


Monsters Everywhere


Old Joe Clark


Pizza Please (Hot Cross Buns)


Sharks


Shortnin' Bread


Twinkle Twinkle Little Star
Hymns, Carols, & Anthems


Amazing Grace


America (My Country 'Tis of Thee)


Angels We Have Heard On High


Ave Maria


Away in a Manger


Be Thou My Vision

Come Ye Sinners (Beach Spring melody, from The Sacred Harp)


Come Ye Sinners (I Will Arise and Go to Jesus)


Deck the Halls


Donum Maximus, a Mass


Doxology


Entre le boeuf (Between the Ox and Donkey)


Farther On


For Health & Strength & Daily Bread (a round)


For the Beauty of the Earth


Friendly Beasts


Gabrielle: Address Heaven


Gaudete (Rejoice!)

Ode to Joy, with standard notation and "helper" tablature


On Christmas Night - a violin duet

Silent Night for guitar and string, solos & ensembles


Sing We Noel

We Wish You a Merry Christmas


What Child is This

What Wondrous Love


What Wondrous Love, 4-part Harmony

Classical Guitar


Allegro, by Giuliani (from Le Papillon - The Butterfly)


Jesu Joy of Man's Desiring


Ode to Joy, with standard notation and "helper" tablature


Spanish Study

Flatpicking Guitar and Fiddle Pieces


Arkansas Traveler


Bonaparte Crossing the Rocky Mountains

June Apple


Mari's Wedding


Musical Priest



Road to Lisdoonvarna


Sleep Song


Spanish Lady


Tenpenny Bit

Folk and Traditional Songs

All the Pretty Little Horses


Ash Grove

Camptown Races - solo & duet


Cat Came Back 


Colorado Trail

Dona Nobis Pacem


Down in the Valley


Entre le boeuf (Between the Ox and Donkey)


Erie Canal


Found a Peanut


Goober Peas


Greensleeves


Grenadier and the Lady


Happy Birthday


Heigh Ho, Nobody Home


I Love the Mountains


Kum Ba Yah


Minstrel Boy


On Top of Old Smokey

Shortnin' Bread


Skye Boat Song


Slumber, My Darling

Spanish Ladies


The Spanish Lady


Star of the County Down


Streets of Laredo


Twinkle Twinkle Little Star for violin


Wabash Cannonball


Waltzing Matilda


The Water is Wide


White, Orange and Green


Lead Sheets

Go here to see all the lead sheets at Music-for-Music-Teachers!



Broadway Music
From guitar chord fretboards small, large, and SUPER large, to flashcards and blank tablature, there are many tools here for your students!
Learning how to play guitar seems almost intuitive for beginner guitar players who have taken piano lessons. But to a child encountering music training for the first time with a guitar in hand, using left and right hands independently, strumming rhythmically, learning what a chord is, reading notes and understanding their relationship to the guitar strings is a process shrouded in mystery. The beginner guitarist may be able to play the chords, but they won't know what they're doing!
On a piano keyboard, we can look and see that between C & D is a black note, called either C sharp or D flat. And between B & C, and between E & F, there are no black notes. We can see it just by looking -- it is self-evident.
The beginner guitar player has no such obvious visual aids. On the guitar neck, it is just frets, and more frets. The frets offer no clues of the existence or non-existence of sharps and flats. Instead, the beginner guitarist must memorize the fact that there is no real separate note called E#, no real Fb.
And a note on one string can easily be duplicated on another string. You can play 4th-fret B on the G string, then move next door to the B string and play the same note open. What'sTHAT all about? On the piano the notes stay put --- Middle C is always just Middle C. This is true of most instruments, in fact.
Then there's the PAIN problem -- pressing the strings hard enough to eliminate buzz, to make chords sound good. "Squeeze the strings! Squeeze them harder! Just ignore the pain.Now strum -- ugh! You have to press the strings harder! Tippy-toe, like a ballet dancer. Hmm, you'll have to cut your fingernails. You didn't know that learning how to play guitar would involve pain and suffering?"

(Of course, I don't really tell my students their playing sounds bad, even if it does. They may not sound good even when they get their skill down, if their folks didn't find them the best beginner guitar. You must encourage them along, and if they make good progress, talk their parents into trading in the clunker guitar.)
For older and adult guitar beginners, these issues even themselves out in not too long. But young kids who are learning how to play guitar need easy steps, even baby steps, adding up to building blocks. They need to move one small step at a time, because in reality they are bringing together so many different skills. And they need lots of repetition.
I use very easy beginner guitar books for my guitar students, plus music sheets I make up, beginner guitar tabs. The music sheets are usually guitar tablature in combination with standard music notation.
(You and I both know that if guitar tabs are there, then that's what they're going to be reading, not the treble staff! But they do need the treble clef notes for the rhythm, unless they pick it up by ear.)

There are dozens, if not hundreds, of beginner guitar books out there in music land, and I must have over two dozen myself! But here are the ones I've settled on for now:
To teach reading notes (instead of just guitar tabs) to my youngest guitar students, I like the Progressive books for Young Beginners. They move slowly, and have CDs. Primarily, I appreciate these books because they start with one new note per page -- or even per two pages -- NO EIGHTH NOTES (the bane of counting for young kids), and NO TABLATURE to seduce kids away from the task of notereading.
Mel Bay's Easiest Country Guitar for Children is one of the cleverest guitar books I have seen! It is nicely laid out-- it starts with six simple, uncluttered pages each presenting a single topic: How to Hold the Guitar, Parts of the Guitar, How to Tune the Guitar, Music Basics, How to Read Guitar Tablature, and one very good page about Picking Technique. (Unfortunately, there is no real discussion of note values.)

Then you turn the page, and it's all music. Very simple tunes (such as Railroad Bill, Will the Circle Be Unbroken, Wabash Cannonball, Wildwood Flower and Shady Grove) complete with treble clef, guitar tabs, chord symbols, and where necessary, picking indications. There are no eighth notes in the first part of the book.

Just before the final song is another instructional page called How to Play Slurs. It covers slides, hammer-ons, and pull-offs. Then those techniques are introduced in the last song, Watermelon on the Vine. The book comes with a CD. It's a great repertoire book, but unlike the Progressive books, it does not teach notereading.
But my real favorite both for learning to read the treble clef and beginning chords is Alfred "Kids Guitar Course" Books 1 and 2. Book One is the simplest book I have found for young kids, because it starts with the "baby" C chord -- just the one-finger on fret 1 string 2 chord, and stays with it for a few pages before venturing on to the baby G7 chord. Lots of easy chords and strumming and counting practice before learning to pick individual notes. This has become my favorite beginner's book, because when a little boy shouts with excitement, "That song looks fun!" and starts in playing right away a song that calls for a new technique, my heart is melted.
Another book I like very much as a supplement is Usborne's Very Easy Guitar Tunes. It has NO TABLATURE, so the student is forced to read the treble staff. There are also no "lessons" with new things to learn -- just nice guitar tunes getting progressively more difficult. Some of the tunes are surprisingly pretty, and there are lots of duets and rounds to make playing together fun.
Because my guitar students frequently find themselves playing along with fiddlers, I recommend that they purchase Mel Bay American Fiddle Method, Vol. 1 (Book & CD). The first three songs make a great medley (Boilem' Cabbage Down, Shortnin' Bread, and Cripple Creek), and help students really nail down the A, D, and E or E7 chords. Accompanying other musicians gives real meaning and urgency to their at-home practice time! The songs in this great fiddle series all have chord symbols over the melody lines.
A couple of really great "Teach yourself guitar" books that have impressed me with their well-thought out instruction and content are The Everything Rock & Blues Guitar Book: From Chords to Scales and Licks to Tricks, All You Need to Play Like the Greats (Everything Series) and Usborne's Learn to Play Guitar (Usborne Music Guides) If you haven't been playing a long time yourself, or have limited yourself to just one style of playing, you will enjoy these books. They aren't really for your students! Instead, garner what you can, and pass it on!
Now, for those of you who are really serious about guitar, as in classical guitar,  there is a fabulous in-depth course I just started using.
I am so pleased with it, and am having fun moving through the 254-page book ahead of my students (although really applying oneself to classical style means longer right-hand fingernails - hard for a piano player!). This terrific book, Solo Guitar Playing, Book 1, 4th Edition, was originally published in 1968 and has been reprinted several times. It is no-nonsense; no cutesy pictures for little ones, but many photographs of correct hand position and definitely NO TABLATURE!
You may ask, What does the author (Frederick Noad) cover in 254 pages?  As Marley said to Ebenezer Scrooge, "MUCH!" On Amazon you can look at the entire Table of Contents, and you will see that this is a very well-designed course. With much repetition of note reading, and steady progression into reading notes on each new string, careful preparation of the student pays off so that by the end of Lesson 7, they can be introduced to the famous Spanish study by Albeniz and not have to use tablature! In the following lesson is the beautiful Malaguena.
Solo Guitar Playing Volume 1 (Music Sales America) and Solo Guitar Playing/Book 1 with CD (Classical Guitar) are available at Amazon, and also at Sheetmusicplus, where it also comes with a CD and without. I got it for about six dollars less at Amazon than at Sheetmusicplus, but the shipping at Sheetmusicplus can't be beat, if you have multiple books to order.  And you can't get used books with Amazon Prime's free shipping... at least not yet!

An update on the Solo Guitar Playing book: It starts out slowly, but lots of little questions pop into your mind that send you asking advice from another teacher.

For example, when pull-offs are first introduced (called "descending ligado" in the classical book), WHO KNEW that your left hand finger comes to rest on the finger board instead of remaining elevated above the neck? Descending ligado is introduced on page 72, but the author doesn't let you in on this little secret until page 89!
Another factor that diminishes my pleasure in the book is the fact the notes are tiny.  TEENY-TINY. To me, anyway. All my students can see the notes just fine -- but to my over-60 eyes, it is irritating sometimes to have to peer more closely.
Still, the book is well worth it. The music selections are wonderful.
---
---
See what's new at Music-for-Music-Teachers.  Use the sign-up form below to receive "Take Note":
Comments
Do you have a funny story about this music, or does it remind you of something you'd like to share with other readers? Do you have a question? I'd love to hear it!

Please note that all comments are moderated, and will not appear until I have approved them. Also, IF YOU ARE ASKING FOR MUSIC THAT IS NOT IN THE PUBLIC DOMAIN, YOUR REQUEST WILL BE IGNORED. That's pretty much any music written in the last 75 years...
What Other Visitors Have Said
Click below to see contributions from other visitors to this page...

Free Sheet Music
› Guitar Tabs & Fiddle Music