Vocalises for Beginners:
Encouraging Resonance
Vocalises for beginners need to teach them how to execute vocal technique, not just stretch their muscles with a warmup.
Quiet little voices need to learn how to find RESONANCE in their tone... see if these vocalises will help!
Many of your beginning vocal students will come to you with soft voices that will not carry beyond the first row of the church pews.  That's not necessarily bad; at least they're not shouting, which could hurt their singing muscles! 
This is an opportunity to train them to achieve volume correctly, by tone placement instead of by using lung power!  What you are after is singing with resonance.
First of all, they need to know that you are after a certain kind of sound!  Imagine a mosquito, buzzing around their ears...  I like to use this sound a lot, when giving singers an example of what I am after.
The "mosquito" trick: find the note with a tiny sound, then "swell" it.  But before opening up with the sound, focus it. Find the bell-like tone that comes from placing the sound where it can "ping".
What? How?  Well, it takes practice, and much exaggeration of vocalise exercises to reliably be able to find that focused sound again and again.
I like to to employ the mosquito effect by singing with the student on a sound halfway between a closed "Hnng" and an open "Huh".  I make a hand gesture - my pinched finger and thumb flying around the student, pretending to be a mosquito.  
As the imaginary mosquito swoops first nearer, then farther, its whiny volume (which is I, singing "hnng") increases and decreases again.  This is not a pretty sound!  However, the sound is very focused and resonant!
This whining sound is easy for my vocal student to imitate.  Then, we go to the song, and try to put this sound into the song.  We find our trouble note, achieve the ringing mosquito noise, but then drop the jaw for BIGGER, more normal, singing sound - but now we have resonance in singing.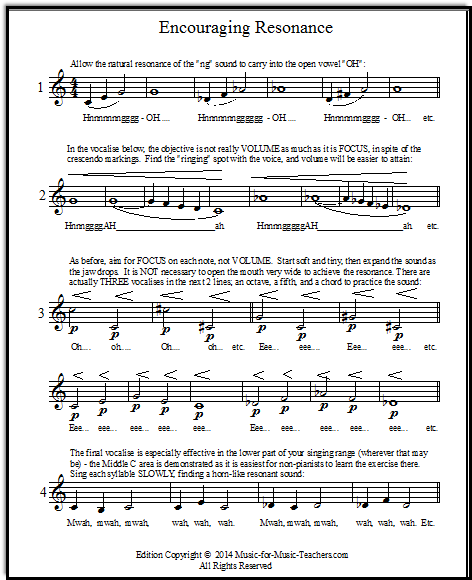 Download Vocalises for Beginners sheet "Encouraging Resonance"
Another way to think about resonance is to imagine that singing is all taking place in the HEAD, back behind the ears.  Think of the sound resonating inside there, vibrating in the skull.
And another technique: Take an almond, or a cinnamon stick, or even a pen or pencil, and bite down on it with the back teeth.  This creates space automatically.

Now sing "Eeeee... "  The position of the jaw should result in a slightly different sound than the student is used to; LOUDER, more resonant; a sound that can carry easily.  This greater volume should happen without breathiness or pushing.
"Eee" is usually my favorite vowel for practicing resonance, but all of them should be used.   From bright to dark, they are "ee, eh (ay), ah, oh, oo..."
Going through the break with continuing resonance is especially difficult! Don't abandon these vocalises, or your own version of them, in a hurry!
---
---
Get word of the latest sheet music at Music for Music Teachers?  Sign up for "Take Note!"
Comments
I'd love to know about your favorite warm-ups, perhaps passed on to you by a dear teacher, or one you have made up yourself and come to rely upon. Tell us how you use it!