The Erie Canal Song
The Erie Canal Song is still popular after all these years!  
Download free piano sheets online, an easy 5-finger arrangement for beginning readers, lead sheets in two keys, & tabs for your students who play guitar music.

Please scroll down the page for the download links.
These music note drawings - piano music with letters - are obviously about helping with reading music notes for beginners.  If this isn't your cup of tea, look farther down the page!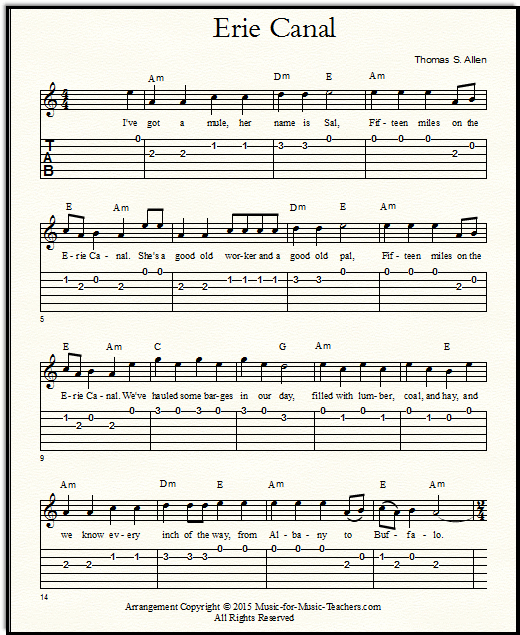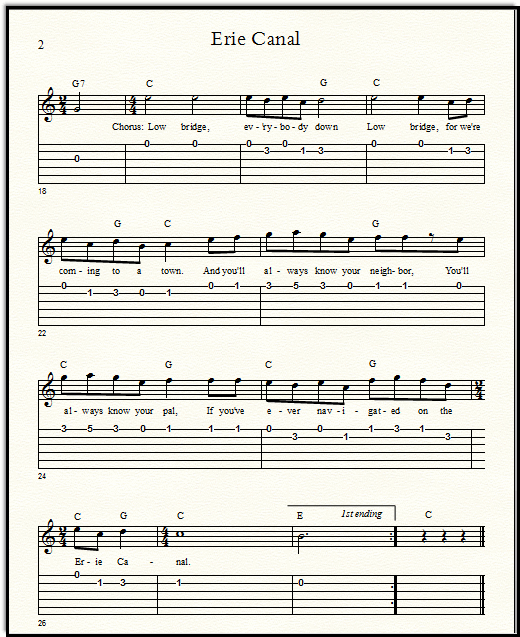 Please scroll down the page for the download links.
This Am arrangement uses lots of open strings, and fingers 1 and 3... nice guitar music notes for beginners.  There's just a bit of high "A" on page 2, needing fret 5 - good practice for stretching a little outside of position 1.

Here are a couple versions for early intermediate/ late elementary piano, with a fun descending bass line: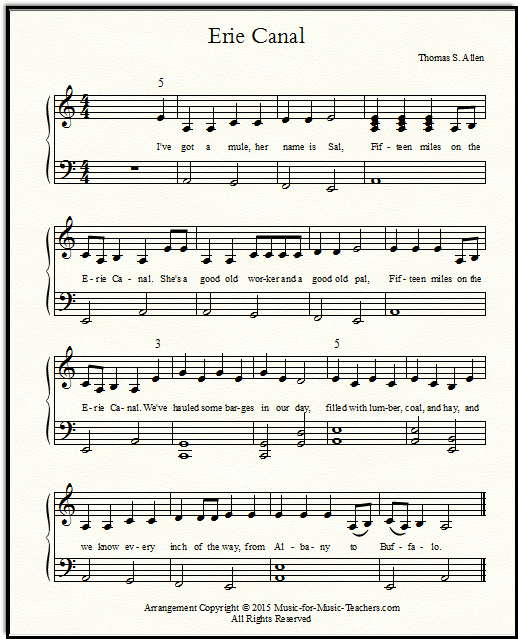 Please scroll down the page for the download links.
Give your students the joy of learning Beethoven's famous Für Elise in an easy-to-read format... every note from the ORIGINAL piece is here  in this beautiful new setting
If your students like the first page of the canal boat song, then it's a good bet that they'll want the whole thing.  
It requires another change of hand position.  Here's what those pages look like, in the key of Dm ( the short version, above, is in Am):

Please scroll down the page for the download links.
I've put no fingering on page 2 of these arrangements.  Erie Canal is brand new for my students, so I'll just keep a pencil handy and we'll work out fingering on an as-needed basis.

And now, here are a couple lead sheets, with Erie Canal lyrics of three verses: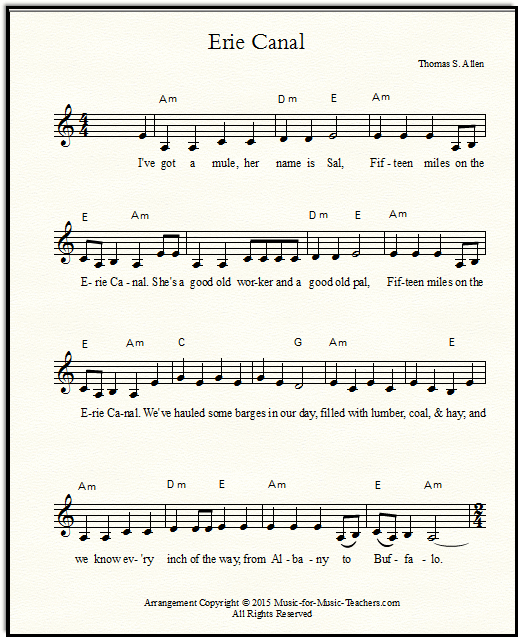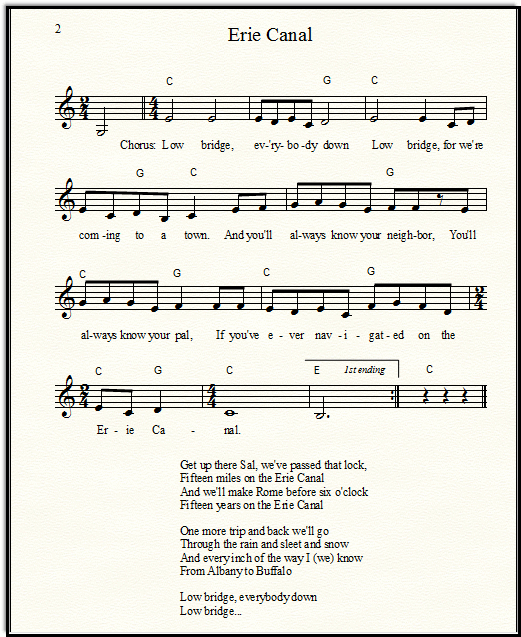 "Fifteen Years on the Erie Canal" was written in 1905 by Thomas S. Allen  This song is also known as "Low Bridge, Everybody Down," "The Erie Canal Song," and the way I sang it as a kid, "Fifteen MILES on the Erie Canal."
I had NO idea what the song was about.  But here is a very fun video, with still shots of old canals and mules with action added somehow, that demonstrates just what this song is about!

---
The links for the easy piano sheet music:
Download the Erie Canal Song with made-easy lettered notes, short

Download free Erie Canal sheet music for beginner piano, also with lettered notes, LONG

The links for the guitar tabs:
Download tabs and play guitar music for Erie Canal

The links for the harder versions:
Free! download notes for Erie Canal music for late elementary piano in Am, short

Free! download notes for elementary version of Erie Canal music in Dm, short

Alphanotes helper version for Dm elementary version of the Erie Canal song

The links to the long versions of Erie Canal:
Download easy piano sheet music LONG, with 2 pages in the key of Am

Download easy piano sheet music Erie Canal two pages in the key of Dm

The links for the lead sheets:
Download free lead sheet in Am

---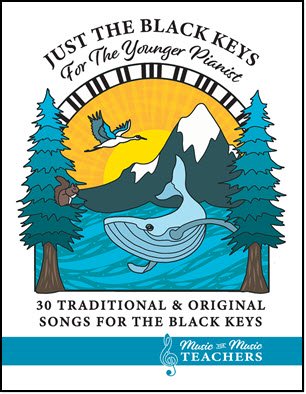 This book is available as a digital download  from this site, and also from Amazon as a paperback!
This is the perfect easy start for little pianists.
And when they start reading white-key notes on the staff, this is a fun easy resource to say each week, "Choose a new black-key song at home this week and figure it out to show me next lesson!"  They will be spending more time at the piano.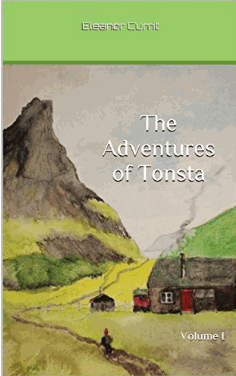 A perfect read aloud storybook
for little boys or girls. 
The Adventures of Tonsta highlight the travels of a very young boy with a good heart, who goes about helping folk in trouble.  
With a red cap on his head and a sack of tools slung over his shoulder, Tonsta seems to meet people in distress wherever he goes.
Lots of trolls in this book - including one who gives him a Christmas gift!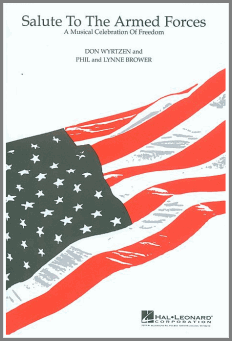 Carol:
I wanted to thank you.  
Several of the songs on this site work so well for some of my picky students and the ones who don't practice a lot.
Caroline:
I was looking for some easy (classical) pieces to play that wouldn't require much prep.
I hit the jackpot here with classical and other, Celtic, lovely tunes!  Thanks again!
Sign up for "Take Note!" to see what's new every month.
Comments
Do you have a funny story about this music, or does it remind you of something you'd like to share with other readers? Do you have a question? I'd love to hear it!

Please note that all comments are moderated, and will not appear until I have approved them. Also, IF YOU ARE ASKING FOR MUSIC THAT IS NOT IN THE PUBLIC DOMAIN, YOUR REQUEST WILL BE IGNORED. That's pretty much any music written in the last 75 years...

About the Author


Hi, I'm Dana!  (Say that like "Anna".)  I'm the owner of Music-for-Music-Teachers.com.

Like some of you, I've been playing the piano since early childhood, and added a few other instruments along the way, plus an interest in arranging and composing music.

You can find out more about me and the reason for this website at my About Me page.