Free Fiddle Sheet Music
Redhaired Boy
Free fiddle sheet music Redhaired Boy with guitar tabs and chords. This popular Irish fiddle tune will be a popular piece for your flatpicking guitar students or your beginning fiddle players. Three versions, in the keys of A and G!
Out of Nowhere Bluegrass Band: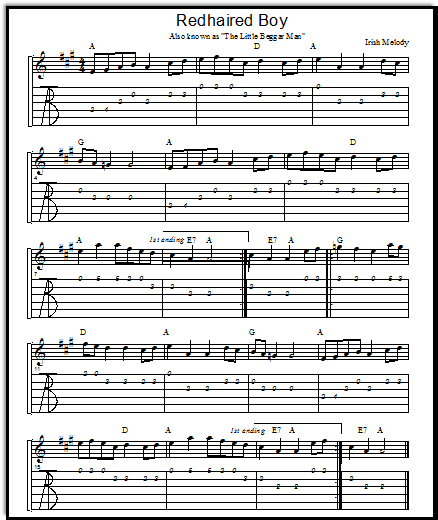 Download free fiddle sheet music Redhaired Boy 


Redhaired Boy is fun to flatpick in the key of G, and much easier than in the key of A. The key of A is easier for fiddlers to finger, but for guitar, the key of G works nicely and flows faster. 

Download Redhaired Boy free sheet music in G 

However, the key of G requires the use of the F chord! If you are having a couple of students play this piece as a duet, one of them will have to be good at the F chord. (This would be excellent motivation for working on that chord.)

Below is another version in G. This sheet music differs by only a couple of eighth notes, but those extra eighth notes make Redhaired Boy a much fancier-sounding piece. Even more fun, even more cute!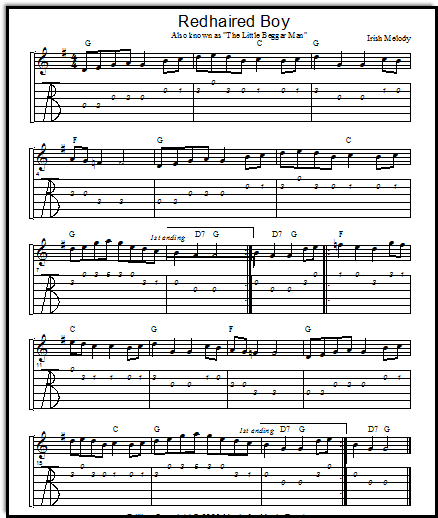 Download free fiddle music and guitar tabs Redhaired Boy 

See Devil's Dream for a discussion of stroking DOWN and UP. I tell my students that a general principle to follow is to pick DOWN on the first of 2 eighth notes and UP on the second eighth note. Plain quarter notes are DOWN.  A quarter note followed by 2 eighth notes would be DOWN, DOWN-UP.
Have fun with Redhaired Boy!
---
A perfect read aloud storybook
for little boys or girls. 
The Adventures of Tonsta highlight the travels of a very young boy with a good heart, who goes about helping folk in trouble.  
With a red cap on his head and a sack of tools slung over his shoulder, Tonsta seems to meet people in distress wherever he goes.
Lots of trolls in this book.
---
---
Comments
Do you have a story or a question about teaching guitar? Do you think it is a hard instrument for beginners, or easy? What have been your challenges?
Please note that all comments are moderated, and will not appear until I have approved them. Also, IF YOU ARE ASKING FOR MUSIC THAT IS NOT IN THE PUBLIC DOMAIN, YOUR REQUEST WILL BE IGNORED. That's pretty much any music written in the last 75 years...
Sign up for "Take Note!" to see what's new every month.
Search Music-for-Music-Teachers: