Twinkle Twinkle Little Star

Twinkle Twinkle, Little Star for beginner piano and late elementary piano students.  Starting with a plain melody on middle C, your students can add left hand chords.
Look down the page for SIX versions, from super-easy (music with letters!) to a broken chord left hand accompaniment.
 Here is a rather sweet video of this nursery song by "Super Simple Songs":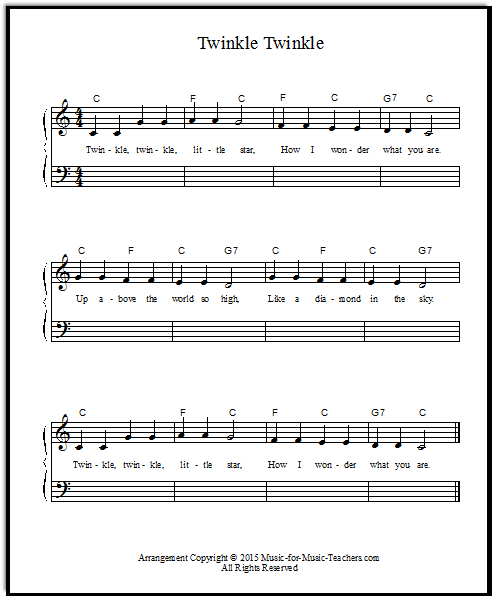 Download children's song "Twinkle Twinkle" for beginner piano students

The chords in this song can all be played by beginners right around the left hand C chord, with no reason to change hand position.  
A "little F" chord just requires the thumb to stretch to an "a", and the G7 chord can be a "pinch" - "g" and "f" side-by-side.  See the version AFTER the one below, to see the chords spelled out in the bass staff.
The next arrangement is the same as the first one, above, but I added fingering in line one to show how finger replacement can work to make the reach up to "a" smooth: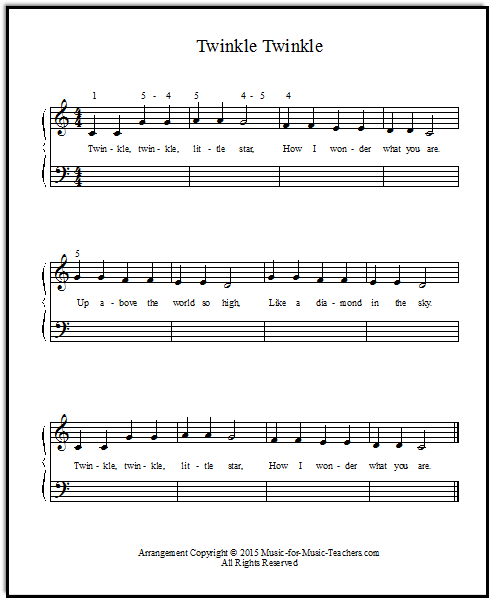 Download Twinkle song with fingering

In spite of the fingering I have placed in the music - the five to four and four to five - your student is most likely to COMPLETELY IGNORE those helpful suggestions and just play "1 - 1 - 5 - 5 - 5 - 5 - 5..."  or something like that!  It's up to you the teacher to ingrain the finger replacement technique into your student AT SOME POINT; is now the time?  

It depends on you and what you think is most beneficial at this stage of your student's learning.  Perhaps just reading the notes and adding left hand chords in the coming weeks will be accomplishment enough!  

Finger replacement is actually a difficult and advanced technique, though eventually we hope that it will become second nature to our piano students.

Now the following arrangement of Twinkle Twinkle Little Star shows how chords can be added to this song:
Download Twinkle with left hand chords spelled out in the bass

Following is a broken chord version of this little song that is very pretty.  I set it high (good practice for your late elementary/ early intermediate students, to read the left hand in treble clef!) where it has a delicate sound:

Download broken chord arrangement

Transposing this arrangement would be excellent practice for your late intermediate students who need to firm up their chord inversions in all keys.  Actually, transposing ANY of the arrangements on this page would be useful, but this one with the broken chords is very pleasant to play!
Give your students the joy of learning Beethoven's famous Für Elise in an easy-to-read format... every note from the ORIGINAL piece is here in this beautiful new setting
Here are the VERY EASIEST approaches to Twinkle Twinkle; a version entirely composed of music notes with letters inside, and a "helper" version that has only a few lettered music notes.  Here is a graphic of the Helper version:

Download Twinkle Twinkle sheet music with lettered notes

Download Twinkle music with only a FEW notes with letters inside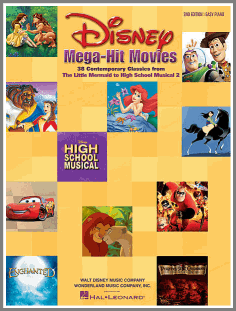 Doris:
Thank you so much for this website, I have found just about everything that I need in music.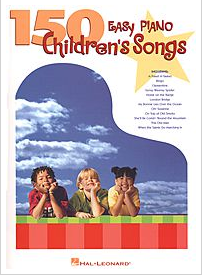 Elania:
I have been slowly giving my oldest daughter whatever my memory can dredge up, scouring the internet for free music she can do, but your website with its instructions AND tips on how to teach pieces are going to help me SO much in this endeavor. I just wanted to tell you thank you. Really really! THANK YOU!
Comments: Do you have a story or a question about music teaching? Share it!
Please note that all comments are moderated, and will not appear until I have approved them. Also, IF YOU ARE ASKING FOR MUSIC THAT IS NOT IN THE PUBLIC DOMAIN, YOUR REQUEST WILL BE IGNORED. That's pretty much any music written in the last 75 years...
What Other Visitors Have Said
Click below to see contributions from other visitors to this page...

For Beginners, This Site is God-Given! Not rated yet
Thank you so much. It was pure accident that I found your web. I am 62 and decided to start playing electric keyboard. Books are drastically expensive, …
Sign up for "Take Note!" to see what's new every month.