All the Pretty Little Horses 
A Traditional Lullaby
All the Pretty Little Horses is perhaps the prettiest lullaby I know. Its structure is very simple; 3 lines that are exactly the same, and 1 line that differs only a little. It's a great melody for beginning guitar students, and easy to take advantage of with my free guitar tabs. Three versions, below.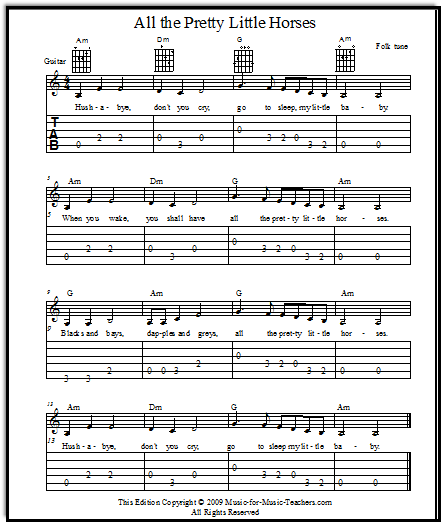 Download printable free guitar tabs All the Pretty Little Horses in Am
Because All the Pretty Horses is a folk song, there are many versions of the tune and words. I've put my favorite here.
Videos come & go on YouTube... the one above by "Tiny Home" is my current favorite. 
Playing it on the guitar poses a few challenges for young beginners. If they want to play the melody, it requires fast fretwork in a descending scale pattern. Plus, this is when I usually introduce Dm, a fairly tricky chord for little hands.

When students first start learning this song, I like to have them strum 4 simple strokes each measure. When they've gotten the chords down well, we start making it a little fancier.
First, we'll make a more complicated strum, just a basic Down-Up, Down-Up, Down-Up, Down-Up each 4 beats. Then we make it trickier; a DOWN, down-up, down-up, down-up (again, every 4 beats). For some kids, this takes lots of repetition over several weeks to get the coordination down. They keep wanting to stop their arm movement -- don't let them! Tell them to keep that arm moving up and down, even on the silent strokes.

Then, if my student has the finger coordination, we start picking the chords. At first, only 4 strings per measure...very slow. They learn which strings are actually the "main" string for the chord, that is, the preferred bass note.
For Am, the bass note is string 5. For Dm, the bass note is string 4. For G, the bass note is string 6. 
The key of Am is very beautiful for teens and older singers, and for the guitar, but if you want to have a child sing along with this song, I suggest using the version in the key of Em. It is difficult for most children to sing below a Middle C with any strength, and they shouldn't try to push down there for volume. See also the third version in Dm, that uses just two chords. It is a beautiful key in which to sing.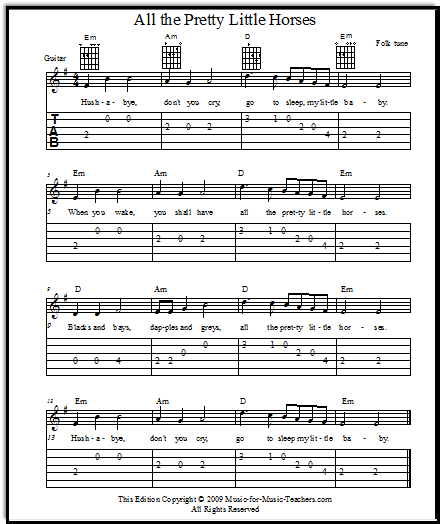 All the Pretty Little Horses in Em
In the key of Em, the bass notes are string 6 for the Em chord, string 5 again for the Am chord, and string 4 for the D chord.
Though I usually double the timing of notes for young beginners so they don't have trouble counting eighth notes, I have not done that with All the Pretty Little Horses; the repetitiousness of the melody helps them catch on quickly, and anyway, guitarists need to learn to pick things up by ear quickly! 
This version below is actually just one melody line, over and over again... but it is so pretty! The violin ostinato (a drone-like background on just a couple of notes) is easy to do; if you are a fiddler, just draw the bow across the D string whenever there is a Dm chord indicated, and go down to a C note on the G string below whenever there is a C chord.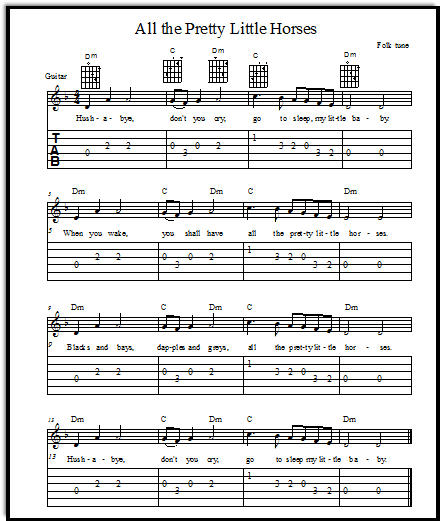 Download printable guitar and fiddle tabs in Dm 
Since All the Pretty Little Horses has 4 beats per measure, it is a good candidate for the finger-picking pattern commonly called the "Travis picking pattern" (after Merle Travis, who made it famous). And indeed it is a very beautiful, light-sounding pattern, which can be played slowly as four quarter notes, or quickly, doubled, as eighth notes.
This fun pattern is very different from a 3 or 6-beat pattern; it goes (for example) THUMB - MIDDLE - THUMB - INDEX, all on different strings. (This is the "Outside - In" pattern.) A D or Dm chord is perfect for learning the pattern initially, as your fingers are limited to just 4 strings and you don't have to make any decisions about which strings NOT to use: Pluck string 4, string 1, string 3, and last of all string 2. The thumb plucks strings 4 and 3, the middle finger plucks string 1, and the index finger goes last on string 2.
The "Inside - Out" pattern uses the thumb just the same, but now the INDEX finger plucks before the MIDDLE finger: THUMB - INDEX - THUMB - MIDDLE.
There are lots of variations on this basic pattern, and a fabulous book for opening them up to you and your guitar students is "The Art of Contemporary Travis Picking"," by Mark Hanson. This book is highly recommended by enthusiastic reviewers who profess that it, and the follow-up book, "The Art of Solo Fingerpicking: How to Play Alternating-Bass Fingerstyle Guitar Solos", took them over the hump and turned them into real fingerpickers. As the book's cover states,
"Learn the alternating-bass fingerpicking style used by such great players as Paul Simon - James Taylor - Dan Fogelberg - Leo Kottke - John Renbourn - Michael Hedges."
Sign up for "Take Note!" to see what's new every month.