Shortnin' Bread
Easy Guitar Tabs &
Free Fiddle Sheet Music
Shortnin' Bread FREE easy guitar tabs and FREE fiddle sheet music! This is a traditional American song. A very easy guitar chord song with a melody easy even for beginners, Shortnin' Bread is a toe-tapping tune! 
Here's a cute little old bluegrass band playing this old-time song, very nicely indeed -- it looks like they have a home-made bass: 
Here is what the easy guitar tabs for Shortnin' Bread look like: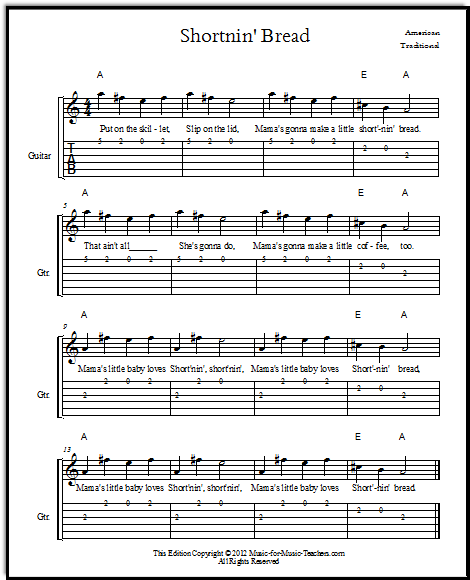 Download Shortnin' Bread for guitar and fiddle in the key of A 

Download these easy guitar tabs in the key of C 

Download Shortnin' Bread free fiddle sheet music and guitar tabs in G 

Don't worry about the lyrics and how they don't really match the rhythm of the notes! The kids will not care. This easy version is much easier to play than would be a version where the rhythm changed with each line (and maybe with each verse) to match words, which with this and other folk songs, can be notoriously changeable anyway!
My favorite key to play this song in with my students is the key of A, because it goes nicely with Boilem' Cabbage Down, as a medley. We play Boilem' Cabbage, then Shortnin' Bread, then last of all Cripple Creek as written in Brian Wicklund's American Fiddle Method Book 1. (We add singing, too -- and a bass!) 
Here is a version of Shortnin' Bread for fiddle in A.   I decided I need an arrangement for my beginning violin players that doesn't have chord symbols over the tops of notes, because some kids will be confused by these.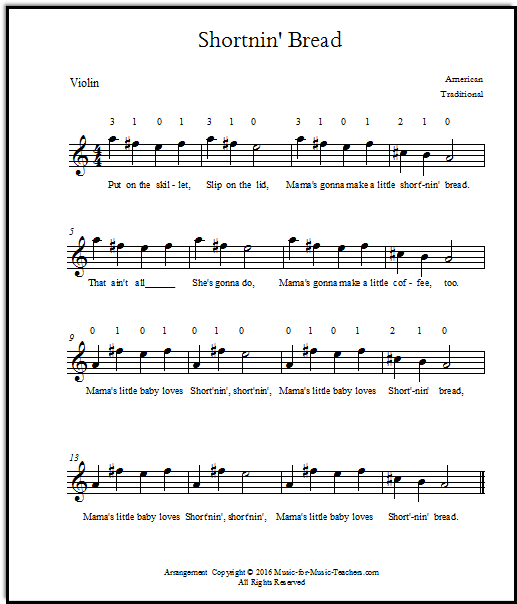 Download easy fiddle song Shortnin' Bread for violin

Once fiddle players can play Shortnin' Bread in the key of A, they can easily transpose down to the other strings and play the song in the keys of D and G.
Now here is one more version of Shortnin' Bread - this video by "The Tractors" is WILD! 

---
---
Get word of the latest sheet music at Music for Music Teachers?  Sign up for "Take Note!"