Scarborough Fair
Easy Guitar Tabs
Scarborough Fair is a beloved old song from England which sounds beautiful on guitar. Download my free easy guitar tabs, and finger-style guitar tabs.  (If you want an easy music download for lead sheets in different keys and also for beginning piano, go here... and if you want a nice arrangement for voice, visit this page.)
Many of my students have sung, played, and loved Scarborough Fair. Because it uses basic guitar chords, beginning guitarists will find it within their reach, and not-so-new guitarists may be able to apply some new techniques to it.
Listen to a Celtic Woman version of Scarborough Fair, very fancy: 
It offers opportunities for integrating a walking bass line into the ongoing picking pattern, on the transition from Am to C. After that is mastered, there are two more special effects I show my guitar students -- one at a time! -- that make the song feel and sound fancy -- "like a real guitar player."
The first guitar tab sheet shows just melody and chords.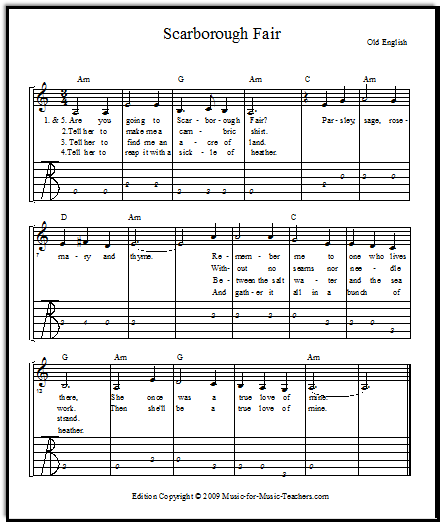 Download free printable guitar sheet music for Scarborough Fair 

In the second guitar tab sheet, the tablature shows one way -- my favorite way -- of picking the chords. While reading chords as tablature can be confusing for beginners, it is really helpful for them to see the walking bass.
Essentially, the chords are played from the bottom to the top, turning around after beat 4 and coming back down for beats 5 and 6.
"Beats 5 & 6?" what am I talking about? -- there are only 3 beats in this guitar song!
Well, sometimes when the chord accompaniment is subdivided to make 6 or 8 strokes total each measure, I tell my student that we will just say "1-2-3-4-5-6" instead of "1 & 2& 3 &" because it makes more sense that way, unless they have already been playing piano for some time and can count very well.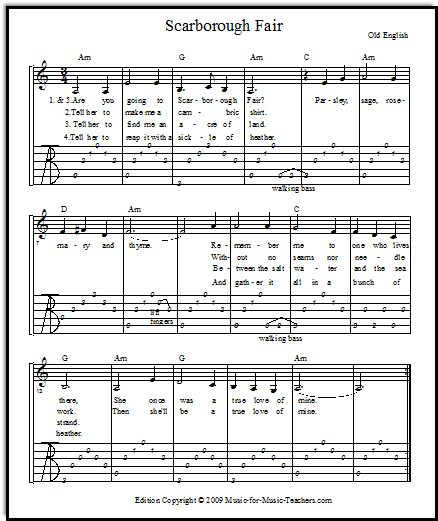 Download free guitar tab music with walking bass 

When the same chord is played two measures in a row, it's a good idea to alternate the thumb onto a different string to relieve the sameness of the repeated chord. (I have NOT notated that here in the tablature.)
After students have mastered the walking bass between Am and C, the next thing we try is lifting fingers off the strings in measure 8 with the word "thyme," on beats 5 and 6 only. (See where the guitar tablature has the words "lift fingers"?) This is VERY COOL. In fact, it will seem a bit magical to your student.
This same effect can be duplicated at the end of the piece in the penultimate measure. ("Penultimate": a fancy word for "second-to-the-last"!)
Lastly, try the descending bass line with alternating G string in measure 12 where it says "one who lives". It is the same basic technique as the walking bass in Down in the Valley, but with extra notes (open G) in between.
Being able to play Scarborough Fair will give your student a feeling of power and control...each note matters. It will motivate them to clean up the buzz on their G chord, and to make those strings really sing.
Here is a rather different "Gregorian" Scarborough Fair (based on Simon & Garfunkel's arrangement of this English piece) -- it's beautiful, and kind of mesmerizing: 
---
---
Get word of the latest sheet music at Music for Music Teachers?  Sign up for "Take Note!"
Comments
Do you have a story or a question about teaching guitar? Do you think it is a hard instrument for beginners, or easy? What have been your challenges?
Please note that all comments are moderated, and will not appear until I have approved them. Also, IF YOU ARE ASKING FOR MUSIC THAT IS NOT IN THE PUBLIC DOMAIN, YOUR REQUEST WILL BE IGNORED. That's pretty much any music written in the last 75 years...