Anchors Aweigh
Navy Fight Song
Anchors Aweigh, the Navy Fight Song, free lead sheets for treble & bass clef, and viola too!  This old patriotic song has a rousing melody that makes you want to join in singing.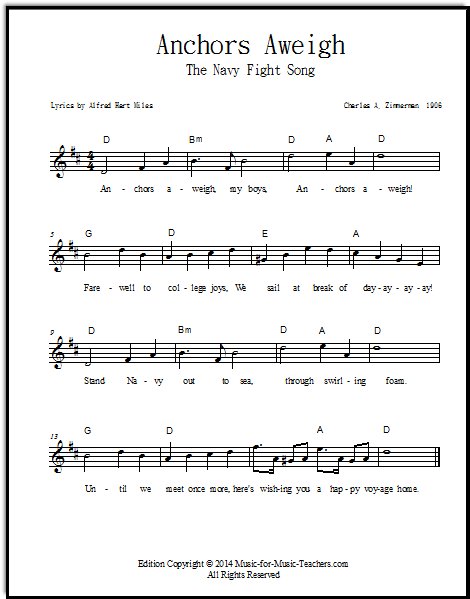 Download Anchors Aweigh in the key of Bb


                         The key of Bb UP AN OCTAVE, Download


                         Download Navy Fight Song in the key of C


                         Download patriotic song in the key of D


                         Download printable lead sheet in the key of Eb


                         Download sailors song in the key of F


The following video is a fabulously exciting rendition of this song:



When I was a kid, I thought the song was "Anchors Away!", as in "Bon voyage," or "Let's go!"  I guess that's not too far off.
There are a lot of verses to this melody which can be seen in an article at Wikipedia; I've put here the most commonly known verse of all the different lyrics.
I only have this song available as a lead sheet, but Sheetmusicplus has an exciting-looking version on their site, which looks to be full of octaves, as well as "sound and fury!"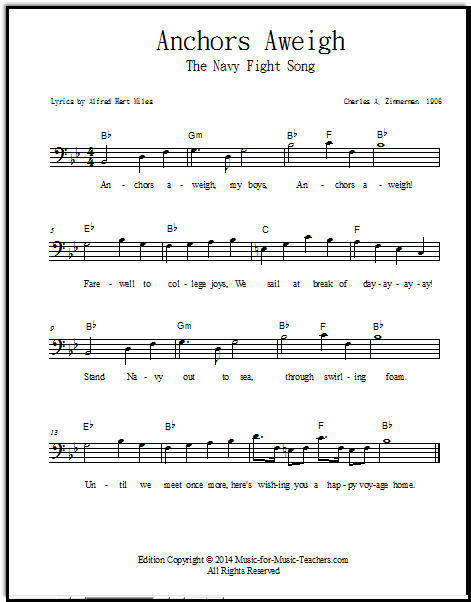 Download Anchors Aweigh bass clef key of Bb
Download Anchors Aweigh bass clef key of D
Now that my daughter has a viola, I realize that I ought to be putting lead sheets up for viola clef too:
Download Navy song for viola in the key of C


Download Navy fight song in the key of G for viola


I like the photo of the very first published sheet music for "Anchors Aweigh," below: