We Wish You a Merry Christmas Chords for Guitar Beginners
We Wish You a Merry Christmas chords that are easier for beginning guitar players are what this page is about...  I realized that the piano arrangements, with their frequent and unusual chord changes, weren't working for them.
Your beginner guitar students can actually use BABY chords G and C in this piece, and still make the song sound decent.  Those little chords will help them change chords so much faster!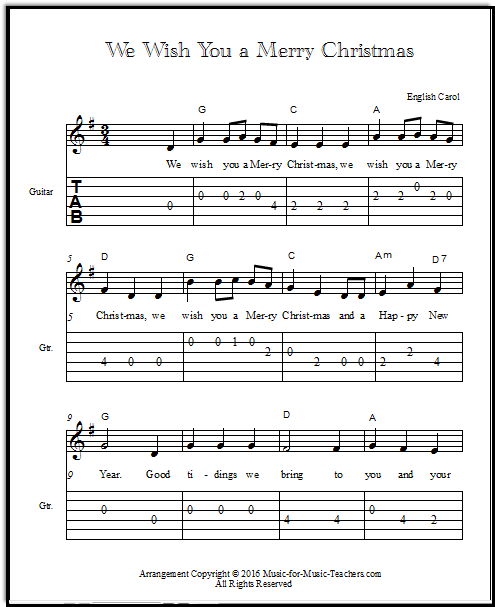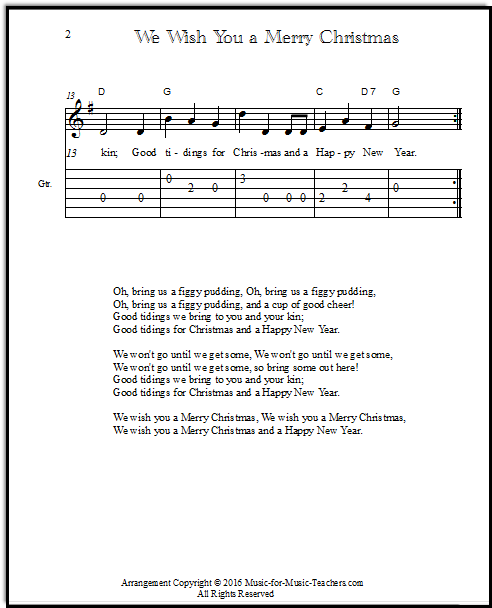 Download We Wish You a Merry Christmas chords for guitar beginner players
In the second-to-last measure (the penultimate measure) there is a very quick change from C, to D7, to G.  I like to tell my younger students to play the "little C" (which is index finger alone), then keep that index finger down for the D7 (young guitarists have a tendency to lift their fingers in-between each chord and start over even when some of the same fingers can be left in place), then SLIDE down from D7 into the little G chord.  We can build up some speed that way!
Below is a very beautifully-played rendition of a classical guitar style arrangement of this Christmas carol.  The artist, from 2009, is Sungha Jung, and the arrangement is by Ulli Boegershausen. 
---
---
Get word of the latest sheet music at Music for Music Teachers?  Sign up for "Take Note!"
Comments
Do you have a story or a question about teaching guitar? Do you think it is a hard instrument for beginners, or easy? What have been your challenges?
Please note that all comments are moderated, and will not appear until I have approved them. Also, IF YOU ARE ASKING FOR MUSIC THAT IS NOT IN THE PUBLIC DOMAIN, YOUR REQUEST WILL BE IGNORED. That's pretty much any music written in the last 75 years...