O Come O Come Emmanuel Chords, Tabs,Lyrics 
O Come O Come Emmanuel chords & tabs for guitar, lead sheets, lyrics, and a lovely intermediate keyboard arrangement with basic piano chords.

First, the guitar sheets, in the keys of Am and Em.  This Christmas music has lots of chord changes, but the melody itself is very easy to pick: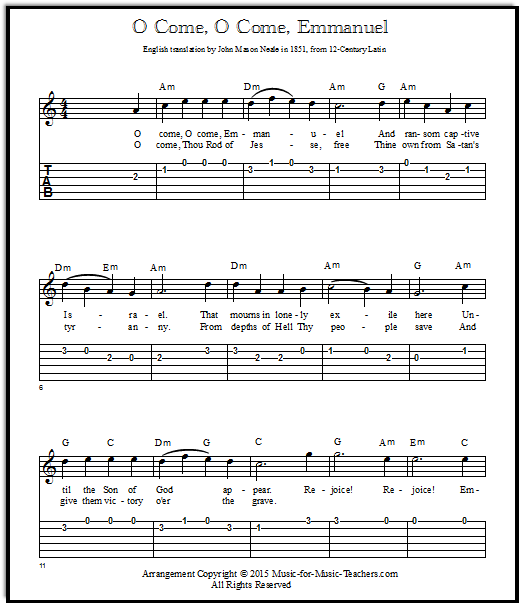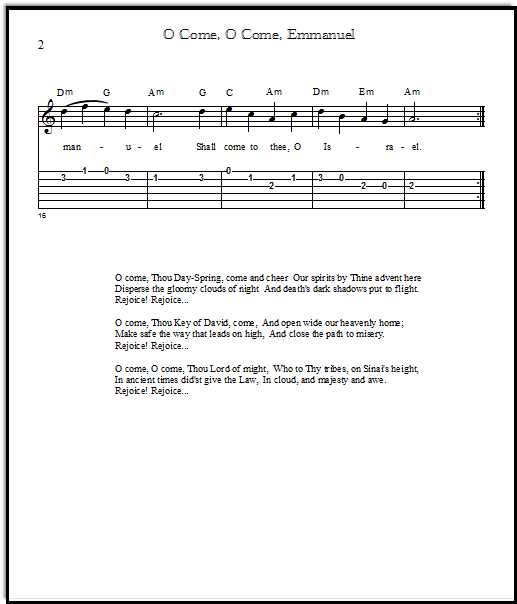 Download O Come Emmanuel chords and tabs for guitar in Am

Download Christmas song in the key of Em guitar chords and tabs

Here is a very beautiful Christmas arrangement:  O Come O Come Emmanuel sheet music for intermediate piano students, with basic piano chords and a lovely harp-like interlude.  My daughter arranged this music, and the interlude is indeed based on a harp rendition by Kim Robertson in her CD "Celtic Christmas":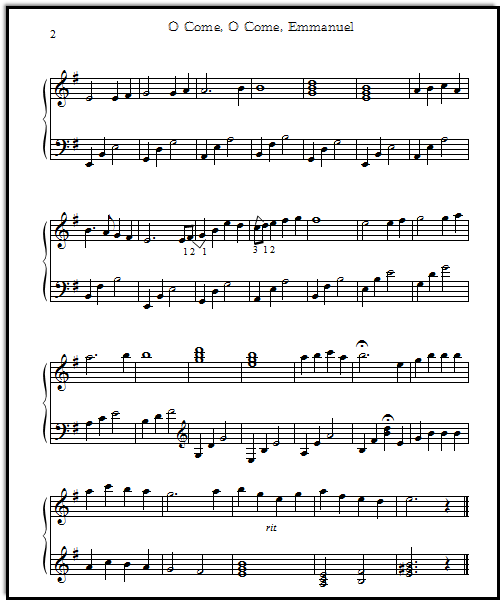 Download musica de Emmanuel piano sheet music

Notice the suggestion in the first line of the Emmanuel song to ROLL the chords so they sound like a harp.  I really do play the solid chords this way, all through the piece (not in the middle interlude section).  Don't forget to play up an octave on the repeat!  Also, please note the frequent clef changes in the left hand throughout the interlude.
The left hand is mostly just basic piano chords, but the right hand has many chord inversions.  Watch out!  Kids need exposure  and lots of practice to handle these. 
Seven measures from the end, I have placed a caesura right at the end of the interlude, at the fermatas.  (It failed to appear on the graphic, though!)  A caesura means to break - to take a breath and start afresh.  Sometimes called "railroad tracks", the caesura is notated by 2 diagonal lines.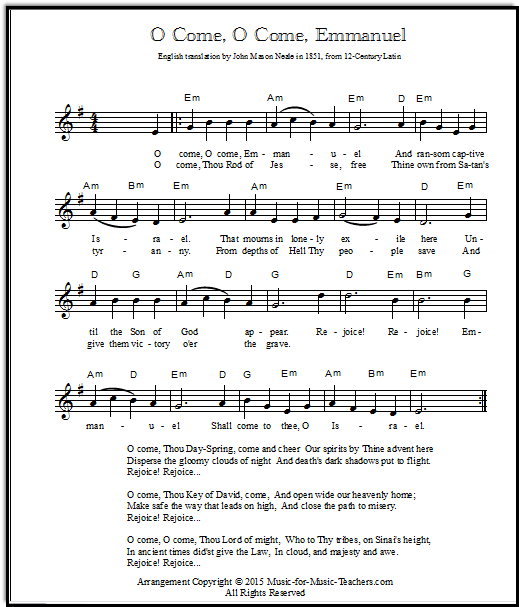 Download Emmanuel lyrics, melody, and chords in Am

Download Oh Ven Emmanuel lead sheet in Dm

Download Emmanuel gospel Christmas song lyrics in key of Em
This is a very pretty song on a melody instrument.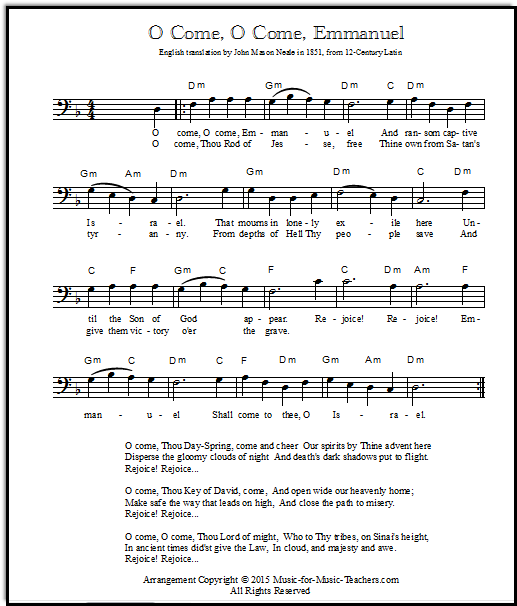 Download Musica de Emmanuel lead sheet in bass clef key of Dm

Download O Come Emmanuel chords and melody in bass clef key of Em

Sign up for "Take Note!" to see what's new every month.
Comments
Do you have a funny story about this music, or does it remind you of something you'd like to share with other readers? Do you have a question? I'd love to hear it!

Please note that all comments are moderated, and will not appear until I have approved them. Also, IF YOU ARE ASKING FOR MUSIC THAT IS NOT IN THE PUBLIC DOMAIN, YOUR REQUEST WILL BE IGNORED. That's pretty much any music written in the last 75 years...