God is So Good
Lyrics and Sheet Music
God is So Good lyrics and sheet music, FREE!  This simple and sweet hymn is perfect for beginning musicians.

Like Mary Had a Little Lamb and Ode to Joy, this song has just five different notes, so it fits into the hand nicely.  Like the lyrics, the melody is predictable, but in a pleasing way...
How nice that the gospel hymn's lyrics are beautiful, too.
Here's the easiest version of this pretty little hymn, free!
Scroll down the page for the links to the free downloadable PDFs: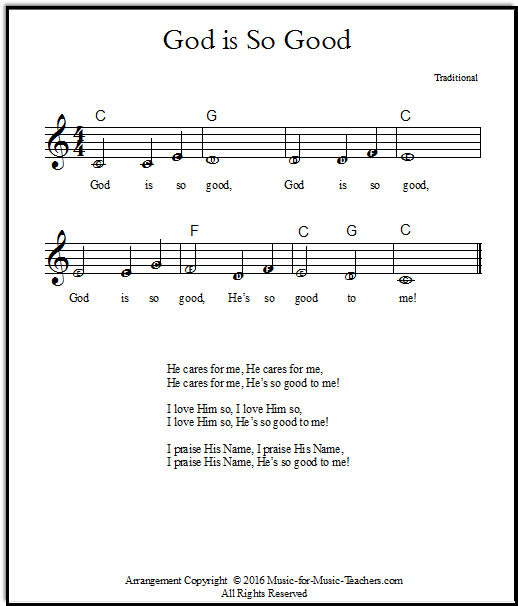 This popular hymn's lyrics were invented as friends on a car trip rode along,  goes the story.  
One website claims that one lady made up the melody, and soon they were all singing and making up their own verses.  
I have seen more verses than the hymn song lyrics I've put into this sheet music.

Below is an arrangement that is just a bit harder.
It encourages beginning students to add the tonic chord, C, plus the IV and V chords in their smallest forms.

These tiny chord fragments are labeled the "G pinch" and "Baby F".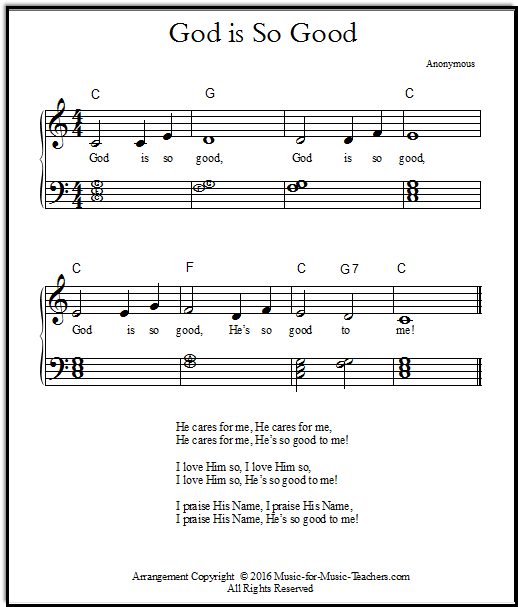 Now here are two piano arrangements of this hymn in the keys of C and D.
Though they sound and look easy, they require quite a bit of skill to play!  

Note that this version, and the lead sheets after, add a minor chord after the IV chord.  
That's the ordinary chord progression for this song, but I decided not to use it with the very easy versions.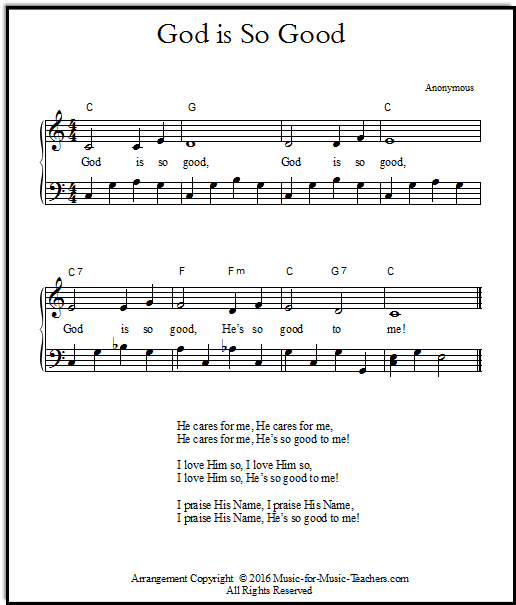 Here are a couple of lead sheets for violin and other instruments: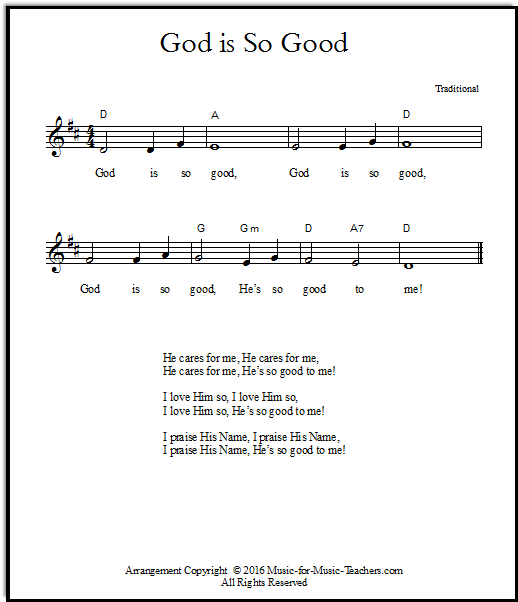 And now, guitar tabs and ukulele tabs for this song... first, guitar tablature, shown here in the key of C: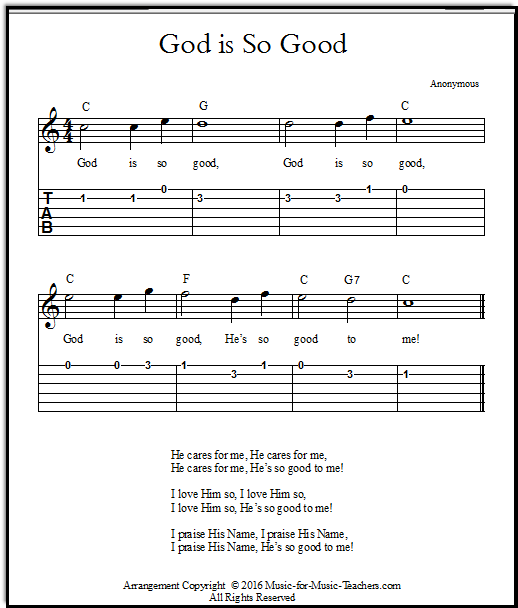 Here is the gospel hymn for a C-tuned ukulele: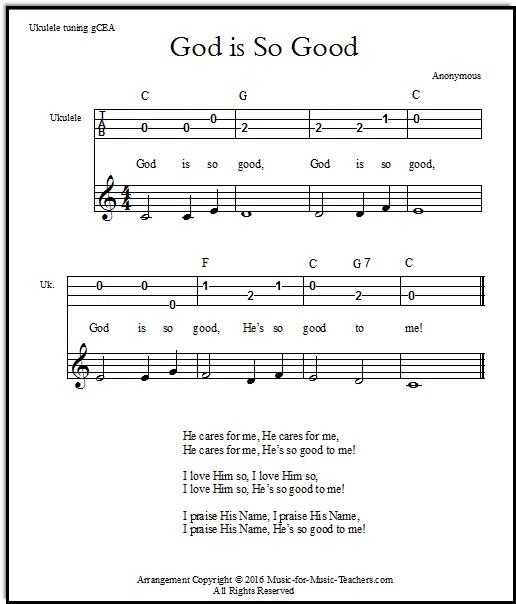 Here is the link to the easy version with lettered notes:
Download "God is So Good" with made-easy notes for piano, melody only, with chord symbols above

And with added left hand part:
Download very easy arrangement of God is Good lyrics and piano music with left hand part
The fancier piano arrangements, incorporating a minor chord:
Download hymn song lyrics and music in C

Download gospel hymn's lyrics and sheetmusic in D

The lead sheets:
Download hymn music in the key of C

Download hymn lyrics and music in the key of D major

Here are the guitar tab links:
Download guitar hymn tabs in the key of C

Download guitar sheet music in the key of D for beginners

And the ukulele tabs!
Download ukulele tabs for God is Good hymn
---
---
---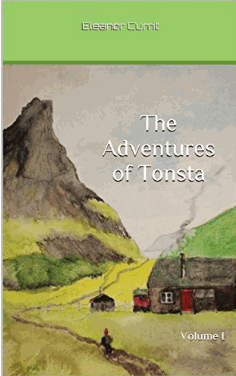 A perfect read aloud storybook
for little boys or girls. 
The Adventures of Tonsta highlight the travels of a very young boy with a good heart, who goes about helping folk in trouble.  
With a red cap on his head and a sack of tools slung over his shoulder, Tonsta seems to meet people in distress wherever he goes.
Lots of trolls in this book - including one who gives him a Christmas gift!
Sign up for "Take Note!" to see what's new every month.
Search Music-for-Music-Teachers: