Christmas Sheet Music
What Child is This
(Greensleeves Melody)
Christmas sheet music for your guitar students. Download these free Christmas songs, Greensleeves or What Child is This, in two keys, with guitar tabs and chord symbols. 
Here is a beautifully played semi-classical arrangement of "Greensleeves" -- unlike my version here, which is meant for beginning guitarists:

Do you recognize that man in the video?  It is King Henry VIII of England, from whose time this music comes.  (He is the one with the six wives... "Divorced, beheaded, died; divorced, beheaded, SURVIVED.")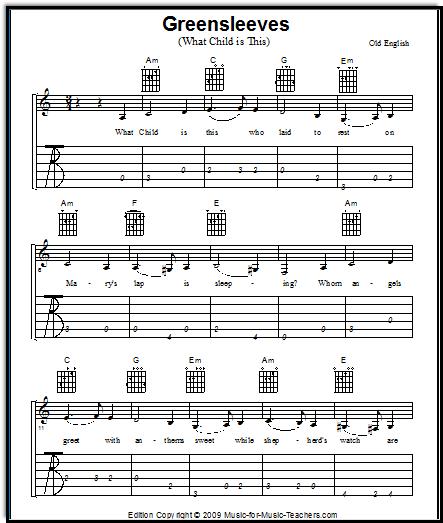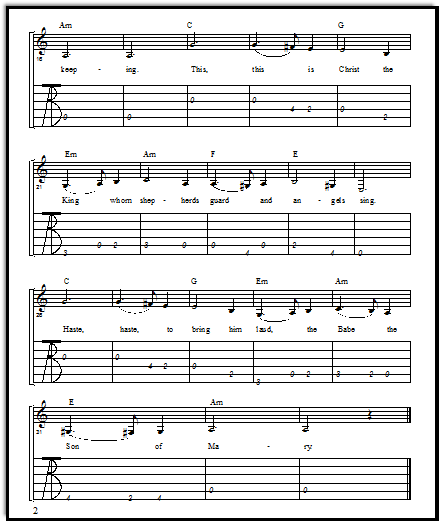 Download and print free guitar sheet music What Child is This in Am 

Download guitar tabs for What Child is This in Em 
This is a perfect song for fingerpicking, since the pattern Thumb-index-middle-ring-middle-index (p-i-m-a-m-i) fits the beat pattern with no left-over fingers or beats (1-2-3-4-5-6).
It is a good one for a guitar student who has mastered a simpler fingerpicking song such as Down in the Valley, and has since moved on to trickier chords such as Bm.
Greensleeves is one of the oldest tunes we know that is still as beloved as it ever was. I tell my students that some songs are so beautiful, that other people write their own words to the tune, as has happened with the Christmas words set to what was originally a love song about a "Lady Greensleeves."

The key of Am, despite the difficult F chord, is easy to play in. But it isn't so easy for many people to sing in! Also, most piano versions, and the key in which this song will be sung in at church, happen to be in the key of Em. Therefore I have offered this free Christmas sheet music in both keys.
The tab for guitar is a little tricky in Em, if only because the 4th fret is used. I have arranged a slighty altered version of the melody that is perhaps closer to the original piece as it would have sounded with a lute, or even a harp that has no levers for accidentals. The melody below is also an easier one for beginning violin players to use: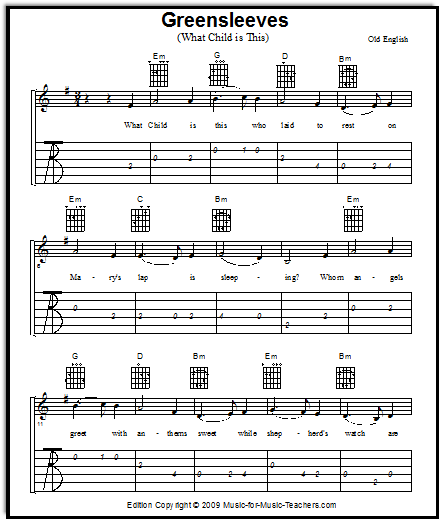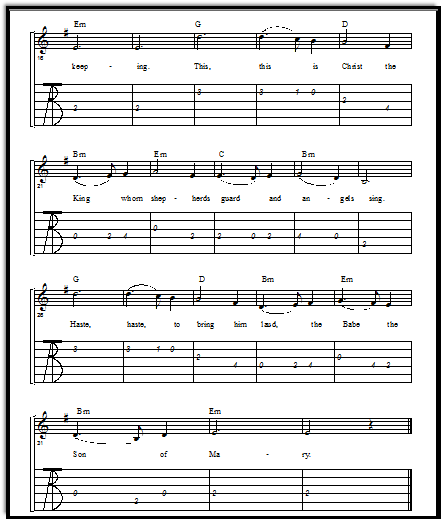 Download Greensleeves with lute-like melody in Em 

Download Greensleeves with lute-like melody in Am 

There are more chord choices, perhaps, in my versions of Greensleeves than are usually suggested. Try them out and eliminate any you don't care for -- in the Am version, the F chord can definitely be left out. (Most kids hate that chord!) 
I hope you enjoy using this printable Christmas sheet music! 

Comments
Do you have a funny story about this music, or does it remind you of something you'd like to share with other readers? Do you have a question? I'd love to hear it!

Please note that all comments are moderated, and will not appear until I have approved them. Also, IF YOU ARE ASKING FOR MUSIC THAT IS NOT IN THE PUBLIC DOMAIN, YOUR REQUEST WILL BE IGNORED. That's pretty much any music written in the last 75 years...
What Other Visitors Have Said
Click below to see contributions from other visitors to this page...

Sign up for "Take Note!" to see what's new every month.