Sweet Betsy from Pike
Free Lead & Piano Sheets
Sweet Betsy from Pike is a great old-fashioned song for your young musicians. Now with two easy versions for beginner pianists, and a piano arrangement for second or third-year students!  Extra bonus: a worksheet for writing in missing notes and symbols.
An old-time American ballad, it seems to remain a favorite with young children.
A simple piano arrangement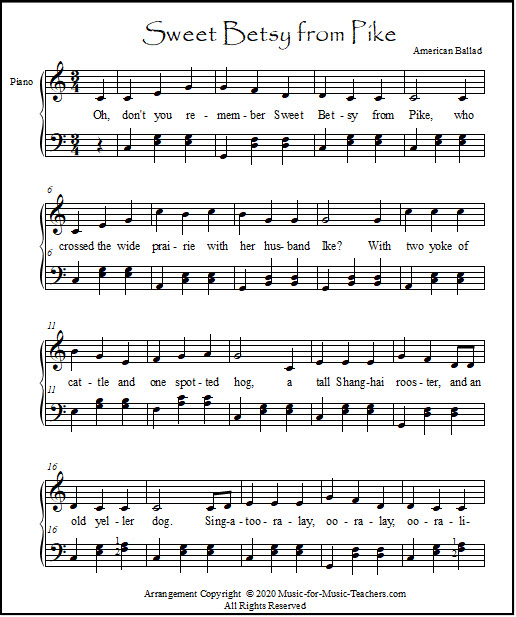 Almost every chord is a root position triad, except the G7 chords (see measure 3), which require a bit of stretching.  In lines 4 and 5, there are quick chord inversions (what I call a "baby F chord" to my students - see measure 16) that go right back to a C chord again.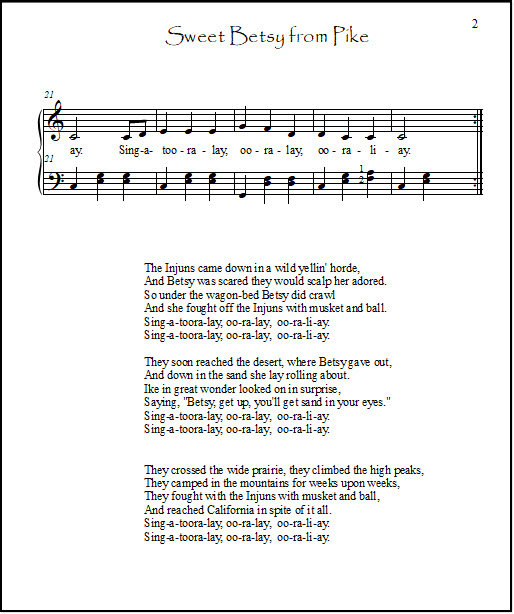 Please scroll down the page for the download links.
A shared-hands melody for beginners
Like many songs set around Middle C, this is a bit low for young children to sing, but they'll do it once they know the melody - or come in an octave higher if you encourage them with your own voice!
These are all simple notes that students in The Perfect Start for Note Reading are working on - except for the F#.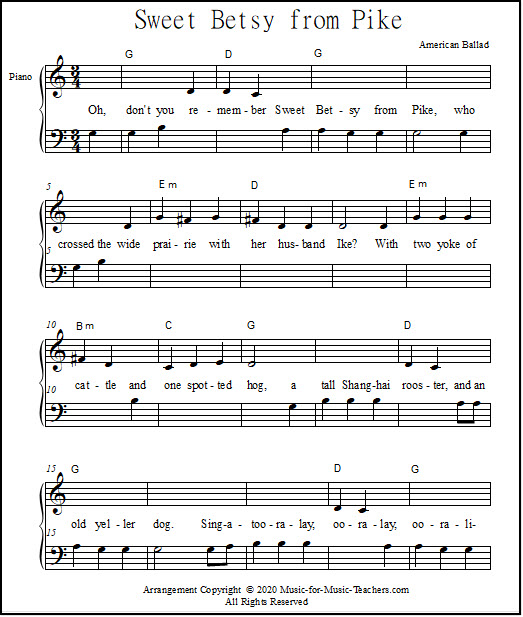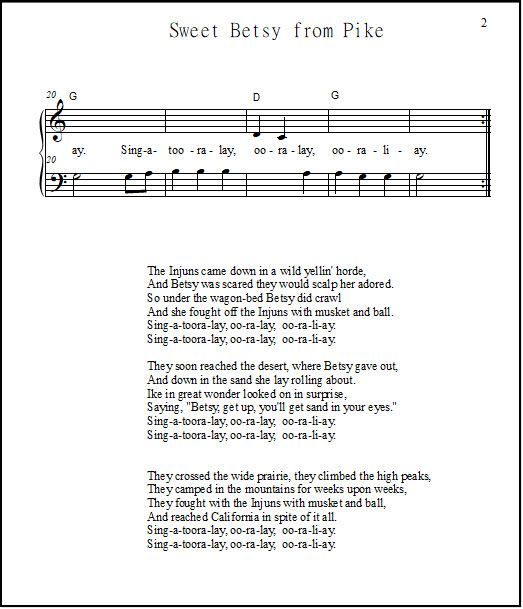 Please scroll down the page for the download links.
The lyrics aren't very polite
But they do reflect a time in American history. 
The easy arrangement, minus the chord symbols.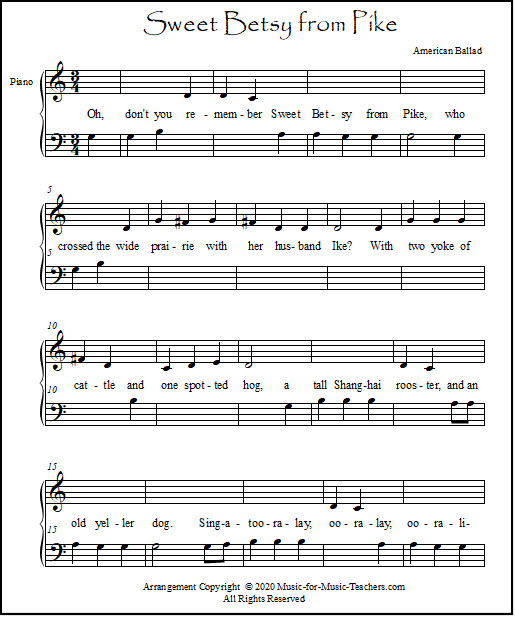 Please scroll down the page for the download links.
This sheet may be easier for your young students to read, without the distracting chord symbols.  Sometimes kids will assume that the chord symbols are the name of the note.  And why wouldn't they, when they are first learning?
A worksheet for beginners, needing notes written in
Some writing practice!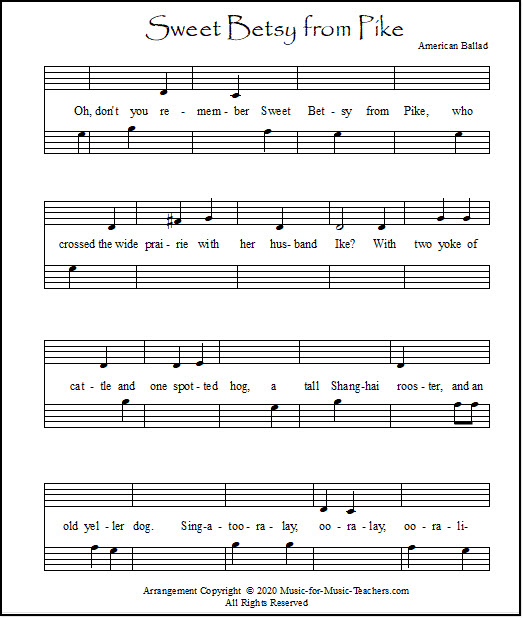 Please scroll down the page for the download links.
The sheet above is missing notes, but also treble and bass clef symbols and the time signatures.  I've tried to line the words up precisely.
When I give these sheets to students, I usually take a couple of minutes during lesson time to help them fill in just one line each week.  When they gain confidence, and I see accuracy and understanding, then the sheet can turn into "homework."
Sweet Betsy lead sheet in 6/8 time
This is how you usually see "Sweet Betsy":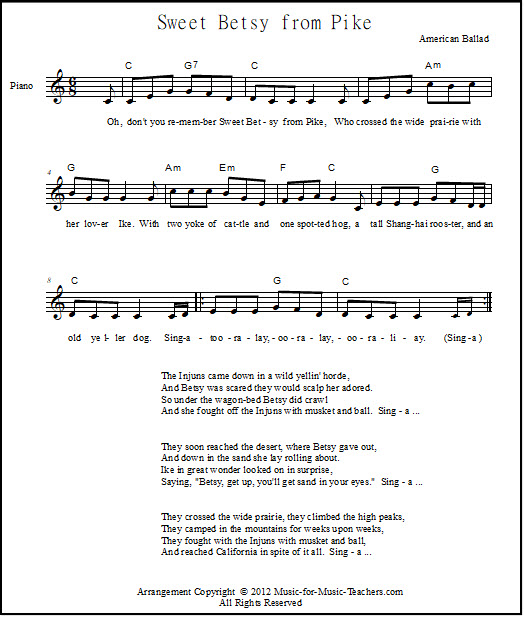 Please scroll down the page for the download links.
An easier-to-read lead sheet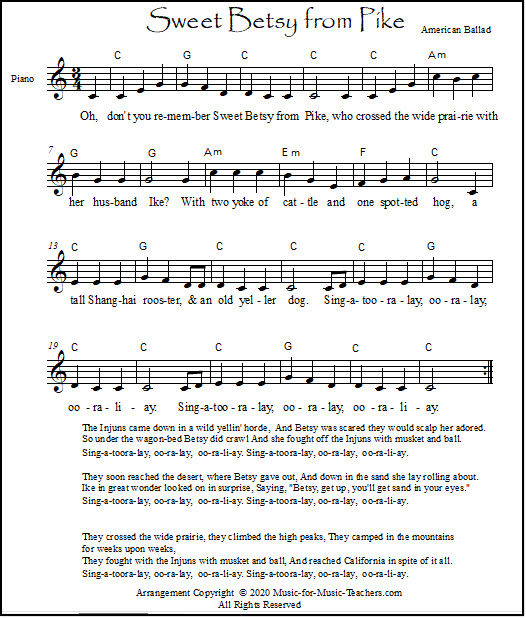 Please scroll down the page for the download links.
You may notice that some of my student lead sheets repeat the chord symbols unnecessarily - there are no measures without chord symbols! 
I have found that my students are far more accurate matching chords to notes, with correct rhythm, by adding just this extra step to the sheet music.  Eventually they won't need the chord repetition.
An old song, with variations
I loved singing Sweet Betsy from Pike as a girl.
There are other versions with slight differences in the melody, and lots of different lyrics. Here's one version I hope you will enjoy from the 2nd South Carolina String Band: 
Take a look at the bottom of the "Lead Sheets" page for ideas on how to introduce lead sheets to your students. 

This particular melody is beyond all but the most dedicated beginner to master with the right hand alone, so by the time your student is ready for adapting this song, they should have mastered several kinds of left-hand chord patterns.  
With this free lead piano sheet in three beats a measure, the "Oom-pah-pah" or split chord approach works well (this is actually what the piano arrangement at the top of the page is doing).
The piano arrangement with left hand:
Download the arrangement for more advanced beginners, with left hand chords
The two-hand melody for beginners:
Download arrangement with shared-hands melody of Sweet Betsy with chord symbols
Download same version but without chord symbols
The Worksheet with missing notes and musical symbols:
Download the worksheet for the easy version of Sweet Betsy
The link for Sweet Betsy lead sheet with 6/8 time:
Download Sweet Betsy from Pike lead sheet music 
The link for the lead sheet with quarter notes:
Download lead sheet with quarter notes and lots of chord symbols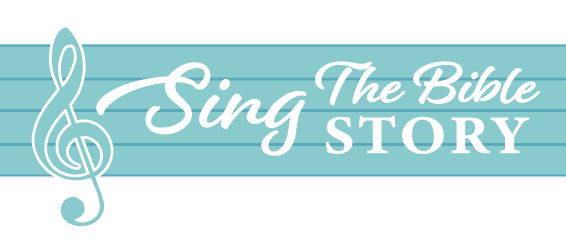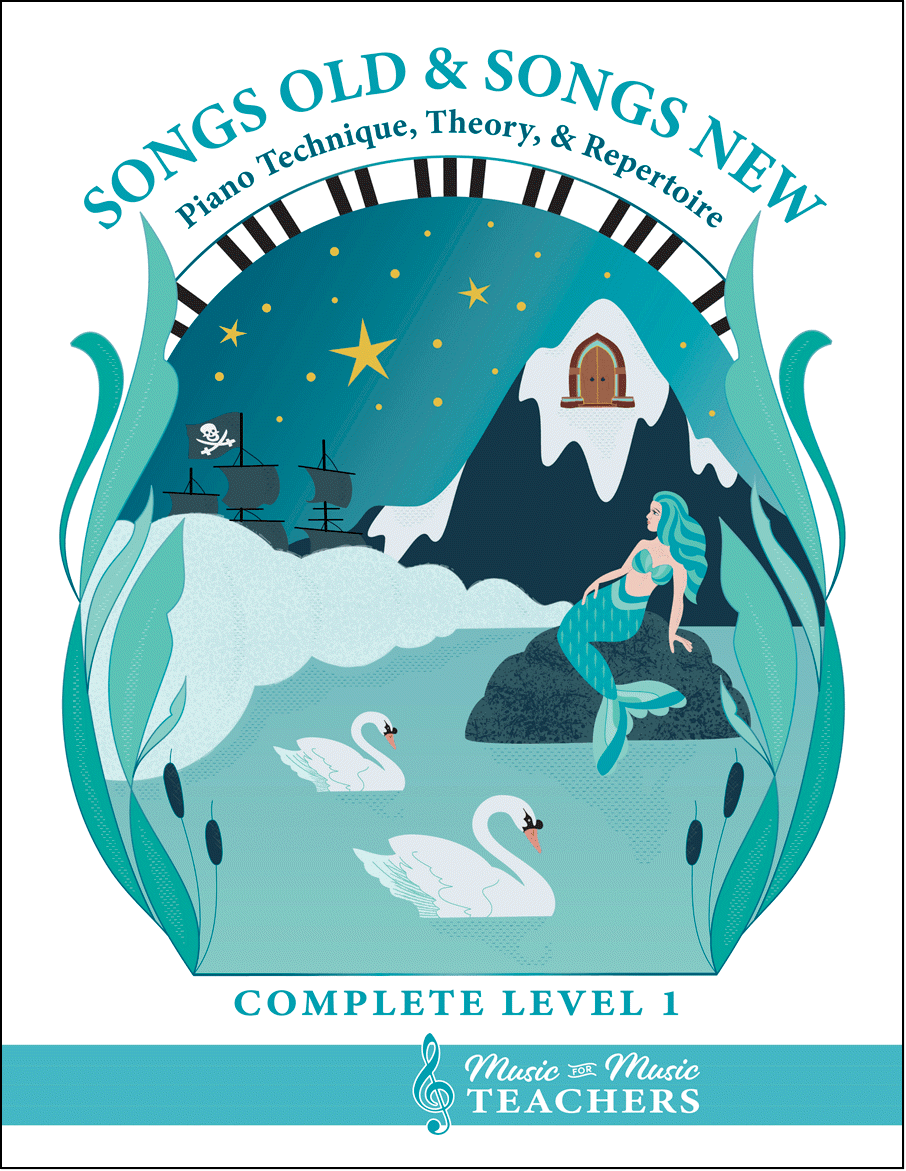 All the first-year material I give my beginner students. 
Piano keyboard sheets, scales, chords, note-reading exercises, and over 256 pages of music!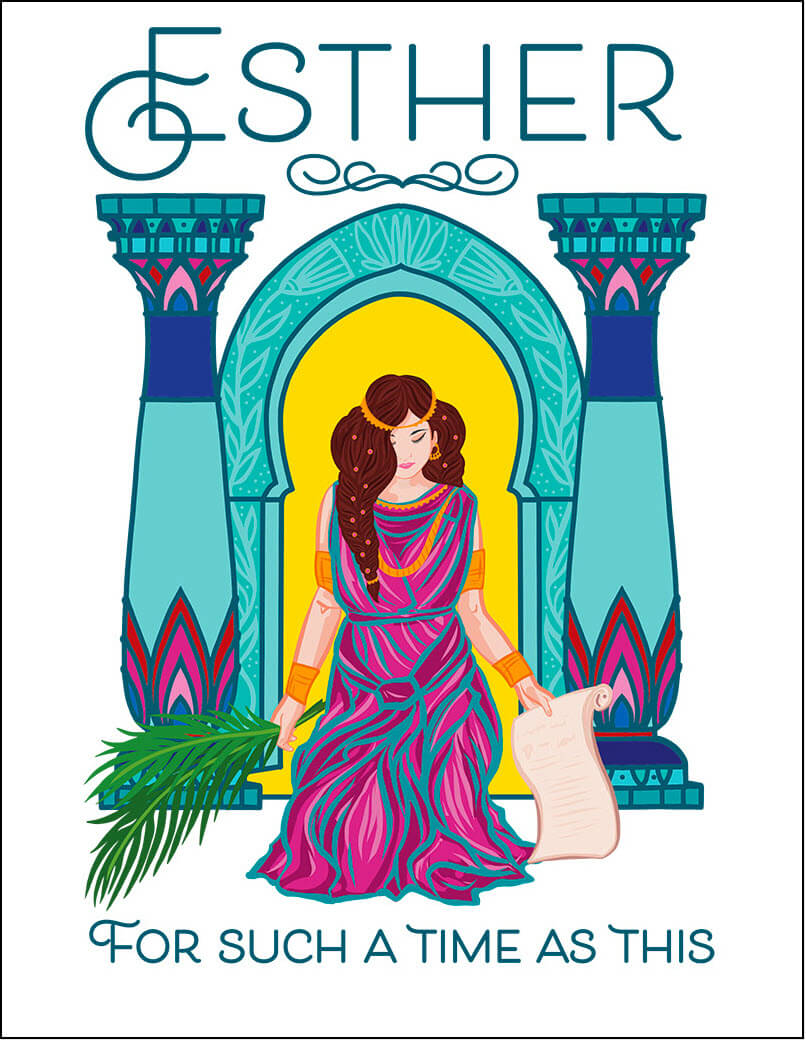 This beautiful song book for piano & voice "Esther, For Such a Time as This",  available as a digital download, tells the riveting story of the time when  Jews in ancient Persia faced a foe named Haman, and how a  brave young queen risked her life to save her people.
A good choice for a singing story-teller, an operatic group, a short theater production, or a class of children!
This book is also available from Amazon as a paperback.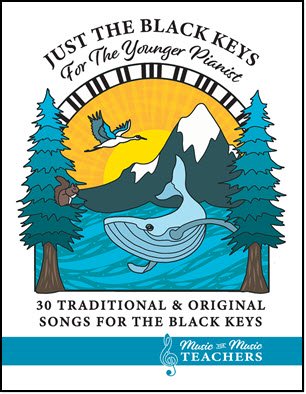 This book is available as a digital download  from this site.  Visit this page to see some free examples from the book.
It is also available from Amazon as a paperback!
This is the perfect easy start for little pianists.
And when they start reading white-key notes on the staff, this is a fun easy resource to say each week, "Choose a new black-key song at home this week and figure it out to show me next lesson!"  They will be spending more time at the piano.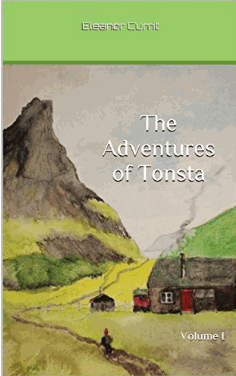 A perfect read aloud storybook
for little boys or girls. 
The Adventures of Tonsta highlight the travels of a very young boy with a good heart, who goes about helping folk in trouble.  
With a red cap on his head and a sack of tools slung over his shoulder, Tonsta seems to meet people in distress wherever he goes.
Lots of trolls in this book - including one who gives him a Christmas gift!
Comments
Do you have a funny story about this music, or does it remind you of something you'd like to share with other readers? Do you have a question? I'd love to hear it!

Please note that all comments are moderated, and will not appear until I have approved them. Also, IF YOU ARE ASKING FOR MUSIC THAT IS NOT IN THE PUBLIC DOMAIN, YOUR REQUEST WILL BE IGNORED. That's pretty much any music written in the last 75 years...
Sign up for "Take Note!" to see what's new every month.

About the Author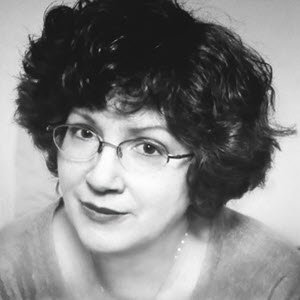 Hi, I'm Dana!  (Say that like "Anna".)  I'm the owner of Music-for-Music-Teachers.com, and a newer site, SingTheBibleStory.com.
Like some of you, I've been playing the piano since early childhood, and have added a few other instruments along the way, plus an interest in arranging and composing music.
You can find out more about me and the reason for this website at my About Me page.