Piano Key Notes
ABC & CDE
Piano key notes right around Middle C seem easy to seasoned note-readers, but young beginners need lots of practice.

We piano lesson teachers are frequently in a hurry to move things along when we have glimpsed a flash of understanding from our students.  Better music ahead!  Bach!   Mozart!  Someday, Chopin!
But reality intrudes when we see our little musical scholars mistakenly playing Middle C with left hand an octave low... or misreading B below Middle C, despite drawing it multiple times on the whiteboard together.  The fact is, musical notation is a new language, and kids need repetition, repetition, repetition!
Here are a couple more of those in-between along-the-way little songs.  Download these easy pieces in two separate free piano sheets for beginners!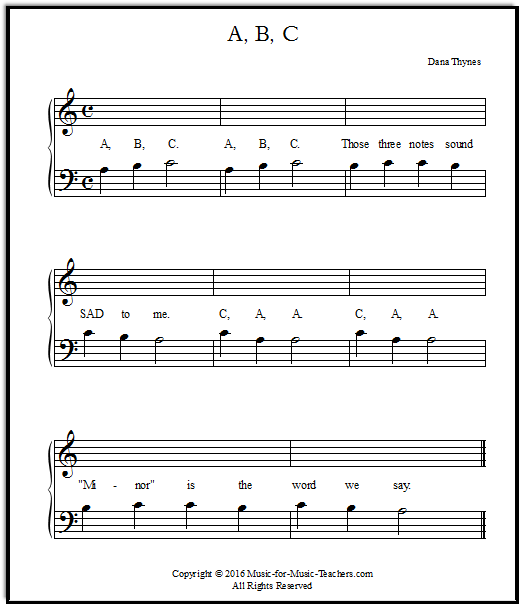 Download piano key notes for beginners A, B, C
You may think that a song with words telling you what the names of the notes are will defeat the purpose of note-reading.  You would be wrong.  The lyrics of the song will help, but not entirely replace the work of figuring out what these notes are!
Now a song for right hand...  What follows is surely not Bach, nor are the lyrics reminiscent of the great poets, but it will serve!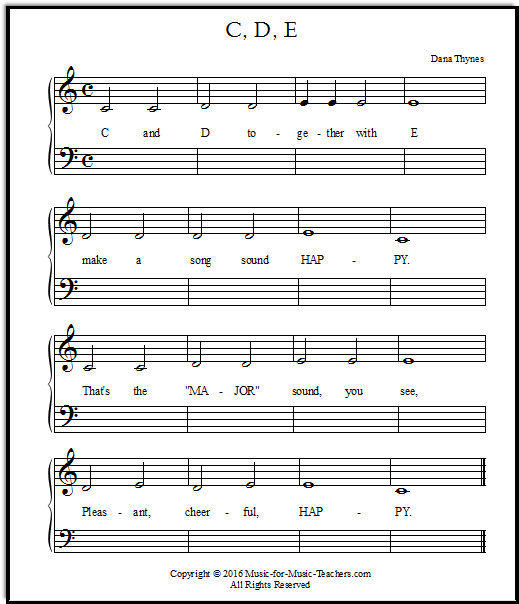 Download free piano sheetmusic for beginners C, D, E

Try placing these pieces in your students' notebooks just as they will be played on the piano - left hand song on the left, facing the right hand song on the right.  Piano lesson teachers, when you first look at the songs together and say, "Which hand plays this song, TOP or BOTTOM? ( RIGHT or LEFT)", you may be surprised that the empty staff is not the huge give-away clue you thought it was!  
Therefore, every little thing we can do to help our beginning students is worth it.
---
---
Get word of the latest sheet music at Music for Music Teachers?  Sign up for "Take Note!"