Bluegrass Guitar Tabs
Bonaparte Crossing the Rocky Mountains
Bluegrass guitar tabs -- free! -- for Bonaparte Crossing the Rocky Mountains. Standard treble clef notation for fiddlers along with free guitar tablature and chord symbols. 
The video below doesn't feature a guitar player -- I couldn't find one playing Bonaparte Crossing the Rocky Mountains.  Both The Fiddler's Fake  and The Guitar Picker's Fakebook feature this piece:
Download free bluegrass music Bonaparte Crossing the Rocky Mountains 

This is a good ensemble piece. It sounds like Irish fiddle music to me, and there are other tunes about Bonaparte that come from over the sea... Bonaparte Crossing the Rhine, and Bonaparte's Retreat. I think Napoleon Bonaparte only ever crossed the Rockies in someone's imagination! 
Here is the very same arrangement, but spread over two pages to make it easier to read.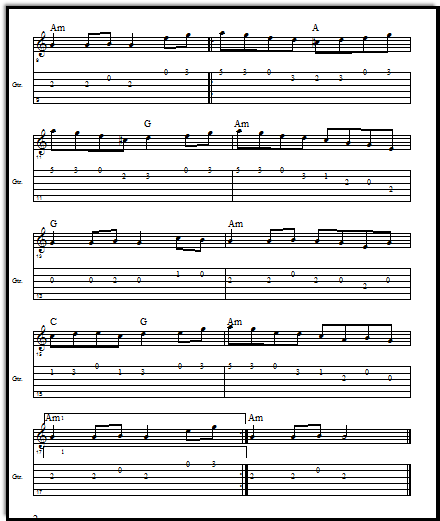 Download bluegrass sheet music Bonaparte Crossing the Rocky Mountains in two pages 

Like Devil's Dream, this flatpicking tune has a melody made up almost entirely of eighth notes.

Your students who are new to flatpicking melodies may struggle initially with the "down,up,down,up" motion of the pick. I like to get my students used to this technique by doing fret-by-fret scales up the neck of the guitar from string 6 to string 1, going "down, up" on each fret.

I play along with them, singing the notes like this to correspond to frets (or no frets): "Open, open; one, one; two, two; three, three; four, four; open-open (that's the next string)," etc. Then, with my eyes watching their pick hand, I'll switch to singing, "Down, up; down, up..." Sometime we try it with a metronome to even out their strokes, and I'll assign metronome work at home, too.
Enjoy this beautiful, rhythmic guitar and fiddle music! 

---
---
Get word of the latest sheet music at Music for Music Teachers?  Sign up for "Take Note!"
Comments
Do you have a funny story about this music, or does it remind you of something you'd like to share with other readers? Do you have a question? I'd love to hear it!

Please note that all comments are moderated, and will not appear until I have approved them. Also, IF YOU ARE ASKING FOR MUSIC THAT IS NOT IN THE PUBLIC DOMAIN, YOUR REQUEST WILL BE IGNORED. That's pretty much any music written in the last 75 years...