Streets of Laredo
Guitar Tabs
Streets of Laredo Western music. This is a nice mournful song for your beginning guitar students.  (If you want piano versions of this great song, go here.)
Also known as "The Cowboy's Lament," this American ballad tells a story of a young cowboy who sings, "I have done wrong, and I know I must die."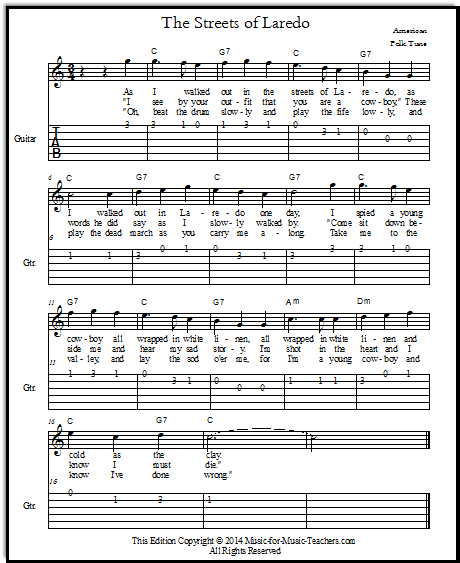 Download "Streets of Laredo" guitar tabs for beginner guitar players
This simple song requires only fingers 1, 2, and 3, all in first position.  Nice!  Lately, I like to draw a GIANT vertical guitar neck, with frets, on my white board, and then write the first few notes of a new song on the drawn "neck."  I ask my student to find all those notes on their own guitar.
Then I re-draw the neck HORIZONTALLY, turning it into a GIANT bit of guitar tablature, in essence, and I write onto the tablature a phrase from a song I am introducing that lesson.  The student plays it.
Then, I pull out the new sheet music!  I say, "Here it is on paper, just a little bit smaller!"  Success!  I haven't had any students fail to make the leap. 
Notice that the chords are C & G7, over and over again, with just two other chords, Am & Dm.  The fact is, you can really use just C & G7 all the way through, but the two minor chords add a bit of drama that caused me to sigh, as a young girl, for the grief of the dying young cowboy.  I know... silly, but music moves us all!
Plus, you really want your guitar students to push themselves a bit.  This song is a good excuse for learning the Am and Dm chords, if they haven't already done so.
A word here about the C and G7 chords: I always point out to my new or younger students how exactly similar the shape of the two chords is, and how much easier (and faster) it is to go from C to G7 than to go from C to G!  Just a bit of expanding and contracting - not much - and they already have the shape of the next chord!
Will they WANT to do the G7 chord? NO.  Not at first.  But I make them anyway.
As for very new beginners, who are still using the "baby" C and G7 chords, they can play this song too!  Just omit the Am and Dm chords.
As with all older or traditional songs, there are many variations to be found in the Streets of Laredo lyrics...
Happy Trails!
---
---
Get word of the latest sheet music at Music for Music Teachers?  Sign up for "Take Note!"
Comments
Do you have a story or a question about teaching guitar? Do you think it is a hard instrument for beginners, or easy? What have been your challenges?
Please note that all comments are moderated, and will not appear until I have approved them. Also, IF YOU ARE ASKING FOR MUSIC THAT IS NOT IN THE PUBLIC DOMAIN, YOUR REQUEST WILL BE IGNORED. That's pretty much any music written in the last 75 years...