Free Christmas Songs
Deck the Halls

Free Christmas songs (four versions) Deck the Halls -- give your students this well-known, beloved Christmas carol! This has guitar tabs (bottom of the page), a lead sheet, two versions with left hand chords for early intermediate piano students, and the original easy version in Middle C position. The complete Christmas song lyrics are included also, at the bottom of this page.
Here is an adorable rendition of Deck the Halls by a madrigal group from Mars Hill Academy, all decked out themselves in Renaissance garb: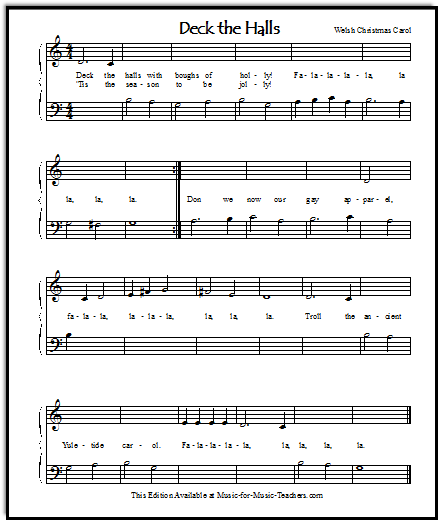 Download Deck the Halls for beginners in Middle C position
As I have done with many beginner songs, I have doubled the note values so there are no tricky eighth notes for beginner piano students in two of the arrangements. Beginners will start off playing it slowly, but the counting won't be a problem, and they will pick up speed.
Below is a lively arrangement which makes use of left hand chords and chord inversions. If your students have spent any time doing chords and inversions, this arrangement may just fall into their hands very easily.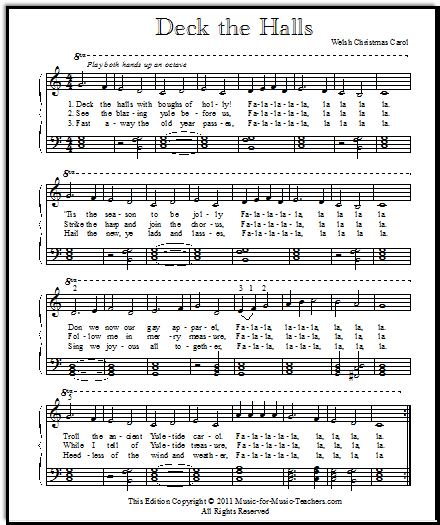 Download free Christmas songs Deck the Halls with doubled timing 

I recommend saving this song until after you and your student have spent some time working with cadences - the I, IV, and V chords - found on my free sheets on the page 12 Major Scales. That I-IV-V practice will get them ready (start with the Key of C) for the chord patterns in Deck the Halls. 
Below is the same Christmas piano sheet music, but with eighth notes: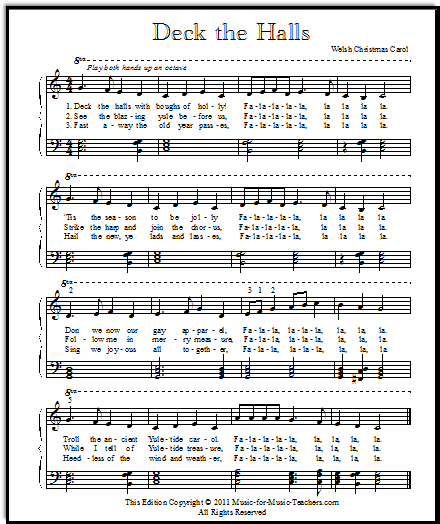 Download Christmas piano sheet music with eighth notes

This arrangement really is fun to play, and pretty easy (if you have an understanding of chords). It DEFINITELY sounds better with both hands played up an octave; I tell my students it also sounds more "Christmas-y", like bells.
Below is a lead sheet, for piano or other instruments: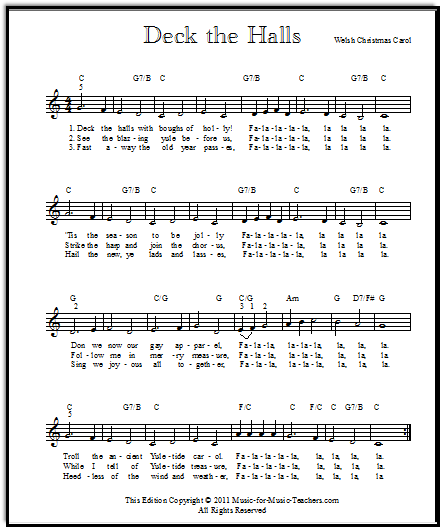 Download Deck the Halls lead sheet

Here are guitar tabs for Deck the Halls, two versions: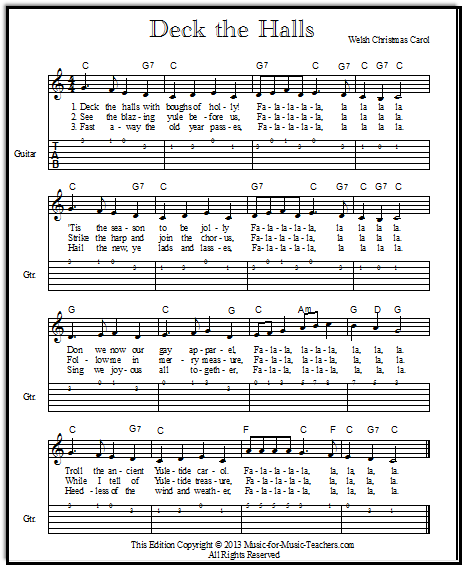 Download Guitar tabs for Deck the Halls in C, high melody version
The melody SOUNDS better on the higher strings (1 & 2), but there will be the higher-than-usual frets to be accommodated - that's why I supplied a lower version also, below: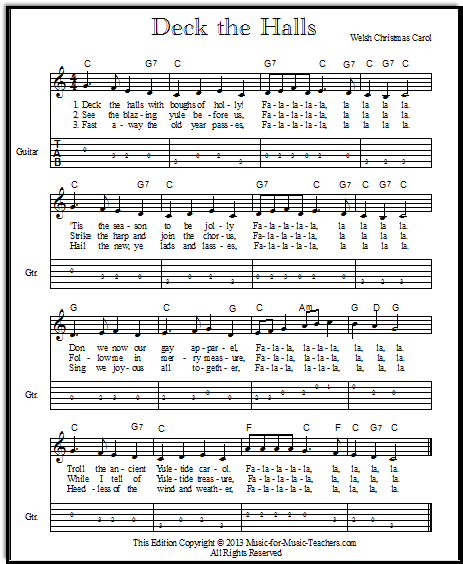 Guitar tabs for Deck the Halls in C, low melody version
One thing to be noted with the super-quick chord changes from C to G7, back and forth: this works well on the piano in Deck the Halls, but is NOT so effective on the guitar.  The chord changes are just too fast.  Play a C chord without changing, as you sing the melody, and see how it sounds.  Perhaps you won't feel the need for more than one G7 chord in the first and second lines.
Below, I have put the Christmas song lyrics to Deck the Halls in a downloadable PDF. I hope you and your students enjoy these free Christmas songs!

Download Deck the Halls Christmas song lyrics
Sign up for "Take Note!" to see what's new every month.
Comments
Do you have a funny story about this music, or does it remind you of something you'd like to share with other readers? Do you have a question? I'd love to hear it!

Please note that all comments are moderated, and will not appear until I have approved them. Also, IF YOU ARE ASKING FOR MUSIC THAT IS NOT IN THE PUBLIC DOMAIN, YOUR REQUEST WILL BE IGNORED. That's pretty much any music written in the last 75 years...